44lbs Sandbag Goal Weight
44lbs Sandbag Goal Weight
Tough 44lbs Sandbag Weights For Freestanding Cages, Goals & Nets
Safely Secure Posts In Place
From professional sized football goals to mini hockey goals, no matter the size of the net the BS EN standard sandbags will safely secure nets into place.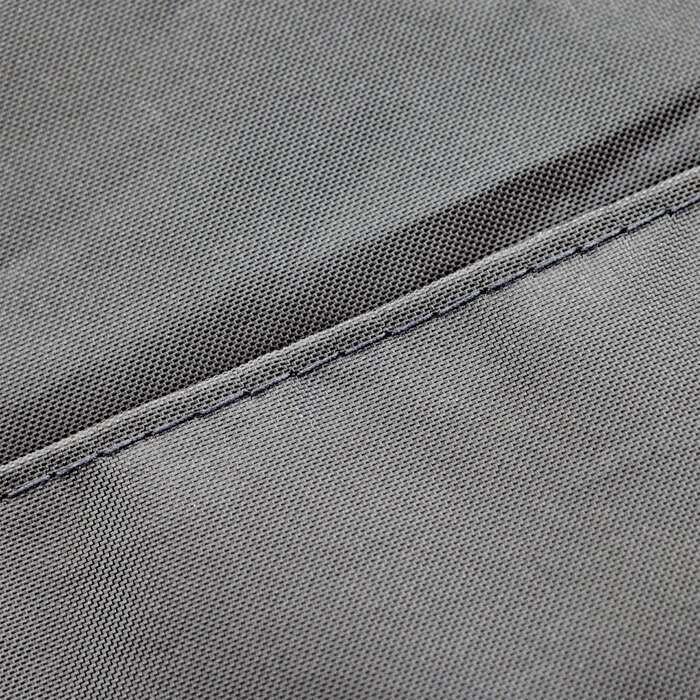 Heavy Duty Polyethylene
These sandbags are manufactured from heavy duty polyethylene which makes our bags impact resistant & weatherproof allowing them to stand the test of time.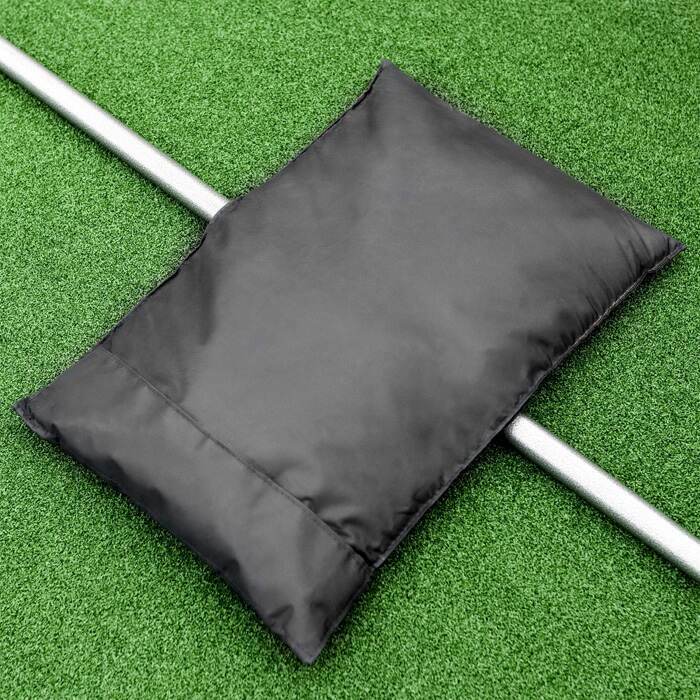 Great For Indoor Use
Unlike metal ground pegs, sandbags do not need to penetrate the floor to anchor a goal down, this means you can anchor goals indoors or outdoors safely.
Description
Temporarily Anchor Goals, Cages & Nets In Place With These 44lbs Sandbag Anchors
During matches and training sessions, a perfectly held down goal is a necessary safety precaution for any team. With the 44lbs Sandbag Goal Weight, you'll be able to provide a secure and solid anchor for your football goals when they need it the most. These versatile 44lbs weights can be simply added to any goal indoors or outdoors to ensure that your nets stay in place goal after goal. To correctly utilise these bags, simply fill them with stand and then place them onto freestanding posts. Once this is done, their robust touch fastening system will guarantee that the contents of this piece of goal equipment remains firmly in place, even during fast paced and energetic games.
Temporarily anchor goals, cages and nets in place indoors or outdoors.
Each sandbag is 23in (59cm) in length and 15in (38cm) long to hold up to 44lbs of sand
Using sandbag goal weights allows you to facilitate a safe environment and meet the BS EN standards for safety.
Hook and loop fastener strip keeps sand securely inside the sandbag.
Manufactured from heavy duty polyethylene for added durability.
Available individually, or in packs of 5 or 50.
Measuring 23in (59cm) long and 15in (38cm) wide each sandbag has been produced to withstand regular use. Manufactured from high quality materials that effectively provide longevity and durability, these polyethylene sandbags have been created with impact resistant and weatherproof capabilities. As a versatile tool, the bags can be used in varying weather conditions without becoming damaged. The heavy-duty polyethylene composition of each sandbag ensures that you can play in various weather conditions with the knowledge that your nets will remain in place.
Designed to be straightforward to use, filling and emptying this bag has been made significantly easier due to the wide touch fastening strap that runs along the top of the bag. To secure the sand, this section simply folds over to firmly supply a dependable hold that will continue to keep the sand within the bag for as long as it is needed.
In contrast to ground pegs, these 44lbs sandbag weights can be used on any surface as they do not need to penetrate the ground to secure a goal. As an easy to use and effective anchoring system, this is the ideal goal weight tool for leisure centres and schools that utilise indoor pitches or AstroTurf.
Full size football goals 24ft x 8ft (7.3m x 2.4m) – 6 per goal.
Youth size football goals 21ft x 7ft (6.4m x 2.1m) - 6 per goal.
9v9 goals 16ft x 7ft (4.9m x 2.1m) - 5 per goal.
5-a-side goals 16ft x 4ft (4.8m x 1.2m) - 3 per goal.
Mini soccer goals 12ft x 6ft (3.7m x 1.8m) - 4 per goal.
Hockey goals 12ft x 7 (3.66m x 2.13m) - 8 per goal.
Futsal goals 10ft x 6.5ft (3m x 2m) - 6 per goal.
The sandbags comply with BS EN safety standards, guaranteeing the bags are safe for schools and leisure centres that use freestanding goals and practice cages. Purchase these sandbag goal weights individually, packs of 5 and packs of 50.
Choose the right goal anchors for your pitch surface using our simple guide:
Goal Anchor Type
Pitch Surface
Installation

U-Pegs

Grass

Place U-pegs onto the base of your goal and hammer into the ground until secure.

Sandbags

Indoor, Hard Court & Artificial Turf

Fill with sand and place over the base of your goal.
Steel Anchor Weights
Indoor, Hard Court & Artificial Turf

Use the shackle chain provided to secure each weight to the back corners of your goal post.

Wall Mounted Goal Anchor Chains
Indoor, Hard Court & Artifical Turf

Wrap the anchor chains around the corner of your freestanding goal, use the snap hooks to attach the chain to the M8 wall bolts.
Specifications
Dimensions
Sandbag is 23 inches (59cm) long by 15 inches (38cm) wide
Material
Manufactured from black heavy duty polyethylene.
Miscellaneous
Hook and loop fastener strip keeps the sand in place.
Each bag weighs 20kg (44lbs) when full.
Sand not included.
Avialable individually, in packs of 5 and jumbo packs of 50.
Don't just take our word for it
Want to chat?
Contact us here and we'll get back to you as soon as possible.
Super fast shipping
Express shipping available
Questions & answers
Ask fellow customers what they think!
Hide Q&As
Questions & Answers
1 question | 1 answer
what are the sand bag measurements?
Hello Lou, Thank you for your question. Each sandbag has a width of 38cm (14.9") and a length of 59cm (23"). If you have any further questions please contact me via sales@
networldsports.com
Many thanks, Tom
You may also like
37.5lbs Anchor Weights For Goals & Shelters
$99.99