Stop That Ball™ - Ball Stop Net & Post System
Stop That Ball™ - Ball Stop Net & Post System
Freestanding Ball Stop Netting And Post System For Year Round Backyard Soccer
180° ADJUSTABLE ANGLE
Unique to other ball stop systems, the Stop That Ball™ features an innovative 180° adjustable angle design, allowing you to easily tailor the backstop netting to shape/size of your backyard.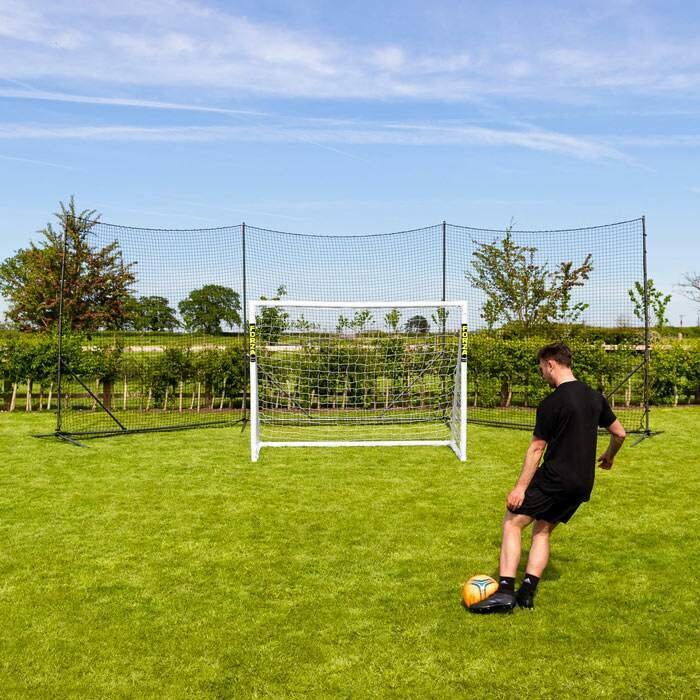 FREESTANDING & PORTABLE
Completely freestanding, this ball stop net system can be used on any surface. Suitable for indoor & outdoor use, the base features rubber feet for increased grip. Frame is super easy to move.
ULTRA HEAVY-DUTY NET & FRAME
Suitable for year-round, outdoor use, the premium zinc plated galvanized steel frame is resistant to rust, corrosion & scratching. 3mm HDPP net is UV treated & rot-proof for supreme durability.
Description
Freestanding Soccer Ball Stop Net And Post System For Use In The Backyard
Keep your surroundings safe and intact during backyard soccer sessions with the revolutionary Stop That Ball™ ball stop net. Comprising of a heavy duty 3mm knotless polypropylene net combined with incredibly durable 34mm steel posts, this freestanding ball stop net offers premium quality at a price that is perfect for casual home use.
Stop That Ball™ ball stop net designed for protection the perimeters of backyards from stray soccer balls
High-strength 34mm steel ball stop posts which are scratch-resistant with a hammered powder coating
Premium 3mm knotless polypropylene ball stop net with a 48mm mesh size capable of catching any soccer ball
Freestanding ball stop net and post system with rubber feet for enhanced grip on any surface
10ft high as standards with the following optional widths to choose from – 10ft, 20ft, 30ft, 40ft or 50ft
A revolutionary piece of equipment for any family who hosts regular backyard kickabouts or training sessions, the Stop That Ball™ system will protect ornaments, fences, windows and greenhouses. The freestanding design ensures that it doesn't need to be permanently fixed into the ground, with rubber feet on the base which provides added protection to your flower beds and grass as well.
Capable of handling inclement weather and powerful collisions with the soccer ball, this freestanding ball stop system features exceptionally strong steel posts. The sturdy uprights have been made from scratch-proof zinc plated galvanized steel and finished with a sleek powder coating which protects against rust and corrosion for outdoor storage. These ball stop posts can be placed onto any surface without digging into the ground.
No matter how hard you strike the soccer ball, it won't get any further than the included ball stop net, which is both weather-resistant and highly durable. The 3mm knotless polypropylene black ball stop netting has a mesh size of 48mm, making it perfect for handling the impact of any size of soccer ball. The weatherproof ball stop nets have been UV stabilized, offering protection against rot when left outdoors.
Standing at 10ft tall, this backyard ball stop system is perfectly sized for use in conjunction with our range of FORZA soccer goals. The innovative post and net system features a ground-breaking modular design which allows users to extend the width to a custom length. Choose your desired net width from 10ft to 50ft to suit the requirements of your backyard and soccer goal size.
PLEASE NOTE - This ball stop net and post system is capable of stopping a wide variety of sports balls, including soccer balls, rugby balls, basketballs, cricket balls and baseballs.
All relevant tools for the assembly process are included, as well as step-by-step instructions
Please Note: It is recommended that the bases of the system are pegged into the ground with the included anchor pegs. During periods of windy weather, it is also recommended to use additional anchor pegs and that the system is rested flat during stormy conditions
Which Size Ball Stop Net Is Suitable For My Soccer Goal?
| | |
| --- | --- |
| Stop That Ball™ Length | Football Goal Dimensions |
| 10ft | 5ft x 4ft, 6ft x 4ft |
| 20ft | 8ft x 4ft, 8ft x 6ft, 3m x 2m, 10ft x 6ft, 12ft x 4ft, 12ft x 6ft |
| 30ft | 15ft x 7ft, 16ft x 4ft, 16ft x 7ft, |
| 40ft | 18.5ft x 6.5ft, 21ft x 7ft |
| 50ft | 24ft x 8ft |
Specifications
SIZE:
Height - 10ft high (3m)
Width – Choose from a width of either 10ft, 20ft, 30ft, 40ft, or 50ft (3m, 6.1m, 9.1m, 12.2m or 15.2m)
Length of Support Legs – 35inches (89cm)
MATERIALS:
Net Twine: Strong 3mm Polypropylene Knotless
Mesh Size: 48mm - ideal for stopping balls the size of cricket balls
Net Color: Black
Net: UV stabilized for outdoor use and rope edged
All posts are durable being manufactured from 34mm's of steel.
Scratch and weather resistant galvanized zinc plated steel with hammered powder coat finish.
Frame: Rubber feet to add grip without scratching the surface.
MISCELLANEOUS:
Unique modular design allows you to extend the width to ANY length in tens of feet. E.g. 10ft - 20ft - 30ft.
Stop That Ball™ is completely freestanding so it can be used on any surface meaning no digging of the backyard!
Heavy-duty metal bolts, Allen key and spanner provided with the system for smooth installation.
Don't just take our word for it
Brilliant item, we can now play football and relax balls are staying in garden, quality product, does take up some room but we managed to take off back base poles and still works fine...would recommend..only improvement would be to include few more ties to secure net but we picked up a load cheaply so not a major problem...does the job..thanks
Fantastic all round - thank you
Easy set up and performed well
Good quality nest and posts, speedy delivery and good packaging.
Excellent netting. Easy to assemble.
Want to chat?
Contact us here and we'll get back to you as soon as possible.
Super fast shipping
Express shipping available
Questions & answers
Ask fellow customers what they think!
Hide Q&As
Questions & Answers
4 questions | 4 answers
Does the net have to be secured into the ground to work effectively? I've got astro turf so it's not possible for me to use metal stakes.
Hi David, thank you very much for the enquiry. This system will work just fine on Astroturf as no metal stakes or anchoring system is required. This system has a base that extends out 3ft each side which supports the weight of the structure.
Regards,
Is it ten feet length and not height if so what's the height
Hi Luke, thank you very much for the enquiry. This system is 10ft high x whichever length option you select from the drop down menu.
Many thanks,
Hello, if I were to put it in my back yard that is 20 feet in width and 25 feet in length for a basketball court in the back yard. Am I able to put it in a "U" Share so it surrounds the basketball net? Would I have to buy 40 feet? as my width is 20 feet behind the net and the 2 sides of the fence? Its able to bend at 90 degrees right every 10 feet?
Hi Nick, thank you for the questions. Yes, this is all correct. You would have to buy 40ft and you can make a 90 degrees turn at every 10ft.
Kind regards,
Grant
How many poles does net come with? A pole per certain amount of feet of net??
Hello, thank you very much for the enquiry. Please see the poles to length ratio below.
10 - 2 Poles
20 - 3 Poles
30 - 4 Poles
40 - 5 Poles
50 - 6 Poles
Many thanks,
Grant
You may also like
Ball Stop Net & Post System [12ft/20ft High - Removable]
$811.99
Removable Alu80 Ball Stop System Posts [12ft/16ft/26ft]
$264.99
48mm Soccer Ball Stop Netting [Standard Size]
$1.99
6 x 4 FORZA Alu60 Soccer Goal
$299.99
FORZA Soccer Goal Target Sheets
$28.99