FORZA Rubber Base for Free Kick Mannequins [13kg]
FORZA Rubber Base for Free Kick Mannequins [13kg]
Heavy Duty Black Rubber Base For Soccer Free Kick Mannequins
Rubber Bases For Using Soccer Free-Kick Mannequins On Astroturf
3G, 4G, Astroturf and indoor hard pitches are an ever-growing feature in soccer, providing year-round, weather-resistant training venues. No need to purchase astroturf-specific free-kick mannequins, as this top quality weighted base has been designed to convert mannequins with ground spikes into astroturf training tools.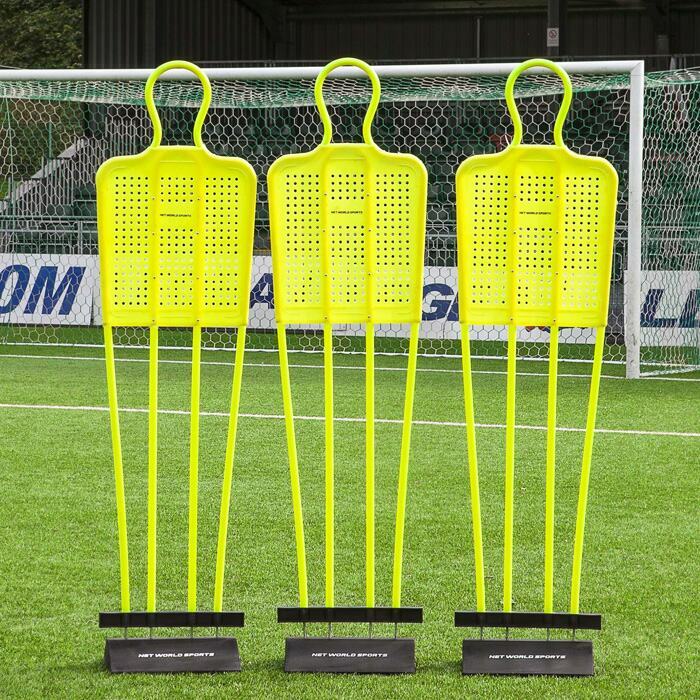 Incredibly Strong Weighted Rubber Bases For Enhanced Stability
From strong winds to blasted thunderbolts, free-kick mannequins endure punishment during use. These 13kg bases have been designed to provide optimum stability during use. Long-lasting and incredibly durable, these rubber bases will allow you to take your free-kick training drills onto the astroturf for seasons to come.
Bases Capable Of Holding Mini, Junior And Senior Size Mannequins
The entire range of ages, from youth team to first team, can utilize astroturf pitches to up their game, and with these versatile rubber bases, it's never been easier to work on your free-kicks. All sizes of free-kick mannequin can fit into the specially developed grooves with ease, providing year-round practice to all.
Description
Convert Your Free-Kick Mannequins Into Astroturf Training Tools With This Rubber Base
This heavy duty free kick mannequin rubber base is an essential addition for soccer clubs who train on multiple surfaces. Move your set-piece training drills from tradition grass pitches to all-weather artificial surfaces in an instant with this base. Any free-kick mannequin with integrated steel ground spikes can be converted into a piece of astroturf soccer training equipment with this weighted rubber base.
Rubber bases designed specifically to convert the FORZA Soccer Free Kick Mannequins for use on artificial surfaces
Heavy duty rubber mannequin bases weighing at 13kg to hold the free kick mannequins securely into position through use
Weatherproof bases which won't blow away under the heaviest of gusts, perfect for winter training sessions
Designed to rigidly hold all sizes of free kick mannequins, including kids, youth and senior sized mannequins
Features an easy install groove which makes the process of inserting spiked bases an easy one
Weighing in at a hefty 13kg, this bases offers unmatched stability which ensures that your mannequins stand tall from the first kick to the last. This top of the range, market leading rubber base is heavier, wider and sturdier than any competitor, providing the rigidity and reliability to withstand gusts of wind as well as hard-hitting impact. The standard-bearer for mannequin bases, you'll be blown away by its performance.
PLEASE NOTE:This listing offers a weighted rubber base ONLY. FORZA also provide Mini, Junior and Senior Free-Kick Mannequins (sold seperately).
Specifications
Material
Manufactured from heavy duty reinforced black rubber
Rubber base boasts great strength and weight ensuring the mannequins remain in place throughout use
Miscellaneous
Rubber base is capable of holding both Junior (5ft 4in / 1.63m high) and Senior (6ft / 1.8m high) free kick mannequins sold separately by Net World Sports
Weight: 13kg (29lbs)
Color: Black
Mannequin base has an easy install groove running across the top where each the mannequin ground spikes slot into
Single mannequin rubber base only, to order multiples simply adjust the quantity
Don't just take our word for it
VERY GOOD, BUT VERY HEAVY! NOT SURE MY 11 YEAR OLD GRANDSON WILL BE ABLE TO MOVE THIS AROUND WHEN HE IS USING IT FOR TRAINING. IT IS MORE LIKELY TO BE SET UP IN ONE PLACE AND LEFT THERE - BUT WE WILL SEE!
Able to hold mannequins upright for all but the hardest of shots.
Want to chat?
Contact us here and we'll get back to you as soon as possible.
Super fast shipping
Express shipping available
Questions & answers
Ask fellow customers what they think!
Hide Q&As
Questions & Answers
1 question | 1 answer
Is this suitable for mini mannequins I.e 4ft?
Hi Amanda, thanks for getting in touch. Yes these mannequin bases are compatible for the Junior, Senior and also Mini Mannequins. They are in stock and ready for immediate dispatch! If you require any further information then please let us know. Many thanks, Adam
You may also like
FORZA Training Hurdle Carry Bag
$10.99
12 x 6 FORZA Steel42 Soccer Goal
$299.99