16 x 7 FORZA Steel42 Soccer Goal
16 x 7 FORZA Steel42 Soccer Goal

16ft x 7ft Steel Soccer Goal - The Best Junior 9-A-Side Matchday Soccer Goal On Offer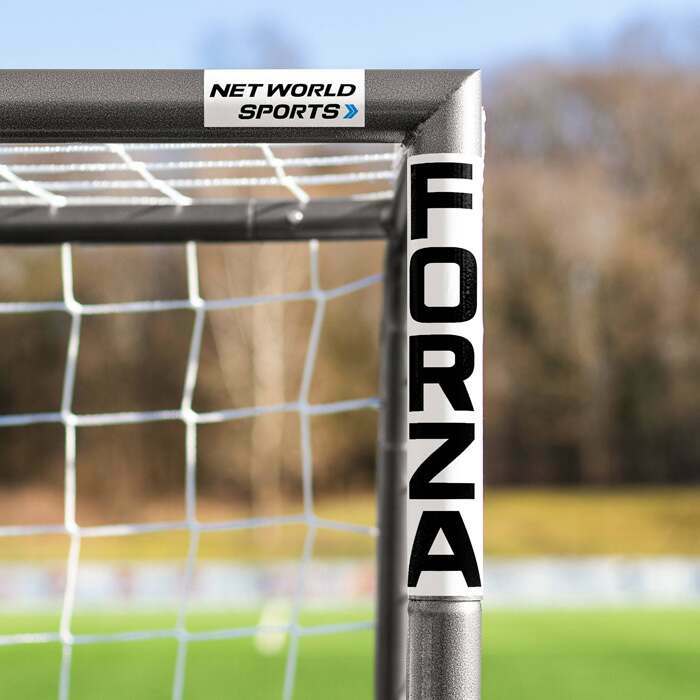 Highly Durable Steel Goal Frame Designed For Regular Use
Offering versatility which allows it to pull double duty as a junior matchday and training goal, this tough soccer goal has been designed to handle consistent sessions. Made from high strength 42mm galvanized steel, the junior soccer goal will perform at its peak all season long and beyond.
16ft x 7ft Steel Soccer Goal For Junior 9-A-Side Matches And Training
This steel soccer goal has been expertly designed to change the face of 9-a-side junior soccer. Whether it's being used for coaching sessions or under 13 matches and tournaments, the goal brings professionalism to any venue in abundance. Hit the back of the net with this 16 x 7 soccer goal.
Weatherproof Steel Soccer Goal For Year-Round Action
Rust or corrosion won't cause harm to this durable soccer goal, as the combination of sturdy steel posts and rot-proof UV stabilized goal net provides unbeatable protection against all weather conditions. The convenient weatherproof soccer goal for juniors can be left fully assembled outdoors.
Description
Solidify Your Trophy Winning Credentials With This 16 x 7 Steel Soccer Goal For Junior 9-A-Side Matchdays
Give your junior 9-a-side outfit the premium goal they deserve with this top of the range 16 x 7 steel soccer goal. Suitable for use by coaches as well as on the matchday pitch, this versatile soccer goal will take the weekly 9-a-side experience to the next level for enthusiastic youngsters looking to hone their skills before they graduate to 11 v 11 action. The unique, modern steel soccer goal will add a stylish twist to 9-v-9 matches, providing a worthwhile target for the best top-corner seeking efforts that your juniors can muster.
16ft x 7ft junior 9-a-side matchday soccer goal designed for use by 11 – 12 year olds
Ultra-strong soccer goal framework made from highly durable 42mm galvanized steel
The weatherproof goal will perform all year round and can be left set-up outdoors
Heavy duty yet light in weight freestanding goal which can be lifted and moved by two people
Rot-resistant 3mm thick UV stabilized goal net included, finished in a traditional white color
Strength is a key feature to look out for when hunting for the best matchday soccer goal for 9-a-side junior matches. The 42mm galvanized steel goal posts are capable of standing up to the demands of a full season, offering consistency and high levels of performance from the first match to the last. While you can certainly rely on this long-lasting soccer goal, you can't always rely on the sun to shine over matchday. This weatherproof soccer goal ensures that the show can go on when the heavens open, having been designed with weather-resistance that allows it to be left outdoors all year long.
While the heavy duty nature of this steel goal ensures robustness and strength, no compromise has been made on portability. Its freestanding posts are deceivingly light in weight, allowing them to moved with ease by the combined efforts of two people. Perfect for coaches and youth teams who play on various venues, the mobile steel soccer goal will turn your 9-a-side matches into weekly World Cup duels with its premium aesthetics and durable manufacturing. There's no better junior matchday soccer goal on the market than the 16 x 7 Steel42.
Not only does this match-winning soccer goal features the finest steel goal posts, but it also includes a highly durable UV stabilized goal net. The 3mm thick net is weatherproof for protection against rot, featuring durability to match that of the posts. Its classic white design brings the look and feel of a professional match goal net to the 9-a-side pitch, with the longevity to handle a glut of goals over the course of a season. Bungee cord net attachments are included for secure and simple attachment, as well as anchor u-pegs which keep the goal rooted to the ground.
Specifications
16 x 7 FORZA Steel42 Soccer Goal
Dimensions
Goal Size (length x height) 16ft x 7ft (4.88m x 2.13m)
Top depth - 3ft (0.91m)
Bottom depth - 6.5ft (1.98m)
Material
Manufactured from quality 42mm round galvanized steel
White heavy duty 3mm thick net with 100mm mesh
Miscellaneous
Weight: 40kg / 88lb
Goals are freestanding so retain portability, but require 2 people to move them
Pipe wall is approximately 2mm thick
Set Comprises of: steel frame, heavy duty soccer net, bungee cord net attachments and anchor u-pegs
Don't just take our word for it
Very good quality product for a very reasonable price. I am a US customer and had concerns about purchasing from a UK vendor, but had no problems whatever, it shipped a couple of days after my order and was on my front porch within 2 days. Easily assembled and the kids and I have been having a blast playing in the yard ever since.
Great quality and very durable for young and older players.
excellent my teenage child delighted with goal posts
Good strong quality. Easy to assemble
First class product delivery and service would recommend
Want to chat?
Contact us here and we'll get back to you as soon as possible.
Super fast shipping
Express shipping available
Questions & answers
Ask fellow customers what they think!
Hide Q&As
Questions & Answers
1 question | 1 answer
What is the warranty information and do you offer replacement netting?
Hi Shawn, Thank you for your question. With all of our goal posts there is a one year warranty attached, so if in the very unlikely occasion anything was to happen parts can be replaced at no extra cost. Many thanks, Tom
You may also like
16 x 7 FORZA Match Soccer Goal Post
$329.99
16 x 7 FORZA Alu60 Soccer Goal
$899.99
Stop That Ball™ - Ball Stop Net & Post System
$179.99
18.5 x 6.5 FORZA Alu60 Soccer Goal
$1,099.99
18.5 x 6.5 FORZA Alu110 Freestanding Soccer Goal
$2,699.99