FORZA Soccer Coaching Clipboard
FORZA Soccer Coaching Clipboard
Compact Dry-Erase Soccer Coaching Clipboard With Regulation Soccer Pitch Markings
Handheld And Versatile Soccer Coaching Clipboard
Designed with compact dimensions of 32cm x 22cm, the soccer tactics boards are light in weight for ease of transport. The versatility of the tactics clipboards allows them to be used in the changing rooms, on the training pitch and even at pitch side during the match.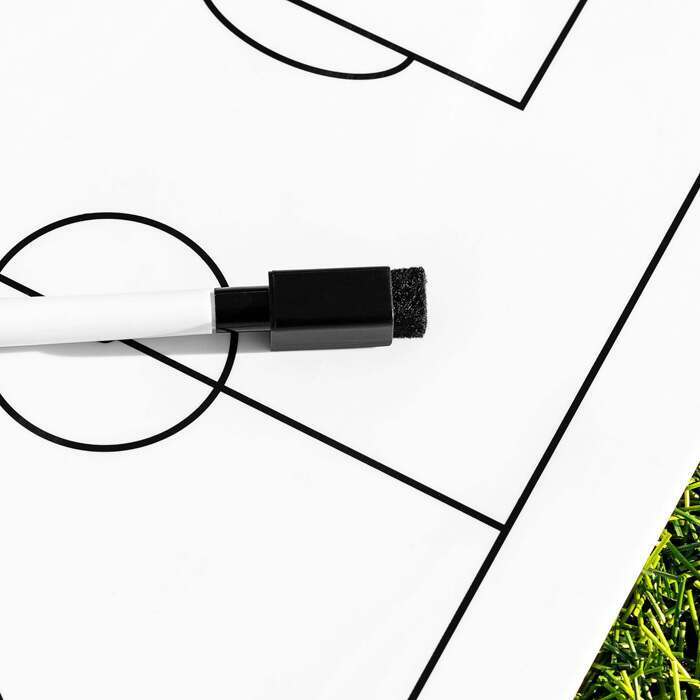 Wipeable Soccer Whiteboard With A Dry-Erase Finish
Made from high-strength ABS which is robust and bend-resistant, the top of the range soccer clipboard features a dry-erase wipeable surface. This allows for non-permanent tactical drawings which can be altered with ease to illustrate the instructions of coaches.
Coaching Clipboard With Full Soccer Pitch Markings
In order to provide a platform for in-depth a easy-to-understand commands, the body of the soccer clipboard displays all of the key areas of a soccer pitch, allowing coaches to zone in on specific parts of the pitch to target while providing detailed directions to players.
Description
Convenient And Compact 32cm x 22cm Soccer Coaching And Tactics Clipboard
Perfect for pitchside and training ground tactical instructions, the lightweight soccer coaching clipboards are the ultimate matchday equipment for soccer managers. Designed to display a full soccer pitch on its wipeable surface, the coaching whiteboard allows for detailed tactical analysis. At 32cm x 22cm, the handheld tactics clipboard features a dry erase finish, allowing for dynamic changes to be made to your tactics while the match is in full flow.
32cm x 22cm (12in x 8.5in) compact coaching clipboard which is handheld and incredibly lightweight
The surface of the clipboard features a bold display of a full soccer pitch for tactics to be plotted on
Hard-wearing ABS tactics clipboard which has been specifically designed with resistance to bending
Wipeable surface with a dry-erase finish, allowing for tactics to be written out and altered with ease
The soccer coaching clipboard include a strong steel clip for holding notes and a whiteboard marker pen
Representing high-quality matchday equipment for coaches and clubs at all levels, the handheld tactics clipboards are the definitive dugout accessory for coaches looking to gain full control over the action. Each soccer tactics clipboard boasts a dry-erase design, allowing for tactics to be removed without a trace, ensuring that fresh tactics can be plotted clearly and without confusion. As well as the full pitch display, the soccer coaching whiteboard also features a clip for holding notes and an erasable marker pen.
Constructed with strength in mind, the lightweight yet heavy-duty clipboard has been expertly manufactured using high-strength ABS which negates bending while boosting the overall damage-resistance of the tactics board. Versatile and effective, the handheld soccer coaching boards are a professional and low-maintenance pitch side solution which can also be applied to training sessions and team talks.
FORZA also stocks a wider range of soccer coaching and tactics boards which are available in a variety of sizes.
Specifications
Dimensions
Length x Width – 32cm x 22cm (12in x 8.5in)
Materials
Robust ABS clipboard designed to prevent bending
Dry erase finish
Each soccer whiteboard features regulation pitch markings
Durable clip and whiteboard pen suitable for all situations
Don't just take our word for it
Spot on ideal for planning saturday mornings games fits in my bag no problems and easy to carry around

Want to chat?
Contact us here and we'll get back to you as soon as possible.
Super fast shipping
Express shipping available
Questions & answers
Ask fellow customers what they think!
Hide Q&As
Questions & Answers
No one has asked a question yet!