FORZA Electric Ball Pump [120v]
FORZA Electric Ball Pump [120v]
Inflate Any Ball With Ease Using The FORZA Electric Ball Pump
Flexible Inflation Hose
This flexible pump hose allows you to position and manoeuvre your ball into any position ensuring you have ultimate comfort during use.
Triple-Pressure Gauge
The FORZA Electric Ball Pump features a dual pressure gauge to indicate how inflated your sports equipment is and provides measurements in BAR, KPA and PSI.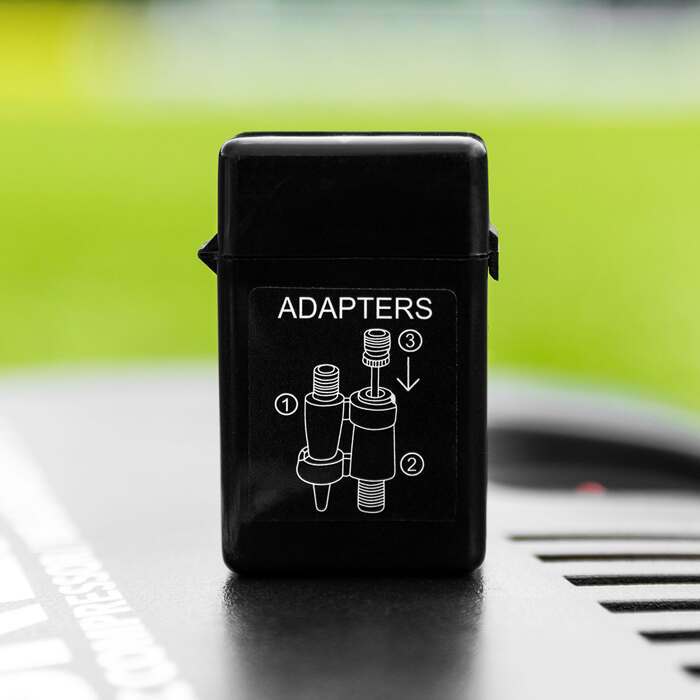 Multi-Use Pump
Designed to be versatile, this electric pump includes UK, U.S and EU adapters that is suitable for use on sports equipment and car tyres.
Description
Mains Powered Sports Ball Pump With 3-Piece Adapter Kit
This electric ball pump is the quickest way to inflate sports balls or bike tyres thanks to its 120 volt system. This powerful electric pump is capable of delivering air at a flowrate up to 18L/min, ensuring you can top up or completely inflate your rugby balls, netballs, and basketballs moments before a crucial game, saving you both precious time and energy before important fixtures.
FORZA electric ball pump for all air-inflated sports balls
Delivers air at a rate of 18L/min
Sports ball compressor displays readings in PSI, KPA and bar for precision
A 3-piece adapter kit is included with this ball pump
Temperature controlled shut off system
Automatic pressure relief system with a 125 PSI pressure relief valve
Ball pump is CE tested and certified and therefore suitable for schools and leisure centres
Weighs just 2.3kg for easy portability
With measurements displayed in PSI, KPA and bar, you can rely on the electronic pump to inflate your sports balls to the exact level you require. In the event your ball does accidentally become over inflated, this pump features an automatic pressure relief system which utilises a 125 PSI pressure relief valve. This handy feature allows you to effortlessly deflate your sports balls to the desired pressure level when necessary.
To guarantee this machine provides the highest level of safety, it is fitted with an automatic temperature controlled shut off system. This instant switch reduces the risk of your air compressor becoming overheated, in turn stopping any potential fire forming. To further validate the exceptional level of safety, this 120 volt portable ball pump is CE tested and certified. This certification guarantees this electric ball pump can be used in schools and leisure centres without causing a safety risk.
Designed to be used with an extensive range of sports ball and bike tyres, this electric ball pump is supplied with a 3-piece adapter kit which includes a US needle. These additional needles ensure your electric ball pump can be used to inflate practically anything with an inflation valve.
Specifications
Dimensions
30cm x 18cm x 13.5cm | 12in x 7in x 5in
Weight: 2.3kg | 5lbs
Miscellaneous
120 volt electric sports ball pump
Airflow rate of 18L/min
Measurements are displayed in PSI, KPA and bar
Temperature controlled shut off system and pressure relief valve increase the pumps safety
3-piece kit includes a US needle adapter
Supplied with an EU plug with an UK standard convertor
CE tested and certified
Suitable for all sports balls and car tyres
Don't just take our word for it
Previously purchased other ball pumps in the past from different businesses, but this inflates soccer balls in no time at all. Perfect for saving time when have lots to inflate.

Want to chat?
Contact us here and we'll get back to you as soon as possible.
Super fast shipping
Express shipping available
Questions & answers
Ask fellow customers what they think!
Hide Q&As
Questions & Answers
No one has asked a question yet!
You may also like
Soccer Ball Pump And Needle - FORZA Pump That Ball™
$11.99
Ball Pump Needles (Pack of 5)
$3.99
FORZA Soccer Ball Stirrup Pump
$19.99