12 x 6 FORZA Alu60 Soccer Goal
12 x 6 FORZA Alu60 Soccer Goal

12 x 6 Alu60 Football Goal - Regulation Size Soccer Goal For Mini-Soccer Matches
12 x 6 Regulation Size Soccer Goal For Mini-Soccer Use
Bringing huge quality to small-sided soccer, this 12 x 6 soccer goal is the official size for mini-soccer matches, tournaments and coaching sessions. Its premium manufacturing and versatility makes it equally suitable as a professional youth team training goal, offering quality in abundance.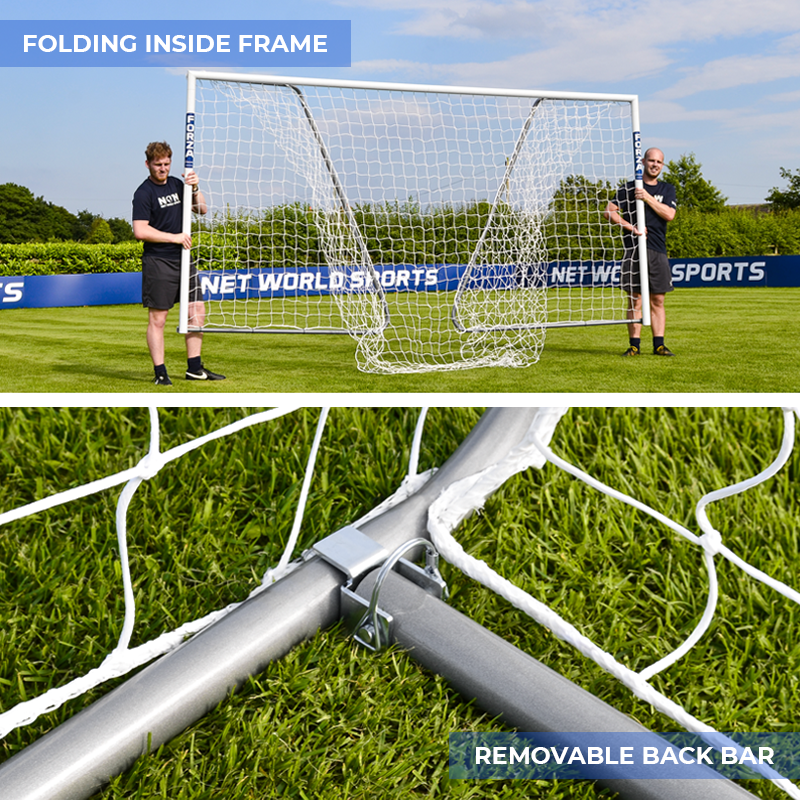 The Light In Weight Goal Frames Allows You To Move The Goal With Ease
The goal posts have been painstakingly developed to provide both heavy duty durability and supreme portability. The hard-wearing yet light in weight soccer goal frame can be lifted for transportation by two people, making it the best soccer goal for coaches and clubs who train on multiple pitches.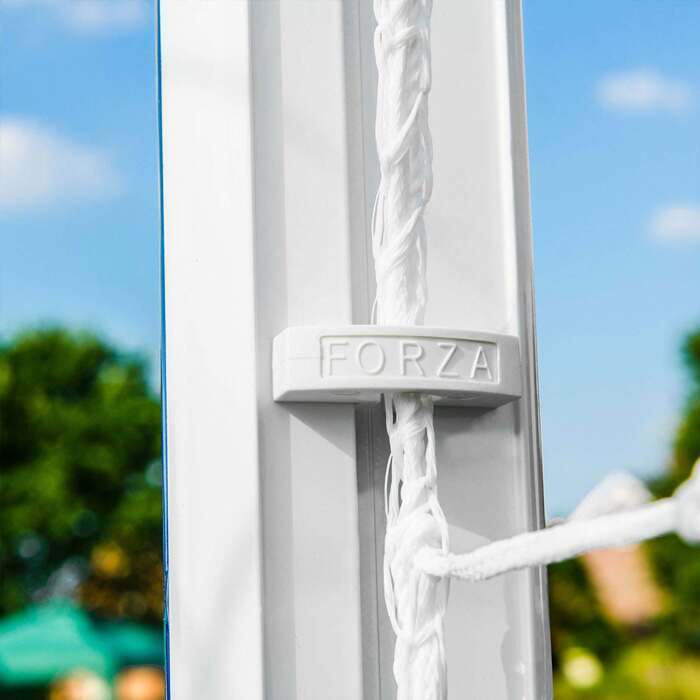 Weatherproof Soccer Goal For Premium Performance
The weatherproof manufacturing of this all-weather soccer goal ensures that your team won't go missing during the inclement winter months. The powder coated white goal frames and HDPE braided net are fully protected against the elements, guaranteeing reliability throughout all four seasons.
Description
Mini-Soccer Matches, Tournaments And Training Sessions Will Never Be The Same Again Thanks To This Premium Quality 12 x 6 Aluminium Soccer Goal For Under 11's
Mini-Soccer allows youngsters under the age of 11 to dip their toes in competitive soccer with a small sided version of the beautiful game. This official regulation size 12 x 6 soccer goal for mini-soccer makes for a premium addition to any matchday or tournament pitch, embodying the same quality manufacturing found in full size senior goals. High in value as well as performance, this is the best soccer goal for under 11's, providing incomparable durability and weather-resistance during indoor and outdoor matches and training sessions.
12ft x 6ft official regulation size soccer goal for mini-soccer matches, tournaments and training sessions
Hard-wearing goal made from premium 60mm reinforced white powder coated aluminum
The freestanding soccer goal is light in weight, allowing it to be raised and moved by two people
Capable of being stored outdoors, with galvanized steel foldaway side frames which saves space
Fully weatherproof posts and HDPE 3mm thick twine goal net for peak performance in all conditions
The durability of this aluminum soccer goal makes it perfect for years' worth of mini-soccer matches and training. The 60mm reinforced aluminum goal posts are perfect for coaches looking for a reliable soccer goal for junior training sessions, boasting the capability of absorbing regular ball impact without becoming damaged. The weather-resistance of the mini-soccer goal makes it perfect for outdoor storage, bearing the brunt of the intemperate conditions while remaining unblemished by rust and corrosion.
This cutting-edge soccer goal for under 11's comprises of lightweight goal frames which juxtaposes with their heavy-duty design. Moving the freestanding soccer goal between positions and pitches can be done with ease by two people, perfect for mini-soccer teams and coaches who share a pitch which other age groups. Whether the action is kicking off on a traditional grass field or on contemporary innovations such as 3G, 4G and AstroTurf pitches, the versatile soccer goal can perform to its full capabilities on any surface.
When hosting mini-soccer matches and coaching young players, safety is a primary concern to take into consideration. This 12 x 6 soccer goal conforms to FA Match standards, as well as having gone through independent testing to BS EN 8462 safety standards, adding a professional seal of approval to these aluminum soccer goals. No need to shop around for a premium soccer goal net, as a 3mm HDPE braided twine net is included, as well as twist and lock net clips for secure attachment. Revolutionize mini-soccer matches and training sessions with this 12 x 6 soccer goal.
Specifications
12 x 6 FORZA Alu60 Soccer Goal
Dimensions:
FORZA Alu60 goal size (width/height): 12ft x 6ft (3.7m x 1.8m)
2.5mm thick aluminum
A 12ft x 6ft soccer goal the official mini soccer size and is recommended for use by youngsters aged 5-10 years
FORZA goal top runback: 90cm (35in, approximately 2ft 11in)
FORZA goal bottom depth: 175cm (69in, approximately 5ft 7in)
Materials:
Club spec goal is manufactured from 60mm diameter reinforced aluminum and powder-coated white
Aluminum goal frame provides fantastic protection against rust and corrosion
Galvanized steel foldaway side frames
Quick release galvanized steel detachable back bars
Each goal includes a heavy duty and weatherproof white 3mm HDPE braided soccer net plus twist & lock-style net clips for easy attachment
Miscellaneous:
Weight: 22kg (48lbs)
Each individual goal will be delivered in three boxes – Box 1: 1770x220x65mm, Box 2: 1920x295x65mm and Box 3 345x285x205mm
Goals will be delivered in flat pack form and will require assembly
It is advised that the following tools would be useful to help with assembly: mallet, wrenches, ratchet with sockets
1 year guarantee as standard with all FORZA soccer goals
Conforms to British Standards and Football Association safety regulations
Independently tested to BS EN 8462 Safety Standards [Watch The Video Here]
Goals conform to FA Match standards. Net World Sports is recognised by the FA as a suitable supplier of soccer goals
Don't just take our word for it
Purchased a pair of these goals for both team training and matches, they have been able to withstand any shot that has been fired against this and have easily stood up to the challenge. The folding back bars are a must as these need storing after sessions and so with these goals having the foldaway side frames this makes these perfect for use.
Thank you so much for tracing this order back. Just to let you know that our residents & their children are really making use of your product. I have used many of this style Goal post in the past but have to say that your product is by far the best I have come across. Many thanks again for your help.
Would have been 5 easily had the goal not been damaged
Great sturdy product... Took 1hr to assemble and the target is perfect...my kids love it (8 and 7)
Want to chat?
Contact us here and we'll get back to you as soon as possible.
Super fast shipping
Express shipping available
Questions & answers
Ask fellow customers what they think!
Hide Q&As
Questions & Answers
1 question | 1 answer
Does this net collapse for storage/travel?
Hello Janelle, Thank you for your question. This goal post does fold down from the sidebars on the goal posts, this allows for great portability and allows it to be easily stored away. You can view the goal in action and see exactly how it is folded via the following link:
https://www.youtube.com/watch?v=NOJkpE8grQQ
Many thanks, Tom
You may also like
12 x 4 FORZA Alu60 Soccer Goal
$529.99
16 x 4 FORZA Alu60 Soccer Goal
$799.99
Stop That Ball™ - Ball Stop Net & Post System
$179.99
12 x 6 FORZA Alu110 Freestanding Soccer Goal
$1,899.99
16 x 4 FORZA Alu110 Freestanding Soccer Goal
$2,299.99