21 x 7 FORZA Alu60 Soccer Goal
21 x 7 FORZA Alu60 Soccer Goal
21ft x 7ft Aluminum Soccer Goal - High Quality Soccer Goal For Senior Coaching Sessions
Versatile Soccer Goal For Senior Training And Junior 11 v 11 Matches
At 21 x 7, this premium quality soccer goal falls slightly short on the full size regulations for goals, making it perfect for use during senior match preparations. A true utility player, the versatile soccer goal can also be utilized as a high quality matchday goal for junior 11 v 11 clashes.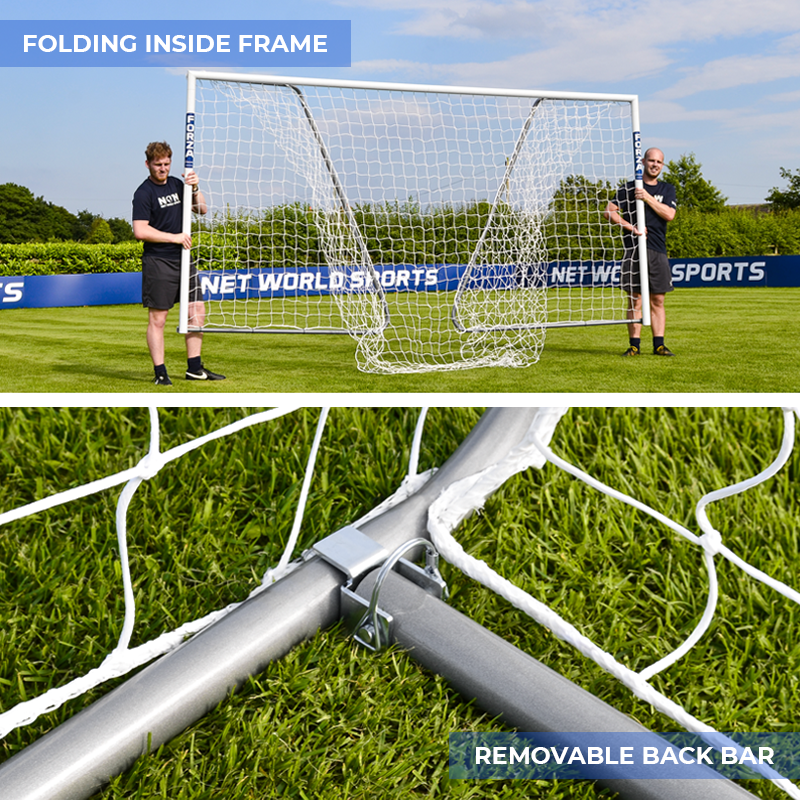 Portable Soccer Goal Made From Heavy Duty Reinforced Aluminum
Mobility is a hallmark of freestanding soccer goals, allowing the goal to be moved from pitch to pitch with ease. This hard-wearing aluminum goal is deceptively light in weight, and can be carried between playing venues by two people with exerting excessive amounts of energy pre-match.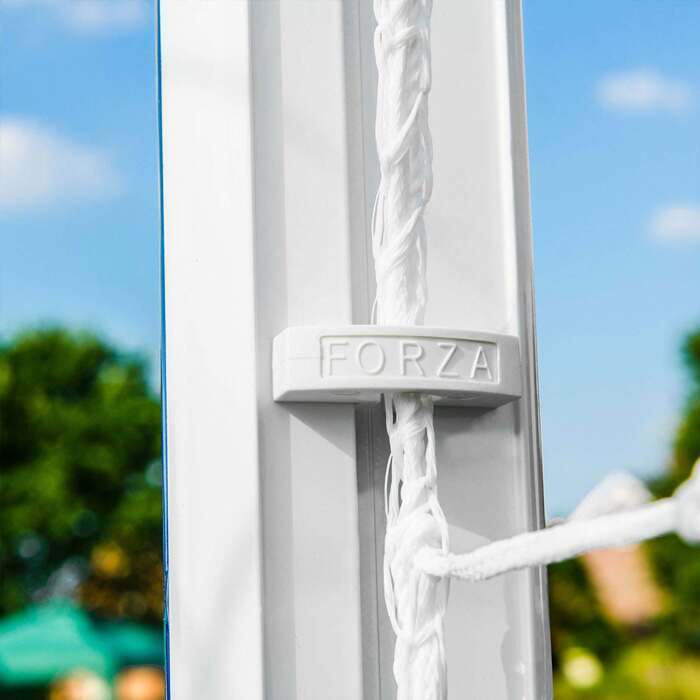 Weatherproof 21 x 7 Soccer Goal For Year-Round Training Sessions
Cut out interruptions to your training during the season by acquiring this fully weatherproof 21 x 7 soccer goal. The powder coated aluminum posts negate the risk of rust and corrosion, while the included 3mm HDPE braided twine goal net performs optimally while avoiding fraying and rot.
Description
Put Your First Team Through Their Paces With This Full Size 21 x 7 Senior Training Soccer Goal
This 21 x 7 alu60 soccer goal represents the perfect way for senior sides to put in the groundwork ahead of upcoming fixtures. One size down from a regulation full size soccer goal, this premium goal replicates the conditions that will be found on the matchday pitch, providing a worthwhile training environment which will lead to improved results for your team. As well as playing its role as a premium senior training goal, the versatile 21 x 7 soccer goal also has the ability to be applied to junior 11 v 11 matches.
21ft x 7ft soccer goal designed for senior training sessions as well as junior 11 v 11 matches
Manufactured for high levels of durability with 60mm powder coated white reinforced aluminum
Fully portable freestanding soccer goal which takes the efforts of two people to lift and carry
Features cutting-edge galvanized steel foldaway side frames for simple storage and transportation
Performs in all weather conditions due to the powder coated frame and all-weather goal net
Consistency is key to maximizing time spent of the training pitch, and the hard-wearing nature of this 21 x 7 aluminum soccer goal will help to convert practice into points. Made from 60mm reinforced aluminum, the tough goal posts have been designed with durability in mind, and the capacity to handle wildly struck shots for seasons to come without incurring damage. Wet and windy conditions won't reach the powder coated posts either, as the weatherproof design keeps the framework free of rust and corrosion when left set up outdoors.
As well as solidifying the strength of the posts, the expert manufacturing has also been put in place to ensure that the goal is fully portable. Heavy duty yet light in weight, the mobile soccer goal can be lifted and moved between pitches by two people, making it perfect for simultaneous use as a senior training and junior matchday goal. Its galvanized steel foldaway side frames makes the goal even easier to lift, as well as providing a method of saving space in your storage compartment. Freestanding and transportable, the training soccer goal is suitable for use on all surfaces.
This 21 x 7 senior training soccer goal has been put to the test, resulting in an adherence to BS EN 8462 safety standards which provides peace of mind to those who wish to regularly and scrupulously use the aluminum soccer goal. The tough posts will remain rigid and upright throughout the most intense training sessions and junior matches, ensuring guaranteed safety to players. As well as premium goal posts, a HDPE soccer goal net is included alongside twist and lock net clips and anchor u-pegs.
Specifications
21 x 7 FORZA Alu60 Soccer Goal
Dimensions:
FORZA Alu60 goal size (width/height): 21ft x 7ft (6.5 x 2.1m)
2.5mm thick aluminum
21ft x 7ft is recommended for use as an 11-a-side goal in the under 13/14 age group. It is also suitable as a senior training goal
FORZA goal top runback: 90cm (35in, approximately 2ft 11in)
FORZA goal bottom depth: 195cm (77in, approximately 6ft 5in)
Materials:
Club spec goal is manufactured from 60mm diameter reinforced aluminum and powder-coated white
Aluminum goal frame provides fantastic protection against rust and corrosion
Galvanized steel foldaway side frames
Quick release galvanized steel detachable back bars
All connecting bolts and nuts are manufactured from the finest quality stainless steel
Each goal includes a heavy duty and weatherproof white 3mm HDPE braided soccer net plus twist & lock-style net clips for easy attachment
Miscellaneous:
Weight: 25kg (55lbs)
Each individual goal will be delivered in three boxes – Box 1: 2100x280x65mm, Box 2: 2240x295x65mm and Box 3: 445x345x205mm
Goals will be delivered in flat pack form and will require assembly
It is advised that the following tools would be useful to help with assembly: mallet, wrenches, ratchet with sockets
1 year guarantee as standard with all FORZA soccer goals
Don't just take our word for it
Great quality but instructions were not as easy to understand
Want to chat?
Contact us here and we'll get back to you as soon as possible.
Super fast shipping
Express shipping available
Questions & answers
Ask fellow customers what they think!
Hide Q&As
Questions & Answers
No one has asked a question yet!
You may also like
18.5 x 6.5 FORZA Alu60 Soccer Goal
$1,099.99
24 x 8 FORZA Alu60 Soccer Goal
$1,499.99
Stop That Ball™ - Ball Stop Net & Post System
$179.99
24 x 8 FORZA Alu110 Socketed Soccer Goal
$1,599.99
21 x 7 FORZA Alu110 Freestanding Soccer Goal
$2,899.99