10 x 6.5 FORZA Alu110 Freestanding Futsal Soccer Goal
10 x 6.5 FORZA Alu110 Freestanding Futsal Soccer Goal
10ft x 6.5ft Alu110 Freestanding Futsal Soccer Goal - Regulation Size Soccer Goal For Futsal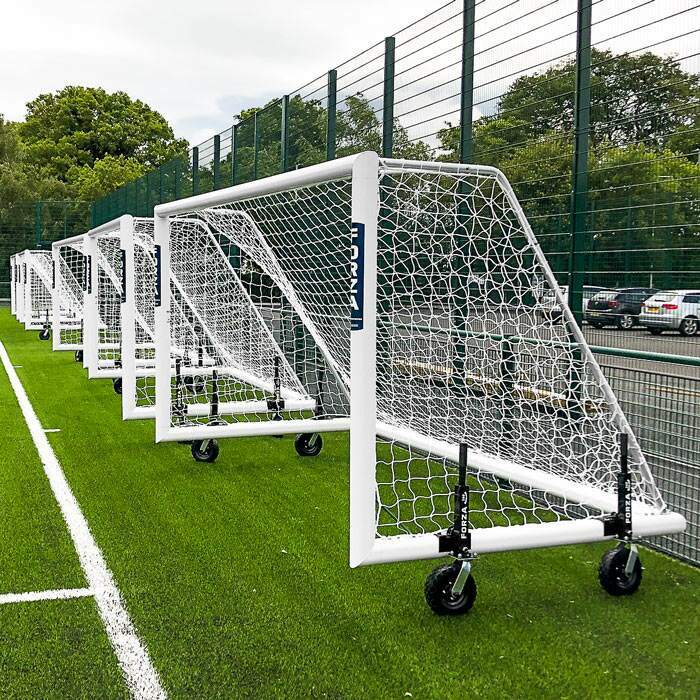 Optional Heavy Duty Puncture Proof Goal Wheels Provide Reliable Portability
The highest quality wheels of their kind can be included with this premium futsal goal, having been manufactured from heavy duty anti-puncture materials which facilitate quick and easy movement of this top of the range goal. The lever type wheels are extra wide, preventing them from sinking into the ground.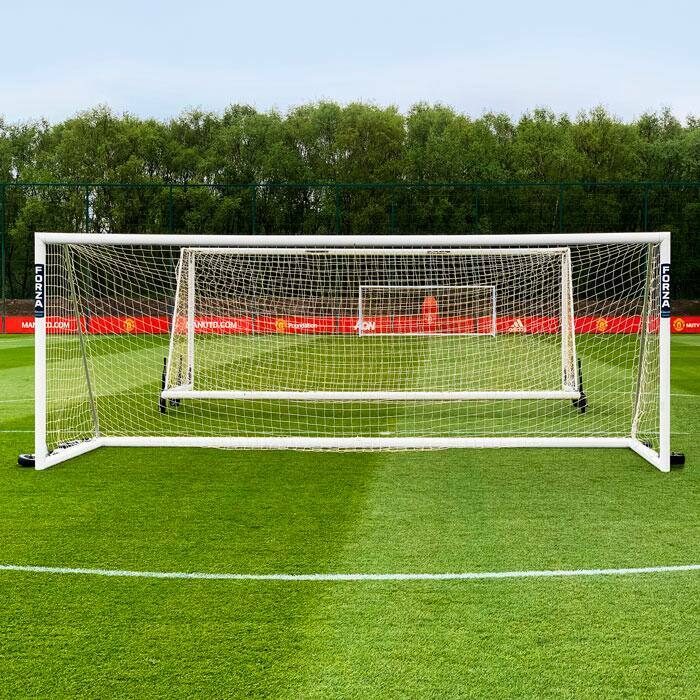 Add Internal Counterbalance Weights For Protection Against Unwanted Movement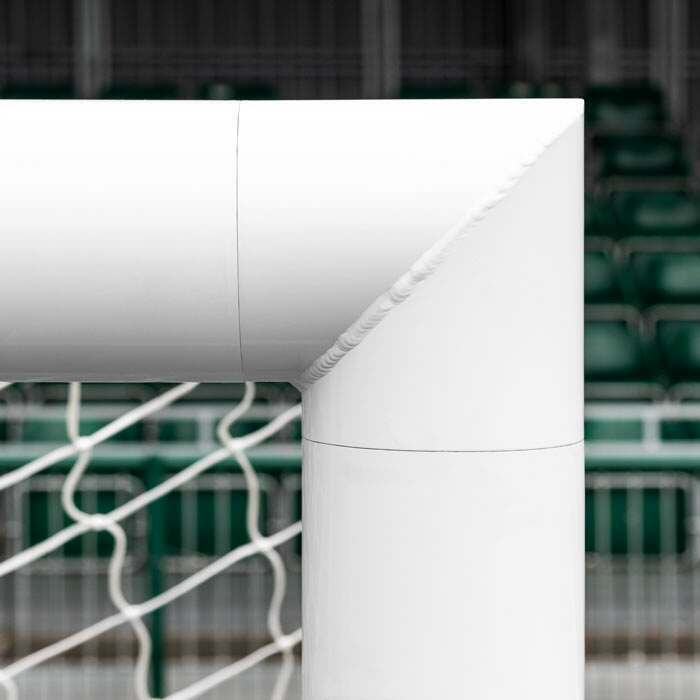 Light In Weight Yet Tough
While no compromises have been made on the goals durability, the frames are also incredibly light in weight, allowing them to be moved by hand.



Description
Give Futsal Matches, Tournaments And Training Sessions A Premium Upgrade With This Regulation Size 3m x 2m Freestanding Futsal Soccer Goal
Originating in South America, futsal is becoming increasingly popular all over the globe, with many enthusiasts being drawn in by the fast-paced nature of the sport. There are several key differences between soccer and futsal, including the size of the pitch and number of players. These differences merit specific equipment, as exemplified by this official regulation 10 x 6.5 soccer goal for futsal. FORZA Alu110 Soccer Goals are the goal of choice of MLS sides, and now you can apply the same premium manufacturing to smaller sided futsal matches.
10ft x 6.5ft soccer goal which is the official regulation size for futsal matches, tournaments and training
Manufactured from 110mm reinforced powder coated aluminum which is suitable for indoor or outdoor use
Extremely high in strength while upholding portability due to its surprisingly light in weight design
Optional heavy-duty lever type soccer goal wheels which eliminates manual lifting by raising the goal 100mm off the ground
Optional counterbalance weights which have been designed to slot inside the goal frame for stability
Becoming a master of the eye-catching skills often seen on the futsal pitch requires equipment with the reliability to last the course. Manufactured from incredibly durable 110mm reinforced aluminum, this futsal soccer goal is a consistent performer which is capable of taking centre stage on indoor and outdoor surfaces alike. The powder coated framework is resistant against scratches as well as weather-related damage, and can be left fully assembled outdoors all season long without succumbing to wear and tear.
The top of the range soccer goal for futsal offers durability, reliability and quality by the bucket load, although its talents aren't limited to providing unbeatable strength. The freestanding futsal goal also vaunts astonishingly lightweight posts which guarantee portability, allowing the whole goal to be moved with ease, perfect for coaches and sports centres who undertake skill-based training sessions and matches on more than one playing surface. As well as premium goal posts, a high strength 5mm braided goal net comes as standard, fitting to the frame flawlessly while providing ultimate weather protection all year round.
Upgrade Your 10 x 6.5 FORZA Alu110 Freestanding Futsal Soccer Goal
To fully utilize the portability of this freestanding soccer goal, there is the optional to add premium quality, puncture-proof goal wheels. These heavy-duty wheels feature a unique CAM mechanism and a lever function which raises the goal up to an unmatched height of 100mm off the ground. Abolishing the need for strenuous manual lifting, the convenience afforded by the professional quality wheels allows the goal to smoothly glide across any surface in an incredibly easy to use fashion.
As well as the best goal wheels on the market, there is also the option to add internal counterbalance wheels to your goal for enhanced safety precautions. The weights have been tailor made for the profile of alu110 freestanding goals, fitting into position with ease. The easy to use safety weights for goals can be filled with sand, water, stone or metal to ensure that the goal remains rooted into position throughout the fast-paced futsal match.
As is the case with the entirety of our top-quality FORZA Alu110 soccer goal range, these futsal goals conform to worldwide match regulations set by the FA, MLS, A-League, UEFA and FIFA. For enhanced healthy and safety measures, the goal has been tested to BS EN 748/8462 safety standards. If you wish to view to video of the testing process, then please click here. To download the safety certificate, please click here.
The FORZA Alu110 range has been designed with power, strength and precision in mind. This premium futsal goal retains all the FORZA characteristics of being great value for money and ultra-reliable but now possesses the additional qualities of being bigger, stronger and better than ever!
Specifications
3m x 2m FORZA Alu110 Freestanding Futsal Soccer Goal
Dimensions:
FORZA Alu110 goal size (width x height): 3m x 2m (10ft x 6.5ft)
Goal bottom depth: 198cm (78in, approximately 6.5ft)
Goal top runback: 92cm (36in, approximately 3ft)
3m x 2m soccer goals are the internationally recognized sized goals for Futsal matches
Materials:
Goal frame is manufactured from heavy duty 100mm x 110mm elliptical aluminum with reinforced ribs inside for additional strength
Fully welded corner joints throughout ensures maximum strength and durability
Internal connector joints add strength and long-lasting reliability
Tough, scratch resistant powder coated paint finish in white to protect goal from rust and corrosion
Heavy duty diagonal net supports bars, made from extra thick tubular aluminum with support stay for extra bracing
Solid steel support plates are precision cut via laser for an exact fit and are zinc plated to protect against corrosion for long life
High tensile stainless nuts, bolts and washers throughout
World Cup quality goal nets are specially tailored to overall goalpost shape for best fit
Goal nets are constructed from a 5mm OD braided HDPE twine with 100mm knotted mesh size in white
Twist & lock-style safety net clips securely attach goal nets into the goal's internal channel.
Both the goals nets and safety net clips are UV treated to protect against sunlight
Entire goal frame, net and all fixtures/fittings are weather resistant
Miscellaneous
Goals require assembly as they are delivered in flat pack form
For more information on the setup and tools required, please click here to download our assembly instructions 1 year guarantee as standard with all FORZA Soccer goals
Upgrading your goal
Our revolutionary lever type puncture proof wheels will optimize the mobility of the goals
Lever type wheels can lift the goal up to 100mm off the ground to avoid frame catching the ground when moving
Cam plates are precision cut via laser to ensure smooth flowing operation system
The micro-cellular polyurethane tyre on polypropylene wheel is puncture proof & UV stable
Each wheel measures 260mm in diameter x 85mm wide
The extra wide tyres with deep diamond patterned tread stop the wheels from sinking in wet muddy ground, optimizing mobility
Wheels have greased internal bearings for smooth rotational operation
Heavy duty extra thick steel brackets for long lasting reliability
All steelwork is zinc plate treated to protect against corrosion for long life
Complete with high tensile stainless nuts, bolts and washers to bolt wheel brackets to the goal's internal channel
For added health and safety, internal counterbalance weights can be added inside the goal to prevent overturning.
The internal counterbalance weights simply slide inside the goal's 100mm x 110mm bottom framework
Manufactured from extra thick, UV stable HDPP special molded to goal's profile shape for a secure fit
Weights require filling with sand, stone, metal or water (not included)
Don't just take our word for it
Firstly I would like to start off by saying how impressed I was from the first point of contact, right through to the delivery of the product. The goals look amazing, they are by far the best quality we have ever purchased! I had never used this company before but they were recommended to me from another Futsal team within our league, I am extremely glad I took their advice on board as I feel we now have a trustworthy supplier for the foreseeable future. Also, the 360 wheel option is brilliant, they make life so much easier when moving the goals in and out of tight spaces.
Want to chat?
Contact us here and we'll get back to you as soon as possible.
Super fast shipping
Express shipping available
Questions & answers
Ask fellow customers what they think!
Hide Q&As
Questions & Answers
No one has asked a question yet!
You may also like
12 x 4 FORZA Alu110 Freestanding Soccer Goal
$1,599.99
12 x 6 FORZA Alu110 Freestanding Soccer Goal
$1,899.99
10 x 6.5 FORZA Alu60 (3m x 2m) Futsal Soccer Goal
$649.99
10 x 6.5 FORZA Alu110 Socketed Futsal (3m x 2m) Soccer Goal
$1,099.99