Striped Two Color Straight Back Soccer Net
Striped Two Color Straight Back Soccer Net
Striped Straight Back Goal Nets - Perfect For A Matchday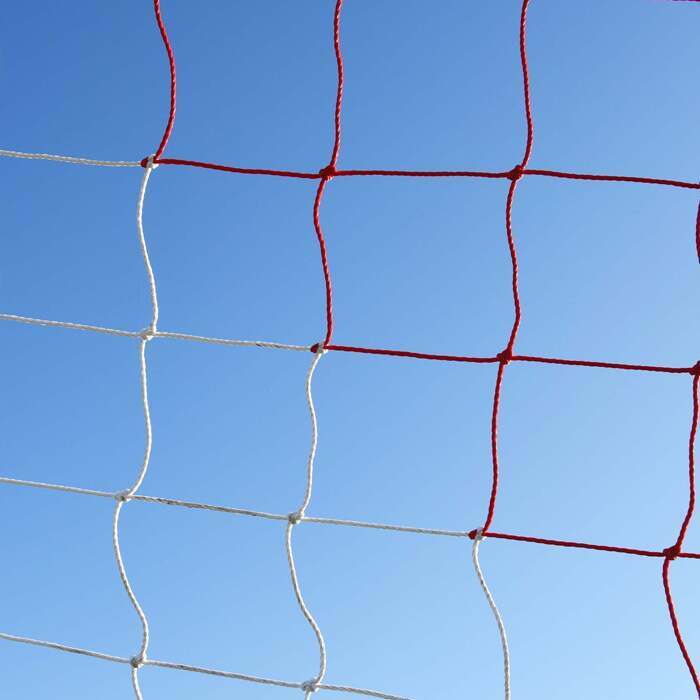 Square Mesh Knotting
120mm square mesh netting provides you with the ultimate ball security. Specially designed knotting gives professional and traditional goal net feel.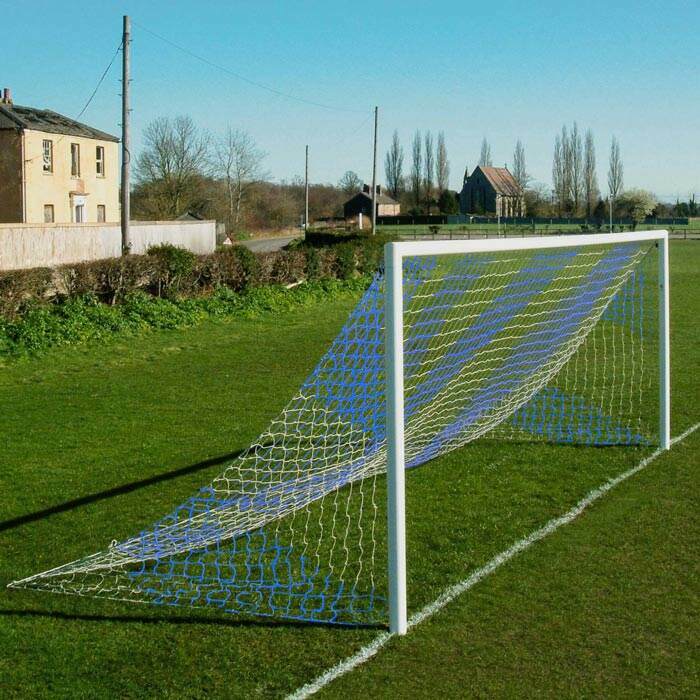 Full Size Regulation
Designed to fit full size 24ft x 8ft (7.3m x 2.4m) straight back adult soccer goals and meet all governing body regulations.
Strong Material
Ultra-durable 3mm thick polypropylene goal netting that is built to withstand the harshest of weather and strongest of shots.
Description
Soccer Goal Posts Have Never Looked So Good Than With This Football Goal Net
This full-size colored netting will ensure your team and pitch will be the envy of your league. Crafted from strong 3mm thick twine, this soccer goal net will make sure that your club colors are displayed with pride all year round, no matter the weather.
Extra durable 3mm twine soccer netting to survive the worst of conditions
Available in blue & white or red & white
Professional soccer goal nets that are available as a single or in a pair
Made for regulation full size 24ft x 8ft (7.3m x 2.4m) goals
This soccer goal netting was created for 24ft x 8ft (7.3m x 2.4m) regulation full size goals and is available in blue & white or red & white. Having your team colors on show will not only make your pitch feel more like home but it will also make the opposition feel uneasy and less comfortable.
This striped straight back goal netting won't just show off your team colors when the conditions are good right either. These highly-durable 3mm grade soccer goal nets are resistant to the harshest of elements. These soccer nets can be left attached all year round and regardless of the amount of goals, there will be no compromise in quality, performance or class.
Specifications
Dimensions
Striped net for full size 24ft x 8ft goals
Materials
Manufactured from extra heavy duty 3mm soccer netting
Miscellaneous
Suitable for flat back goal posts (with no top depth)
120mm mesh square with overlock edge
Blue & White OR Red & White colors available
Don't just take our word for it
Grandson very happy with the net.
Want to chat?
Contact us here and we'll get back to you as soon as possible.
Super fast shipping
Express shipping available
Questions & answers
Ask fellow customers what they think!
Hide Q&As
Questions & Answers
No one has asked a question yet!
You may also like
Heavy-Duty Full Size Soccer Goal Net [All Sizes]
$27.99
Ultra Heavy Duty Soccer Goal Net [All Sizes]
$55.99
Stop That Ball™ - Ball Stop Net & Post System
$179.99
Striped/Two Color - Soccer Goal Net [10 x Color Options]
$74.99
Recently Viewed
FORZA 5ft Spring Loaded Slalom Training Poles [1"]
$59.99
18.5 x 6.5 FORZA Alu110 Freestanding Stadium Box Soccer Goal
$3,699.99