Soccer Speed Ladder - 3.3 Yards
Soccer Speed Ladder - 3.3 Yards
Soccer Speed Ladder - 3.3 Yards
Vary Your Workouts
The ladder is either 3m or 6m long to provide a varied workout routine
Designed With Athletes In Mind
Flat rungs minimise the potential risk of trips and injuries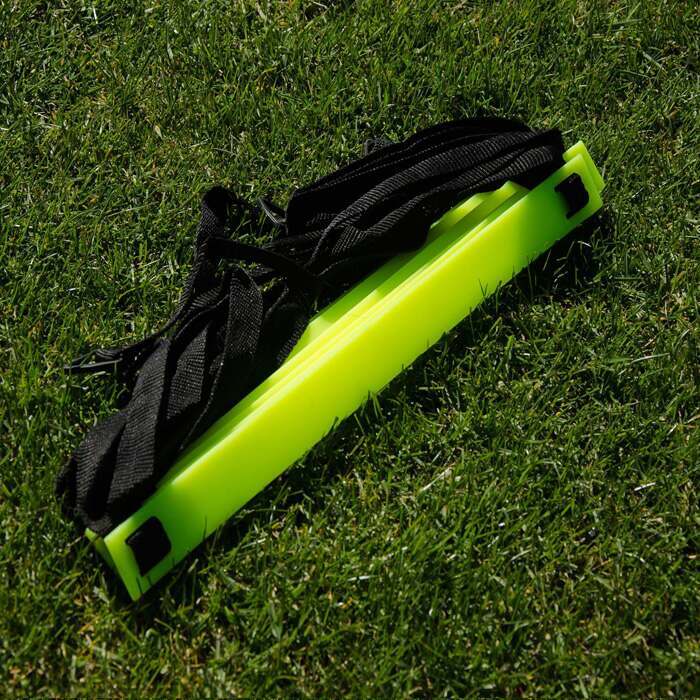 Practice Anywhere, Anytime
Suitable for indoor or outdoor use. Folds away for easy storage
Description
---
Soccer Speed Ladder | 3.3 Yards Soccer Ladder
Soccer Speed Ladders For Training Use To Improve Mobility Through Stride Technique, Coordination, Arm Control & Speed
Ladder Length - 3.3 Yards (6 rungs) (6.6 yards also available)
Colour: Fluo Yellow
Width: 16in
Professional Flat Rung Type Ladder, Oppose To Round Rungs
Velcro End Attachments For Joining Ladders
Soccer Speed Ladders For Improving Coordination, Reaction & Speed
---
Specifications
Material:
Agility ladder has plastic rungs and nylon edges
Sizes:
Length: 3m - 10ft | 6m - 20ft
Width: 3m - 40cm | 6m - 40cm
Rungs: 3m - 6 Rungs | 6m - 12 Rungs
Miscellaneous:
Rungs slide up and down the agility ladder edges so the gaps can be easily adjustable
Flat, pro-style rungs as opposed to round shaped alternatives to minimise risk of injury
Speed ladder ends can be joined together if you require a longer layout for a more challenging training drill
Don't just take our word for it
Ladder was wet and mud on it. Not sure if used.
Just what we were looking for and at a great price
just what i needed for coaching
Same as the other; one agility ladder was 10' and the second 20'.
Want to chat?
Contact us here and we'll get back to you as soon as possible.
Super fast shipping
1 day shipping available
Questions & answers
Ask fellow customers what they think!
Hide Q&As
Questions & Answers
No one has asked a question yet! Be the first to ask one.
Soccer Speed Ladder - 3.3 Yards
Thank you!
Your answer has been submitted.
We really appreciate you taking the time to help other customers, so please check your emails for a little thank you from us.
Soccer Speed Ladder - 3.3 Yards
What would you like to know?
Thank you!
Your question has been submitted. You'll receive an email when an answer has been received.
Can't hang around? Contact us and we'll get back to you right away.
You may also like
FORZA Soccer Training Marker Cones [Multi Colored]
$12.99
FORZA Speed Training Hurdles [6 Pack]
$19.99
FORZA Soccer Training Passing Arcs
$26.99