Soccer 1in Corner Flag (Spring Loaded)
Soccer 1in Corner Flag (Spring Loaded)
Spring Loaded PVC Pole With Single Color Nylon Soccer Corner Flags
Soccer Corner Flag Poles With Spring Loaded Bases
Featuring an innovative spring-loaded base, the soccer corner flags have been designed to cushion the blow of collisions and protect players from injuries. The spring-back function bends the PVC pole to absorb the impact before returning it to its original position.
Regulation Size 5ft Pole With Nylon Soccer Flags
Easy to locate on the pitch, the tall soccer corner flags are 5ft high when rooted into the ground with a diameter of 2.5cm which increases the visibility. Supplied in a single color, the nylon corner flags can be spotted during even the lowest periods of on-pitch visibility.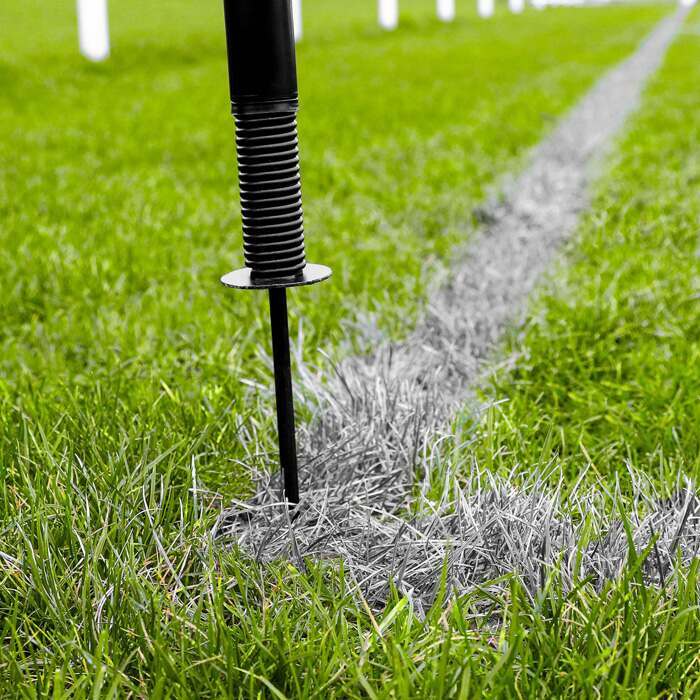 Heavy Duty PVC Poles Which Are Fully Weatherproof
For ultimate strength and longevity, the soccer corner flags feature sturdy PVC poles which are 100% weatherproof for regular use on outdoor grass pitches without running the risk of falling foul to degradation or corrosion when exposes to sunlight and heavy rainfall.
Description
Regulation Size Spring Loaded Soccer Corner Flags For Enhanced Safety
Standing at 5ft tall when rooted into the ground, the premium quality soccer corner flags are a top addition to any soccer ground. Having been designed with innovative spring loaded bases, the soccer flags provide protection to players when colliding with the corner flag pole, limiting the likelihood of injury. Available in packs of four or six, each soccer corner pole comes equipped with a 11in x 11in (30cm x 30cm) nylon flag which comes in a single color as standard.
The soccer corner flag pole is 5.4ft (1.7m) when out of the ground and 5ft (1.5m) when fixed to the ground
As a safety feature, the flags have been designed with spring loaded bases to minimize injury
Supplied in a single color, the nylon soccer flags measure in at 11in x 11in (30cm x 30cm)
Fully weatherproof PVC poles and corner flag packages suitable for use all year round
Available for purchase as a pack of four or a pack of six soccer corner flags
The flexible spring-back function of the bases of the poles bends the soccer corner flag in accordance with the momentum of the player who collides with it, ensuring that no avoidable damage is incurred. This feature also boosts the durability of the soccer flag itself, resulting in a long-lasting piece of soccer matchday equipment which will be a mainstay of your pitch for multiple seasons to come.
Standing tall with a highly visible nylon soccer corner flag, you'll always be able to spot the flag and pole package on the pitch whatever the weather. Designed from heavy-duty weatherproof PVC, the corner poles won't upturn when struck by heavy winds and won't degrade when exposed to the extremes of the elements. Perfect for soccer clubs at all levels of the game, the spring-loaded soccer corner flag are the ultimate professional soccer flag and pole package.
Specifications
Spring Loaded Soccer Corner Flag Dimensions
Pole length: 5.4ft (1.7m)
Poles length in the ground: 5ft (1.5m)
Flags: 11 inches (30cm) x 11 inches (30cm)
Materials
Poles: Weatherproof PVC
Flags: Ultra-Durable Nylon
Miscellaneous
Poles are spring loaded
Flags will be supplied in one color
Available in packs of four or six
Compatible with Corner Flag Rubber Bases
Want to chat?
Contact us here and we'll get back to you as soon as possible.
Super fast shipping
1 day shipping available
Questions & answers
Ask fellow customers what they think!
Hide Q&As
Questions & Answers
No one has asked a question yet!
You may also like
Coloured Corner Flags (4 Pack) [8x Colors]
$17.99
StadiumMax Wheel Transfer Line Marker - For Sports Pitches
$459.99
21 x 7 FORZA Alu110 Freestanding Stadium Box Soccer Goal
$3,899.99