Protein Shaker Bottle (24fl oz)
Protein Shaker Bottle (24fl oz)
Semi Translucent BPA Free Protein Shaker Bottle & Wire Blending Ball
Precise Measurements Every Time
Markings in ml & oz run up the side of the protein shaker allowing you to accurately measure out your protein shakes time after time.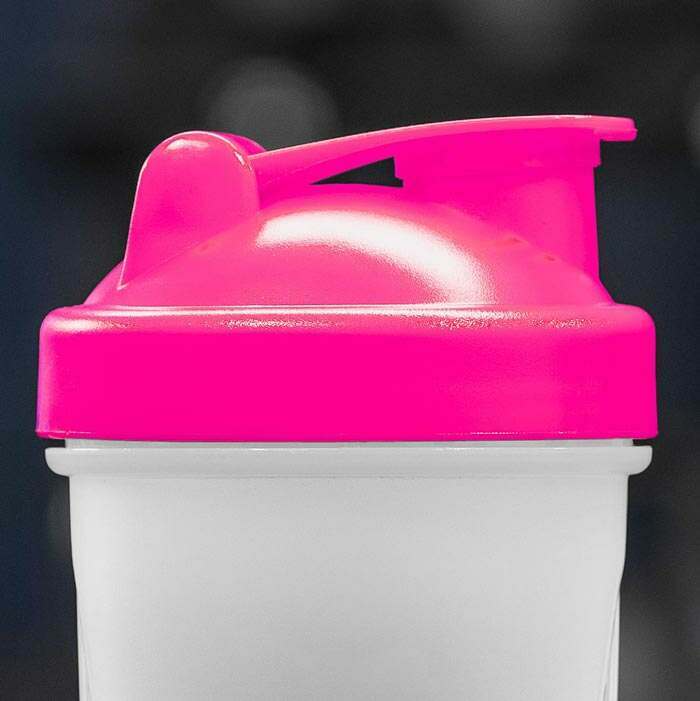 Secure Click Cap Spout
The 700ml plastic protein shakers screw top lid has a clickable cap to ensure liquid remains in the bottle when shook or inside a gym bag.
Wire Ball For Smooth Shakes
The included metal ball acts as a whisk within the BPA free plastic protein shaker. This prevents lumps from occuring in your protein or diet shakes.
Description
Create Flawlessly Smooth Protein Shakes With This 700ml Shaker Bottle And Wire Mixing Ball
A 24fl oz (700ml) semi-translucent BPA free protein shaker bottle with additional side grips for easy and secure handling. Designed with a vertical gauge that clearly displays units of measurements, this protein shake mixer is ideal for quickly and precisely measuring liquid. Each robust bottle has been fitted with a dependable screw top lid and clip shut spout to ensure that the contents of this shaker cup remain secure inside. Whilst the base of this premium bottle is semi-translucent, the leak-proof lid is supplied in three color options to perfectly suit your preferences. This must have piece of sleek gym equipment is available in a vivid light blue, luminous pink, vibrant yellow or a classic black.
Shaker bottle holds up to 24fl oz (700ml) of liquid.
Available with a blue, pink, yellow and black cap with a translucent bottle base.
Measures 9 inches (23cm) tall and 4 inches (10cm) wide.
Wire blending ball breaks down powder evenly to create smooth drinks.
Oz and ml measurements embossed on shaker bottle's side.
Tight fitting screw top lid with click cap spout create a leak proof seal.
Manufactured from semi-translucent BPA free plastic.
Can be purchased individually, in packs of 3, 20 and jumbo packs of 72.
The impressive blending capabilities of this high-quality protein shaker bottle are a result of the spiral wire blending ball. This heavy-duty blending tool effectively reaches all of areas of the bottle to ensure that there are no lumps and clumps of unmixed power. While creating flawlessly smooth drinks, the clip shut spout guarantees that leaking will not occur. As this cap has been designed to be extremely secure, it firmly attaches to the drinking tube to provide an air tight lock that will not open whilst vigorously making protein shakes.
This extra-large 24fl oz (700ml) BPA free shaker bottle features a convenient measuring gauge that clearly displays both ml and oz. Designed to ensure that you're able to accurately create shakes and meal replacements, each 9 inch (23cm) tall shaker cup has been produced to be simple and straightforward to use. Whether your chosen unit of measurement is ml or oz, this protein shaker mixer will be able to be utilised regardless of your measurement preferences.
Available individually, in packs of 20 or a jumbo pack of 72, you can use this premium shaker bottle yourself or fuel an entire football team before or after training sessions and matches.
Specifications
Dimensions
Bottle height 23cm (9 inches) with lid
Bottle width is 10cm (4 inches) wide
Material
Manufactured from BPA free semi-translucent plastic with blue, pink, red, black or yellow lid
Miscellaneous
Holds up to 700ml (24fl oz) of liquid
Wire mixing ball is included
Measurements in ml and oz are displayed on the side of the protein shaker
Leak proof screw top lid and click cap spout
Available in blue, pink, red, black and yellow
Please Note: Shaker bottles are non-returnable due to hygiene reasons.
Want to chat?
Contact us here and we'll get back to you as soon as possible.
Super fast shipping
Express shipping available
Questions & answers
Ask fellow customers what they think!
Hide Q&As
Questions & Answers
No one has asked a question yet!
You may also like
Soccer Water Bottle Carrier
$16.99
FORZA ASTRO Slalom Poles With Bases [1.5ft / 5ft / 6ft High]
$189.99
Sports Drink Water Bottles (750ml)
$3.99