RapidFire RF100 Soccer Rebounder
RapidFire RF100 Soccer Rebounder

Foldaway Soccer Rebounder With An Adjustable Trajectory
Fixed Or Handheld Rebounder
Fitted with quick-release pins, the detachable design of these soccer rebounding nets allows them to be used freestanding or as a handheld training net for goalkeepers.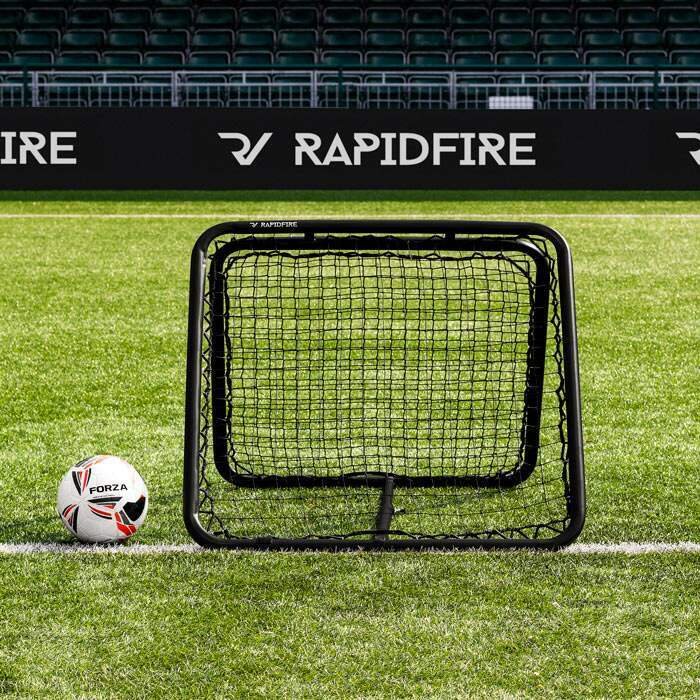 Two Nets For Varying Delivery
The double-sided soccer bounce back nets feature different grades of netting, with the knotted side offering an unpredictable bounce and the other providing a consistent bounce.
Foldaway Soccer Bounce Net
Designed with an innovative adjustable function, the soccer kickback net comes equipped with a detachable base which folds the frame away with ease for storage and transport.
Description
Double-Sided Adjustable Soccer Rebounder For Training Multiple Skills
Improve your technical ability with the highly versatile RapidFire RF100 Soccer Rebounder. Whether you're looking to develop your throwing accuracy or strengthen a weaker foot, the RapidFire RF Rebounder will help you to take your skills to the next level.
High quality soccer rebounder which improves numerous skills including volleying, heading, first touch and more
Robust and sturdy frame made from black powder coated 0.06 inch steel for weather-resistance
Side 1 is 2.8ft x 2.8ft with 0.06 inch knotted HDPP net with 1.9 inch mesh, side 2 is 2.5ft x 2.5ft with 0.08 inch knotless HDPE with 1.2 inch mesh
Fully adjustable angle trajectory allows you to tailor the ball delivery to match your training requirements
Easy to assemble thanks to the quick release pins while the frame folds flat for storage and transportation purposes
Combining heavy-duty materials with unbeatable performance, the soccer rebounding net can be applied to wide variety of skill training, including volleying and ball control drills. This double-sided rebounder allows for simultaneous practice to take place, ensuring that your teams training time will always be optimised. Perfect for indoor or outdoor soccer pitches, the weatherproof bounce back net provides year-round training to players of all ages and abilities.
Featuring an ultra-durable frame made from 0.06 inch black powder coated steel, the premium soccer training rebounder can withstand impact from boots, balls and the elements. Each side of this rebounders net features a slight difference in dimensions, despite this they both effectively maintain the same spring-loaded bounce to guarantee that each hit will ricochet back to you. Designed to test a variety of technical attributes, the adjustable soccer rebound net can be manipulated with ease, altering the trajectory of the ball to suit specific training drills.
Quick and easy to assemble, the low-maintenance rebounder for soccer has been designed with quick release pins. These pins ensure effortless assembly, while the foldable nature of the frame makes storing and transporting the soccer rebounder incredibly simple post-use. As a piece of training equipment essential for coaches at all levels of the game, the rebounder provides full control to enhance the quality of each practice.
PLEASE NOTE - The RapidFire RF100 Soccer Rebounder is also suitable for a range of other sports, including cricket, Gaelic football, football, field hockey, rugby and more.
Specifications
RapidFire RF Soccer Rebounder Specifications
Dimensions
RapidFire RF80 Soccer Rebounder
Overall Rebounder Size – 2.5ft x 2.5ft (75cm x 75cm)
Side 1 Target Area (L x W) – 2.1ft x 2.1ft (63cm x 63cm)
Side 2 Target Area (L x W) – 1.9ft x 1.9ft (58cm x 58cm)
RapidFire RF100 Soccer Rebounder
Overall Rebounder Size – 3ft x 3ft (94cm x 94cm)
Side 1 Target Area (L x W) – 2.8ft x 2.8ft (85cm x 85cm)
Side 2 Target Area (L x W) – 2.5ft x 2.5ft (78cm x 78cm)
RapidFire RF150 Soccer Rebounder
Overall Rebounder Size – 4.5ft x 3ft (138cm x 94cm)
Side 1 Target Area (L x W) – 4.2ft x 3ft (129cm x 86cm)
Side 2 Target Area (L x W) – 4ft x 2.5ft (121cm x 78cm)
Materials
Rebound Net (Side 1) – 1.5mm HDPP, 48mm knotted mesh (unpredictable bounce)
Rebound Net (Side 2) – 2mm HDPE, 30mm knotless mesh (consistent bounce)
Rebounder Frame – Premium 1.5mm black gloss powder-coated steel
Miscellaneous
Rebound nets can be used vertically or horizontally
Quick release pins also allow users to convert to a handheld rebounder
Features a fully adjustable angle functionality
Light-in-weight, ultra-durable & super easy to transport
Rebounder folds completely flat for simple storage
Low-profile design allows the rebounder to fit into a car boot
Large rebounding area which is tight all the way up to the frame
RapidFire RF Soccer Rebounders can also be used for cricket, hockey, rugby, football, GAA Gaelic football, hurling and more
Want to chat?
We're here on

live chat

right now!
Or via phone or email if you'd prefer...
Questions & answers
Ask fellow customers what they think!
Hide Q&As
Questions & Answers
No one has asked a question yet!
You may also like
RapidFire Soccer Rebound Net
$137.99
RapidFire Soccer Rebound Net [Double Sided]
$160.99
RapidFire Mega X Soccer Rebounder
$252.99
RapidFire Flash Pop-Up Soccer Rebounder (8ft x 5ft)
$101.99
RapidFire Handheld Soccer Rebounder
$63.99