FORZA Soccer Team Bench [Pro Model]
FORZA Soccer Team Bench [Pro Model]
Non-Permanent Soccer Team Bench For Clubs Of All Standards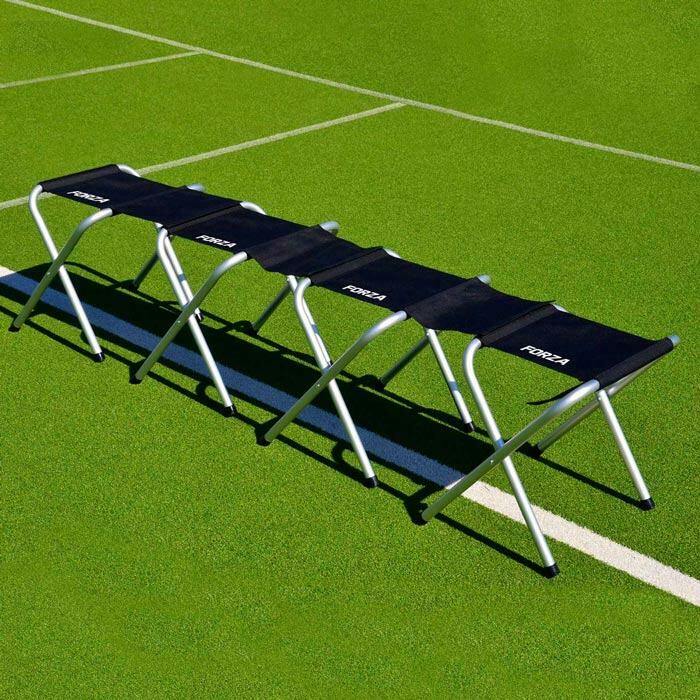 Quick And Easy To Assemble Soccer Benches
Perfect for use on any side-line, this cutting-edge soccer team bench takes 10 seconds to pop up and to be taken down post use, negating the need for your time to be focused on setting up your soccer matchday equipment ahead of the big game.
Heavy-Duty Materials For Long-Lasting Performance
Designed for multiple seasons worth of use, the soccer team seats will be a worthwhile investment for your team. Comprising of a synthetic soccer seat alongside a heavy-duty aluminum frame, the soccer benches are built to last.
Fully Customizable 4, 8 Or 12 Seat Soccer Team Bench
Take your pick between a small, medium or large sizes soccer bench, with 4, 8 or 12 seats to best match you requirements. If you wish to lessen the amount of seats, or use them individually, the seats can be detached from the bench with ease.
Description
Portable Foldaway Soccer Team Bench For Soccer Pitches At All Levels
Designed to provide comfort and convenience on the sidelines, the FORZA Soccer Team Bench is the best way to keep your substitutes well rested before they're called upon. Lightweight and easy to carry, the top of the range soccer seats have been manufactured from synthetic materials with a heavy-duty aluminum frame for increased strength and stability. Durable and weatherproof, the seats will be a long-lasting addition to your soccer matchday set-up.
Soccer team bench made from strong synthetic materials with an aluminum frame
Exceptionally quick and easy to assemble, taking a matter of 10 seconds to pop into position
Each seat features dimensions of 1ft x 16.5" (W x H) and a quick-release fastening strap for attachment
For convenient transportation the lightweight soccer bench comes with a handle for comfortable portability
Available as a 4, 8 or 12 seat team bench with the option for removing the seats for use as an individual seat
The perfect pitch side accompaniment for any team, the soccer benches take a mere 10 seconds to fully assemble, making them a pop-up seating option for clubs at all levels. A quick-release fastening strap is included to provide secure and strong attachment, ensuring that the soccer seats are attached with ease. In order to carry the soccer seat sets to and from the matchday pitch, the comfortable handle allows for hassle-free portability.
Available as a soccer team bench with 4, 8 or 12 seats, there is also the possibility to detach each seat for individual use or to customise the capacity of your bench. The ultimate soccer seats for all teams, the strength and weather-resistance of the overall structure makes it perfect for use on pitches of all surfaces. As well as being ideal for soccer, the team bench can be used for a wide variety of sports, and is the perfect partner for our portable team shelter.
Specifications
Specifications:
Portable 4, 8, or 12 person bench that folds out in seconds.
Made from an aluminium frame with strong synthetic material for the seat.
Quickly attaches together with strong touch fastening system.
Seats can be added or removed easily, or used for individual seating.
Comes with a handle for easy transportation.
Easy to assemble taking just 10 seconds.
New & Improved model – now more durable.
Can be used for any sports teams.
Seat Width (individual): 1ft (30cm)
Seat Height: 16.5" (42cm)
Don't just take our word for it
The boys in the under 7 team love their team bench! Strong and so light they carry it to the pitch side themselves - very handy that the 8 seater comes in 2 sets of 4 therefore with 2 sets of carrying handles.
It's light, easy to package up and the kids love it - They feel like pros!
Want to chat?
Contact us here and we'll get back to you as soon as possible.
Super fast shipping
1 day shipping available
Questions & answers
Ask fellow customers what they think!
Hide Q&As
Questions & Answers
1 question | 1 answer
Hi. Is this ok for men or just kids please
Hi Garry, thank you very much for the enquiry. Yes, this product is suitable for people of all ages!
Kind regards,
Grant
You may also like
FORZA Goal Carry Bag
$22.99
FORZA Pro Soccer Training Pinnies [5 - 15 Packs]
$11.99
UEFA 2in Pro Corner Flags & Poles - Inc. Ground Sleeve (Set of 4)
$169.99
Stainless Steel Referee Whistle & Lanyard
$3.99