FORZA Pro Soccer Air Mannequin [Senior]
FORZA Pro Soccer Air Mannequin [Senior]
FORZA Air Mannequin - PVC Inflatable Soccer Training Dummies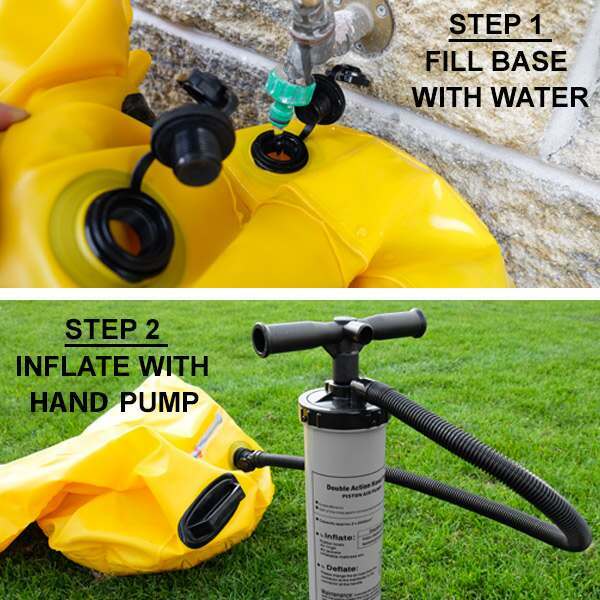 Inflatable Air-Filled Mannequin
Made from highly visible yellow PVC, these air-expansive soccer dummies are an innovative way to work on your free-kick taking. Suitable for any playing surface, there is the option to add a pump.
Secure Weighted Base
The 6ft soccer free kick mannequins have been expertly designed with a weighted base which ensures consistent upright positioning and self-balancing as well as impact-protection when filled with water.
Portable Soccer Dummy
These soccer coaching mannequins feature innovatively manufactured carry handles which allow for convenient and easy transportation, perfect for those who train on a variety of playing surfaces.
Description
Professional Inflatable Air Mannequins Ideal For Training Drills
Designed to allow you to develop your on-pitch performance, the FORZA Pro Soccer Air Mannequins are a necessary all-purpose training aid. With players from the Canadian and Premier League and the F2 Freestylers all utilising these adult sized mannequins during training sessions, you're guaranteed to advance your set piece technique.
These versatile adult mannequins are available in varying pack sizes to suit your requirements. Choose from 1, 3 or 5 mannequins that can be used to create a sense of realism during training sessions. Each 6ft mannequin has been created to be the perfect obstacle to test your players reflexes and strategic thinking. These air mannequins realistically simulate the challenges of having defensive players and encourage your team to assess their spatial awareness to in turn sharpen their shooting accuracy.
A 6ft high air soccer free-kick mannequin suitable for senior players
Each inflatable dummy has been designed with carry handles for easy transportation
Highly-visible fluorescent yellow inflatable air dummies made using extremely durable PVC
The weighted base offers continued stability on all playing surfaces. When filled with water the mannequins will actively self-balance
Available in packs of 1, 3 or 5 with an optional pump, standard carry bag and/or luxurious wheelaway bag
Each free kick mannequin has been produced from a durable PVC that is able to withstand rough and vigorous use. The weighted base of these ridged mannequins provides continued stability on various surfaces. Once this solid base has been filled with water, each mannequin will be able to effectively maintain their position on the pitch after impact from soccer balls.
Created with convenient handles to aid with transportation by allowing you to easily manoeuvre each mannequin to and from the pitch, the FORZA Pro Soccer Air Mannequins are ideal for year-round use. While the handles ensure that these premium mannequins are portable, their bright and vibrant colour guarantees that they can be seen in low light conditions. To successfully store and transport these free kick mannequins, carry bags and inflation pumps are available to purchase separately.
The FORZA Soccer Air Mannequin is part of a wider range of free-kick mannequins including spring-back, astroturf, mini and standard varieties.
Specifications
Dimensions
6ft (185cm) – Full size senior mannequin
Optional Extras
Purpose-made pump
Standard carry bag
Luxury wheelaway carry bag
Materials
Inflatable mannequin made using durable PVC
Yellow with FORZA banding
Weighted base (fill with water) offers sturdy upright positioning and self-balancing after ball impact
Carry handles offer easy portability
Miscellaneous
Available singularly, or in packs of 3 or 5
Suitable for indoor and outdoor use on all playing surfaces
As used by the Canadian Premier League and F2 Freestylers
Suitable for all levels, from grassroots to elite professionals
Excellent for a range of drills, from set pieces to goalkeeper training
Want to chat?
We're here on

live chat

right now!
Or via phone or email if you'd prefer...
Questions & answers
Ask fellow customers what they think!
Hide Q&As
Questions & Answers
No one has asked a question yet!
You may also like
Pop-Up Soccer Free Kick Mannequins [3 Pack]
$114.99
FORZA ASTRO Soccer Mannequins [Includes Bases]
$172.99
FORZA Rubber Base for Free Kick Mannequins [13kg]
$63.99
Recently Viewed
6 x 4 FORZA ProFlex Pop Up Soccer Goal
$126.99
Coloured Corner Flags (4 Pack) [8x Colors]
$17.99
18.5 x 6.5 FORZA Alu110 Freestanding Stadium Box Soccer Goal
$3,299.99
Steel & Plastic Net Pegs
$4.99
5 x 4 FORZA Match Soccer Goal Post
$97.99