8 x 4 FORZA Match Soccer Goal Post
8 x 4 FORZA Match Soccer Goal Post
8ft x 4ft Junior Soccer Goal For Under 10 Matchdays
8ft x 4ft Soccer Goal Suitable For Under 10s Matches
Under 10s looking to walk in the footsteps of their World Cup idols out on the pitch can receive a matchday goal which is befitting of their best efforts. At 8ft x 4ft, this is the best PVC soccer goal for under 10 tournaments and matchdays, providing high levels of performance and durability.
Essential Locking System And Top Runback Enhances Stability
Thanks to the essential locking system and enhanced back profile, this under 10s match soccer goal stays stable and secure no matter what comes its way. The top of the range soccer goal is capable of withstanding collisions as your juniors send the ball crashing against the post.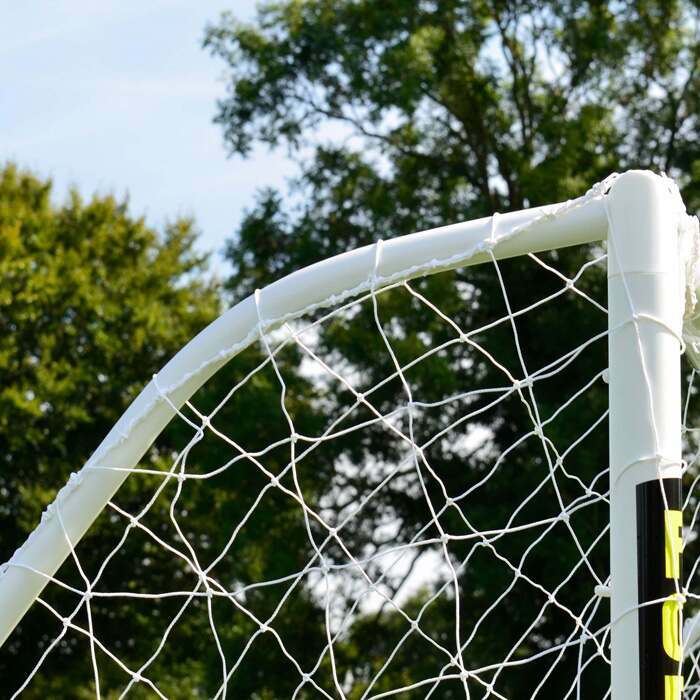 Kick Off In Minutes Thanks To The Quick And Easy Assembly
It won't take an expert to assemble these junior matchday soccer goals. The PVC posts simply slot together, becoming fully assembled in a matter of minutes. The need to take the goal down after each match is eliminated, as the weatherproof construction can stay outdoors all year.
Description
8 x 4 FORZA Match Soccer Goal – The Best PVC Soccer Goal For Under 10s Trying To Emulate Their World Cup Heroes
Eager weekend warriors under the age of 10 can receive the professional treatment with this high-quality PVC match soccer goal. Designed to enhance junior matchdays, the 8ft x 4ft soccer goal will give each game the gravitas of a World Cup tie. Perfect for tournament and matchday use by under 10s, the all-weather soccer goal can also be used by junior coaches as well as during home training sessions in the backyard. Create the optimal goalscoring environment for a whole squad full of junior superstars with this top of the range PVC match soccer goal.
8ft x 4ft soccer goal sized specifically for use in under 10's tournaments and matchdays
Weather-resistant PVC soccer goal frame which can be left outdoors all year long
Quality enhanced back profile ensures that the soccer goal is stable throughout the match
Essential locking system for ease of assemble as well as premium durability and rigidity
2mm UV stabilized soccer goal net included as standard to provide a professional finish
When it comes to durability, this soccer goal doesn't come up short. Don't be fooled by its lightweight, freestanding design – the PVC posts of this hard-wearing soccer goal pack a punch. Perfect for mud-soaked winter clashes as well as sun-drenched summer ties, the weatherproof soccer goal guarantees top quality performance in all conditions. Once the match is over, the junior soccer goal can be conveniently left fully assembled outdoors without falling foul to the detrimental impacts of the elements.
There's no headaches when assembling this under 10s soccer goal. It takes mere minutes to get from laying out the components to having a fully set-up soccer goal at your disposal, allowing your juniors to spend less time waiting and more time playing. Expertly designed for high levels of durability, the essential locking system ensures that the shape and stability of the goal frame isn't compromised by high velocity collisions. High in reliability and quality, this soccer goal has the engine to perform from the first whistle to the last.
As well as super speedy assembly, the match soccer goal comes with everything you need to get the ball rolling on under 10 soccer action. The weatherproof HDPE soccer goal net is a true star signing, having been manufactured with the durability required to bare the brunt of countless goals without becoming damaged. Net clips and u-peg goal anchors are also included to ensure that the goal net stays taut and secure all match long. Give your under 10 superstars they professional equipment they deserve with this 8 x 4 soccer goal.
8 x 4 FORZA Match Soccer Goal - Dimensions
FORZA 8 x 4 Match Soccer Goal Dimensions
Width
8 FT / 2.4 m
Height
4 FT / 1.2 m
Depth
3.1 FT / 0.9 m
---
Specifications
8 x 4 FORZA Match Soccer Goal
Dimensions
8ft x 4ft (2.44m x 1.22m)
Bottom depth - 4ft (1.22m)
Material
Goal frame made from uPVC
Enhanced back profile for stability
2mm UV stabilized HDPE goal net included
Net has reinforced edges
Miscellaneous
Goal can remain outdoors all year round without rust or corrosion damage
Goal can be moved easily and taken down to be easily transported
Goal comes with a 1 year warranty
Don't just take our word for it
It is what it is and looks good and sturdy so far!!!
Good service..............
Strong sturdy goal. Perfect forr the garden now my ten year old knows how to kick a ball! Survives the cross bar challenge...
Want to chat?
Contact us here and we'll get back to you as soon as possible.
Super fast shipping
Express shipping available
Questions & answers
Ask fellow customers what they think!
Hide Q&As
Questions & Answers
1 question | 1 answer
Is this goal the right size for 10 - 12 year olds please
Hello Gina, thank you very much for the enquiry. We usually recommend something slightly bigger for this age, either a 12' x 6' or an 8' x 6' depending on how much space you have and how much you are looking to spend. If either of these are a major factor then I'm sure the 8' x 4' will suffice however, they may grow out of it relatively soon!
Many thanks,
Grant
You may also like
10 x 6 FORZA Match Futsal (3m x 2m) Goal Post
$229.99
8 x 6 FORZA Soccer Goal Posts
$149.99
5 x 4 FORZA Match Soccer Goal Post
$109.99
12 x 6 FORZA Soccer Goal Post
$169.99
6 x 4 FORZA Soccer Goal Post
$94.99