5 x 4 FORZA Match Soccer Goal Post
5 x 4 FORZA Match Soccer Goal Post
5ft x 4ft PVC Soccer Goal For Under 7s Tournaments And Matches
Matchday And Tournament Soccer Goal For Children Under 7
At 5ft x 4ft, this soccer goal is the perfect size for giving youngsters a flavor of competitive action. Suitable for use in under 7 matches and tournaments, this top quality soccer goal offers professionalism in abundance. Its PVC frame means it can pull double duty as a backyard goal.
Essential Locking System And Top Runback For Optimal Goal Stability
As the target of countless goal-bound strikes, it's imperative that your soccer goal can stand strong all match long. The essential locking system keeps the frame held together as it absorbs the impact of powerful shots. For added security, the goal also has an enhanced back profile.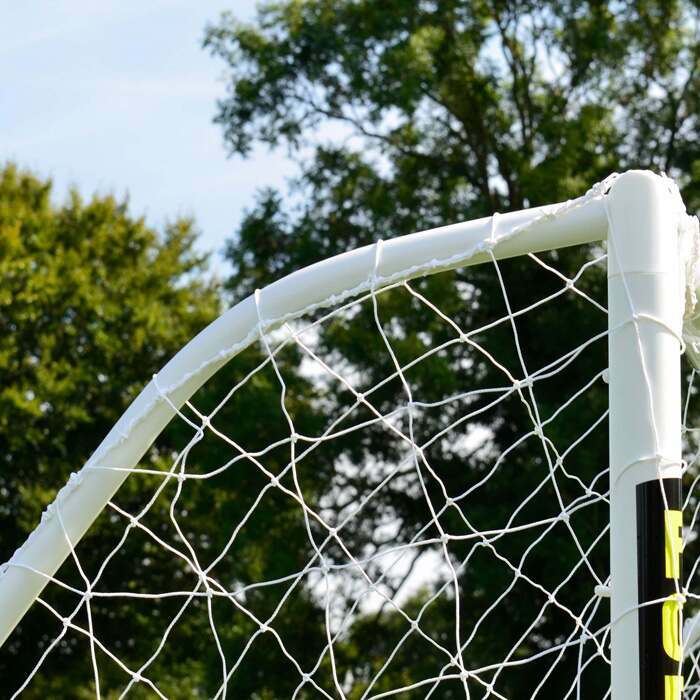 Quick And Easy Assembly To Set The Goal Up In A Matter Of Minutes
The setting up process of this 5 x 4 soccer goal is a breeze, taking minutes from beginning to end. Get the under 7's action underway with this low-maintenance soccer goal. Post-match, the weatherproof kids goal can be left fully assembled outside without becoming damaged.
Description
5 x 4 FORZA Match Soccer Goal – The Best PVC Soccer Goal For Under 7 Matchdays And Tournaments
Youngsters under the age of 7 can savor their first taste of the beautiful game with this 5ft x 4ft soccer goal. Tailored specifically towards kids with big soccer dreams, this starter soccer goal can be used for matchdays and tournaments as well as practice sessions in the backyard. Designed to provide the platform for a lifelong love of the sport, this small soccer goal is a real smash hit with junior soccer coaches as well as players. Add a touch of MLS flair to junior games with this long-lasting and high performing PVC soccer goal for kids.
5ft x 4ft soccer goal specifically designed for tournament, match and training use by under 7's
Manufactured from highly durable weatherproof PVC for long-lasting performance
Features a premium top runback and enhanced back profile for additional stability
The essential locking system enhances rigidity while facilitating quick and easy assembly
The goal comes equipped with a high performing 2mm UV stabilized HDPE goal net
The hard-wearing frame of this soccer goal matches the limitless energy and eagerness of soccer-enthused youngsters. Harnessed from super strong PVC, the goal posts boast strength which belies their humble size. The weatherproof soccer goal is equally adept at performing during under 7's summer tournaments as it is during winter training sessions. No need for your kids' soccer passions to be dampened by the elements, as the top-quality junior soccer goal can be left assembled in all conditions without incurring corrosion and rust.
The lightweight and freestanding soccer goal takes minutes to set up, allowing youngsters to make the most of the time they spend sending rockets into the back of the net. The PVC goal posts simply slot in together, held rigidly by the essential locking system. This feature keeps the kids soccer goal secure under a barrage of top-corner seeking missiles, while the top runback further increases stability. With durability and security to mirror the sleek and high-quality design, this is the best soccer goal for under 7's on offer.
With no time to waste, the youthful exuberance of your under 7's will have them itching to kick off immediately. This soccer goal includes everything you need to get the ball rolling, lining up with an all-weather goal net, clips and u-pegs. Finished with a classy white, the UV stabilized HDPE soccer net will have your youngsters feeling as though they're slotting away a World Cup winner every time they hit the back of the net. This 5 x 4 soccer goal is the best way to pass the beautiful game on to the next generation.
5 x 4 FORZA Match Soccer Goal - Dimensions
FORZA 5 x 4 Match Soccer Goal Dimensions
Width
5 FT / 1.5 m
Height
4 FT / 1.2 m
Depth
3.1 FT / 0.9 m
---
Specifications
Dimensions
5ft x 4ft (1.52m x 1.22m)
Bottom depth - 3.1ft (0.90m)
Material
Goal is made from high strength uPVC
Enhanced back profile for further stability
2mm UV stabilized HDPE goal net included
Soccer net has reinforced edges for long-lasting strength
Miscellaneous
This soccer goal can stay outdoors all year round
Goal can be moved easily and taken down to be easily transported
Match goal comes with a 1 year warranty
Don't just take our word for it
Happy with the goal , good size just need better instructions for the net
Sturdy goal post great size or the garden for 7 year old.
Want to chat?
Contact us here and we'll get back to you as soon as possible.
Super fast shipping
Express shipping available
Questions & answers
Ask fellow customers what they think!
Hide Q&As
Questions & Answers
2 questions | 2 answers
Could you show me this in the 6 x 4 format? Thanks.
Hi Dan, thank you very much for the enquiry. Unfortunately, we do not sell the 6' x 4' in the Match variation, this size is only available in the locking model.
Hi I wanted to purchase 2 5x4 goal post but how is it possible that they cost more than a 6x4...?
Hi Luis, thank you very much for the enquiry. The reason that the 5' x 4' goals are more expensive is because they are in the match style of the goal. All of our match goals are slightly more expensive that our standard FORZA PVC goals.
Many thanks,
Grant
You may also like
8 x 4 FORZA Match Soccer Goal Post
$139.99
10 x 6 FORZA Match Futsal (3m x 2m) Goal Post
$219.99
Stop That Ball™ - Ball Stop Net & Post System
$179.99
8 x 6 FORZA Steel42 Soccer Goal
$199.99
6 x 4 FORZA Alu60 Soccer Goal
$279.99