12 x 6 FORZA Soccer Goal Post
12 x 6 FORZA Soccer Goal Post
12 x 6 FORZA Soccer Goal - Junior Soccer Goal For Backyard Mini-Soccer Matches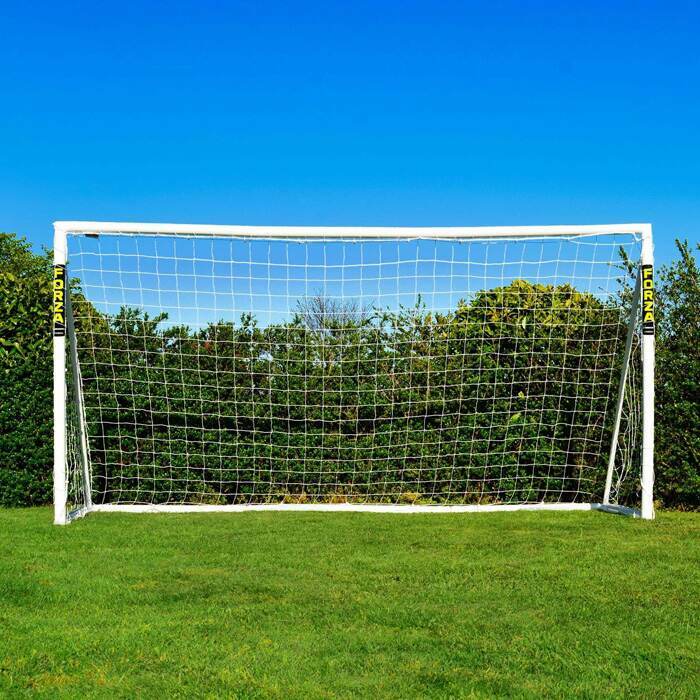 Official Regulation Size Mini-Soccer Goal For Backyard Soccer Fun
Revolutionize mini-soccer practice sessions for juniors with this 12 x 6 soccer goal. Designed to enhance the backyard soccer experience for under 11's, the weatherproof PVC soccer goal allows youngsters to develop their skills in the comfort of their own home.
Essential Locking System Keeps The Soccer Goal Standing Tall
When working on full-force volleys and top-corner bound strikes, you need a soccer goal that you can count on. The essential locking system of this goal holds all the components of the frame together, enhancing its ability to withstand collisions with the ball without becoming damaged.
Quick And Easy Soccer Goal Assembly Gets The Game Underway
Spend less time twiddling your thumbs and more time enjoying the beautiful game thanks to the incredibly quick assembly of this junior soccer goal. The PVC posts slot together with ease, and the included goal net attaches to provide a fully formed backyard soccer goal in minutes.
Description
12 x 6 FORZA Locking Soccer Goal – Regulation Size PVC Mini-Soccer Goal To Bring Professionalism To Junior Kickabouts
Mini-soccer is a small-sided variation of fully-fledged soccer tailored specifically towards juniors under the age of 11. Designed to promote fairness and enjoyment for kids, this new way of playing the beautiful game requires specific equipment. Standing at 12ft x 6ft, this soccer goal is the perfect size for mini-soccer. Meeting all necessary regulations, applying this PVC soccer goal to matches, tournaments and backyard training sessions will make youngsters feel like their favourite World Cup superstars.
12ft x 6ft is the regulation size for mini-soccer goals – Suitable for under 11's
The long-lasting goal frame is manufactured from durable and lightweight uPVC
The goal stays rigid and stable throughout use thanks to the essential locking system
Quick and easy assembly to get the mini-soccer action kicking off in minutes
Highly durable 2mm UV stabilized HDPE soccer goal net included
The assembly process of this mini-soccer goal for juniors is as quick as a Cristiano Ronaldo free-kick. The PVC goal posts slot together with ease, providing hassle-free and super speedy assembly. Once the posts are in place they stay held securely together thanks to the essential locking system, an innovative feature which makes this junior soccer goal incredibly strong. Crossbar challenges or post-rattling volleys will be absorbed without incurring damage due to the toughness provided by the essential locking system.
This sturdy backyard soccer goal is perfect for regular use during all four seasons. Expertly designed to withstand the rigours of the elements, this 100% weatherproof soccer goal offers world class performance during downpours, blizzards and sun kissed afternoons alike. Rust and corrosion won't impact the all-weather soccer goal, and as such it can be left fully assembled in the backyard all year long, eliminating the tedium of constant disassembly post-match.
No stone has been left unturned in the quest to provide the ultimate soccer goal for juniors. The combination of PVC goal posts with a weatherproof HDPE soccer goal net is a match-winner, guaranteeing quality and long-lasting performance. The goal net is a top class addition to your set-up, boasting the ability the handle the most thunderous of goal-bound strikes. With net clips and u-peg goal anchors included, your backyard will be receiving a World Cup makeover with this high value soccer goal package.
12 x 6 FORZA Soccer Goal - Dimensions
FORZA 12 x 6 Locking Goal Dimensions
Width
12 FT / 3.6 m
Height
6 FT / 1.8 m
Depth
4 FT / 1.2 m
---
Specifications
12 x 6 FORZA Soccer Goal Specifications
Dimensions
Goal Size (Length x height) - 12ft x 6ft / 3.66m x 1.82m
Bottom depth - 4ft (1.22m)
Material
2mm UV stabilized HDPE goal net included
Net has reinforced edges
Strong uPVC goal frame
Miscellaneous
Comes with a 1 year warranty
Package size (Length x width x height) - 117cm x 27cm x 20cm / 46in x 10in x 7in
Weight of package - 14kg / 30.8lbs
Don't just take our word for it
Fantastic set of goals for the garden, we bought two plus target net and a ball. Goals were well built, very solid, and easy to assemble so easy that my two 9 year olds assembled them and theyre still standing after a daily battering with penalty shoot outs! Just the right size too so theyll last for the next few years at least.
Good solid football goal with thick plastic poles which fit together really easy to make a great quality goal. Would definitely recommend using the included metal pegs to secure it down, especially if your leaving it out all year, we even bought some spares which we use on particularly windy days. Looks so great in the garden and keeps the kids away from the playstation – winner!
I bought this goal from Networldsports 12 months ago for the village playing field and were very impressed with how sturdy it was so bought another this year. The first one is now missing the 2 diagonal poles probably due to vandals but we have ordered spares which will be arriving any day now. Construction was easy with 2 people and took about 30 minutes in total. Definitely recommend to anyone looking for a good quality goal!
These are the best footy nets we have every purchased! my 12 year old son and his mates also agree! I've even caught the husband having a go and thinking he's some hotshot Premier League footballer! The structure is great, and delivery service was speedy. Overall quality purchase.
Bought this goal for my sons. They've been using it lots, regardless of the weather conditions. As a parent I'm happy as it's holding up very well. Its very sturdy for a garden goal, and it hasn't looked like breaking no matter what the boys throw at it.
Want to chat?
We're here on

live chat

right now!
Or via phone or email if you'd prefer...
Super fast shipping
Express shipping available
Questions & answers
Ask fellow customers what they think!
Hide Q&As
Questions & Answers
8 questions | 8 answers
Does it come with a football?
Hi Karen, thank you very much for the enquiry. This product does not come with a football sorry however, we do have a variety of footballs available on our site at a range of price points.
Hello I was wondering if it comes with both soccer's goals or just one?
Hi Rico, thank you very much for the enquiry. These specific goals are sold individually. Any of our goals that are available as a pair will have the option to select a single or a pair on the listing.
Many thanks,
Grant
What size goal would you recommend for my 8 and a half year old for back garden?
Hi Gina, thank you very much for the enquiry. Usually we would recommend the 8' x 6' or 12' x 6' for this age, both sizes will work just fine!
Many thanks,
Grant
Hi Chris, Thank you for your question. I can confirm that the nets are included with this goal post. With all of our goal posts at Net World Sports nets do come included. Also included on this particular goal are the net clips and U shaped pegs to secure the goal into the ground. Many thanks, Tom
Thinking of this for my son-in-law for Christmas. Is this suitable as can only see reviews for children usage. THANKS
Hello Liz, thank you very much for the enquiry. This goal is perfect for garden use for children in there early teens. It is also fine to use for younger children that are playing with there parents in the garden. The PVC is 68mm thick and the net is strong enough to withstand shots from most children.
Many thanks,
Grant
Hello just wondering if everything comes in one delivery or does it come in more then one package like for instances does the net come in one and the pvc come in another?
Hello Ashley, Thank you for your question. All of the materials including the framework, netting, clips and pegs will all be delivered in one single box. If you have any further questions please do let me know. Many thanks, Tom
Does a net come with this ?
Hello Joe, Thank you for your question. I can confirm that this goal post does include the net, the clips to attach the net to the framework as well as U-shaped pegs which secure the framework into the ground. Many thanks, Tom
Would this be strong enough for older teenagers and their dad to score goals
Hi Trish, thank you very much for the question. Yes, this goal would be perfectly fine for just garden/yard use. However, if you're looking for something slightly more durable we have this size goal available in steel and aluminium.
Many thanks,
Grant
You may also like
8 x 6 FORZA Soccer Goal Posts
$149.99
10 x 6 FORZA Match Futsal (3m x 2m) Goal Post
$229.99
Stop That Ball™ - Ball Stop Net & Post System
$179.99
12 x 6 FORZA Steel42 Soccer Goal
$329.99
12 x 6 FORZA Alu60 Soccer Goal
$659.99