FORZA Flat Disc Markers [All Colors]
FORZA Flat Disc Markers [All Colors]
GET THE MOST OUT OF YOUR PLAYERS EVERY PRACTICE SESSION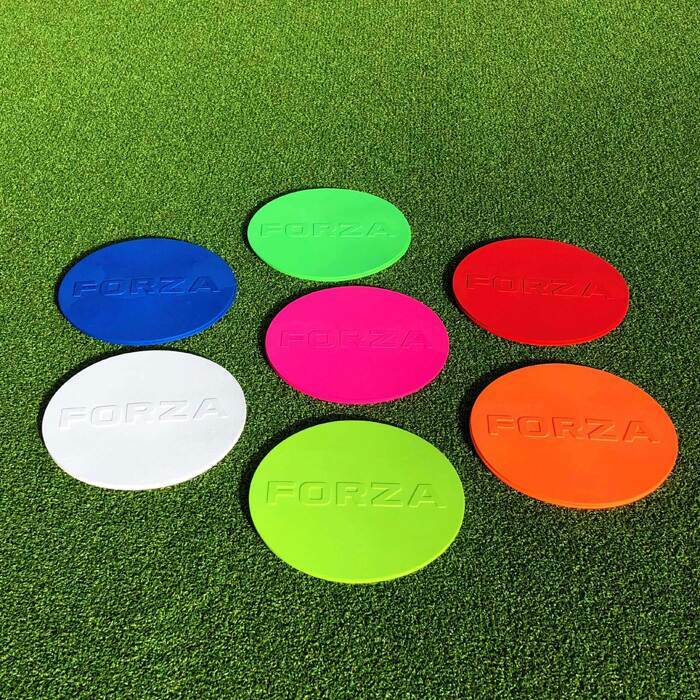 MULTI-SURFACE NON-SLIP GRIP
Manufactured from supple PVC with a rubber feel, the heavyweight soccer flat disc markers grip on all indoor and outdoor surfaces. Thanks to its flat circular shape and non-slip grip, the safety of your players is not jeopardised in any way.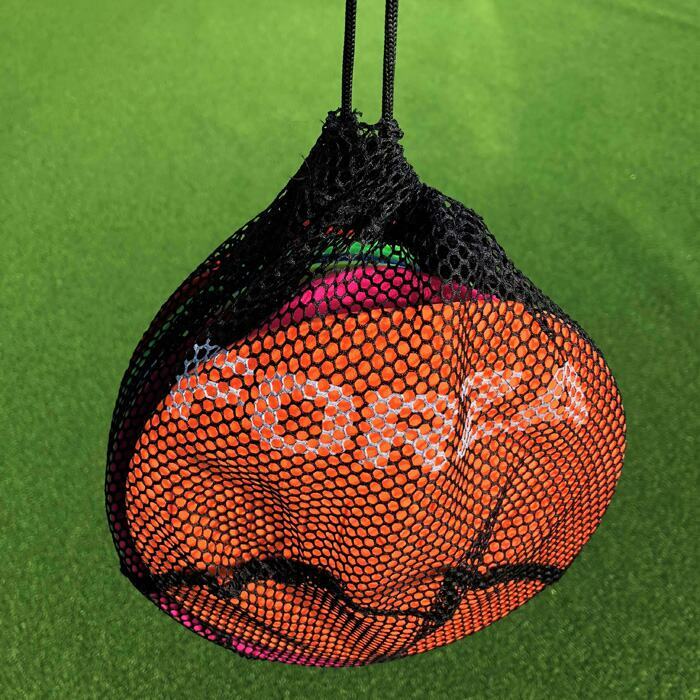 20 DISC CAPACITY DRAWSTRING CARRY BAG INCLUDED
This excellent value-for-money flat cone package comes with a 20 disc capacity drawstring carry bag. The lightweight mesh bag keeps the markers secure when not in use and facilitates simple storage and easy portability where needed.
HIGH VISIBILITY FLAT CONES FOR PRACTICE
With 7 vibrant colors available to choose from, the firm gripping non-slip flat cones will clearly mark out areas and positions for warm-ups and practice drills, so you can get the most out of your players in all conditions, season after season.
Description
ORGANIZE YOUR PRACTICE DRILLS WITH THESE NON-SLIP FLAT SOCCER DISC MARKERS
The FORZA Flat Disc Markers are an effective solution in solving common issues that soccer coaches face every practice session. Whether coaches need to mark out warm up areas or positions for practice drills, these flat markers will put an end to your concerns. Suitable for any surface, such as AstroTurf, 3G or indoors, these highly durable flat disc markers are manufactured from supple yet heavyweight PVC that has superb grip, meaning they won't move when stepped on or used in extreme weather conditions, so you can efficiently set-up your training drills. The flat cones for sport come with a drawstring carry bag that has a 20 disc capacity, so you can easily set up your practice drills and take your soccer training markers anywhere that suits you. With a wide range of colors to choose from, these flat cones will become a vital part of your team's practice equipment.
FORZA Flat Disc Markers – Suitable for working on various attributes on any surface
Manufactured from supple PVC with a rubber feel for enhanced grip on all surfaces
100% weatherproof with a heavyweight design to prevent blowing away during heavy gusts
Training markers available in pink, green, red, white, yellow, blue, orange and multi-colored
Comes with a 20 disc capacity drawstring carry bag for ease of storage and transportation
FORZA offers a wide range of training equipment. For Spring Loaded 6ft Slalom Training Poles, Soccer Speed Ladder and more, please see the essentials above.
Specifications
FORZA FLAT DISC MARKERS SPECIFICATIONS
DIMENSIONS:
MATERIALS:
Supple PVC for superb grip on all indoor and outdoor surfaces
PVC is 100% weatherproof for use all year round
FORZA branding on discs for style and quality assurance
MISCELLANEOUS:
Heavyweight to ensure discs won't blow away
Colors Available: Red, Blue, White, Pink, Fluro Orange, Fluro Yellow, Fluro Green
Multi-coloured variation comprises of 2 red, orange, yellow, green and blue markers
20-capacity drawstring carry bag included
Don't just take our word for it
I bought these cones for my under 9's training sessions and they work perfectly. We can mark out pitch areas and the game isn't disrupted by the ball hitting cones or by the boys standing on them. The bright colours of the cones make sure they stand out and the carry bag provided means that they can easily be stored.
Want to chat?
Contact us here and we'll get back to you as soon as possible.
Super fast shipping
Express shipping available
Questions & answers
Ask fellow customers what they think!
Hide Q&As
Questions & Answers
3 questions | 3 answers
Is the "Forza" branding on both sides ? I do need a flat surface for my application
Hi Gavin, thank you very much for the enquiry. The Flat Disc Markers are only branded on one side.
Many thanks,
Is it posible to ship to Slovenia?
Hello,
Thank you for your question. If you add the item to your basket and then proceed to checkout, you will see the option to select 'i want delivery overseas'. Once this is selected, you will see the pricing and shipping options to your preferred destination. If you would like any further help, please email sales@
networldsports.com
. Thanks, Jack.
What are the colours I get if I select multi ?
Hi Scott, Thank you for your question. The multi coloured markers come in the following colours Red, Blue, White, Pink, Fluro Orange, Fluro Yellow and Fluro Green. Each of these colours are also available to be purchased separately. If you have any further questions please email sales@
networldsports.com
Many thanks, Tom
Recently Viewed
FORZA Mini Flat Disc Markers [All Colors]
$13.99
FORZA Flexible Training Cones [6 QTY]
$16.99