FORZA Flat Disc Markers [All Colors]
FORZA Flat Disc Markers [All Colors]
Evolve Your Soccer Training with Fluro Forza Flat Disc Markers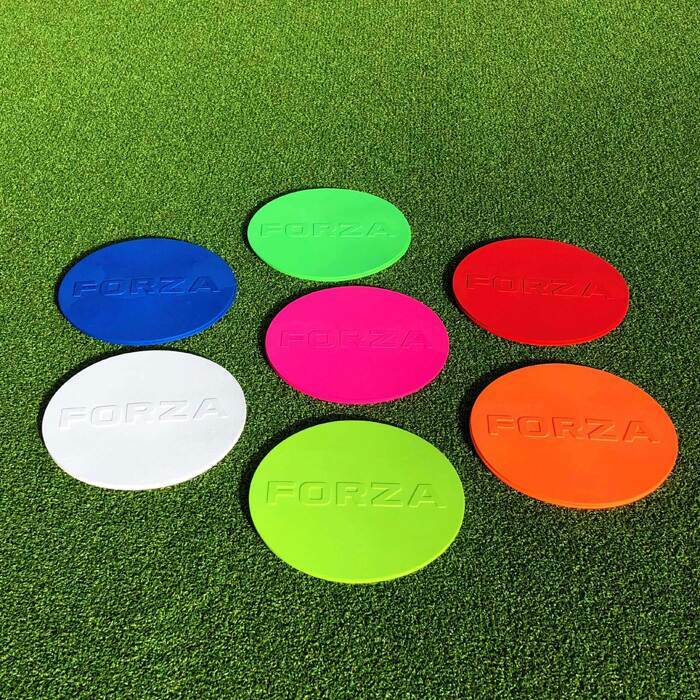 PVC Manufacturing Which Offers Supreme Grip on Any Surface
Manufactured from supple PVC with a rubber feel, these extra-strong flat discs grip on all indoor and outdoor surfaces for the safety of your players. Perfect for use on all surfaces, the durable PVC marker discs are versatile and built to last, providing worthwhile training sessions wherever they're used.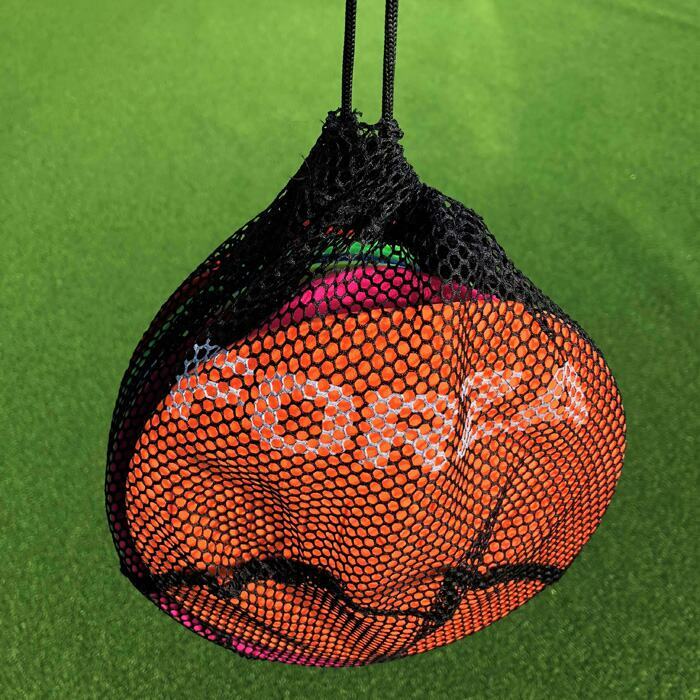 Convenient 20 Disc Carry Bag Included For Storage And Portability
The multi-use flat marker discs come with a 20 disc drawstring carry bag designed to facilitate simple storage and easy portability. The lightweight mesh carry bag holds the markers securely together once training is over, lessening the likelihood of any training discs going missing in between sessions.
7 Fluorescent Color Options Which Provide Clearly Defined Markings
The 7 vibrant colors available will clearly mark out areas and positions, avoiding any confusion and allowing your players to focus on the soccer. Choose between red, white, yellow, orange, green, pink and multi-colored variations to improve the standards set during football speed and agility training drills.
Description
Discover the Simple Yet Sensational FORZA Flat Disc Markers
FORZA Flat Disc Markers are a simple yet incredibly effective solution to the common issues that every soccer coaches encounters in training and warmups. Setting out areas for drills in blistering winds can often feel like mission impossible, but these flat pitch disc markers will put an end to your problems. Choose from a wide range of vibrant colors and discover for yourself how these flat pitch markers allow you focus on the soccer.
High-performing flat disc markers made from supple PVC with a rubber feel for enhanced grip on all surfaces
Innovative coaching equipment suitable for working on various attributes in soccer training drills
The training markers come in pink, green, red, white, yellow, blue, orange and multi-colored variations
Suitable for use in all weather conditions with a heavyweight design to prevent blowing away during heavy gusts
Comes with a 20 disc capacity drawstring carry bag as standard for ease of storage and transportation
Training on the flat surfaces of a 3G, astroturf or indoor pitch should be enjoyable for soccer players and coaches alike, but constantly repositioning cones as they slide out of place can quickly become a pain in the neck. A high intensity race challenging ball control or agility amongst teams can quickly be ruined as boundaries or knocked out of position. The beauty of these top quality, durable flat disc markers is that they are made from a supple yet incredibly heavy and grippy PVC, preventing them from moving when hit by a ball or stepped on. This means they're the ideal soccer training flat discs, as they don't change shape or cause a hazard when stepped on by players running at high speeds.
The FORZA Flat Disc Markers are the finest quality, thick and heavy duty, making them suitable for outdoor use without moving in the wind. Working on shape has never been so easy, as these flat disc markers will show your players their required starting positions in the scenarios you're working on in training. The FORZA branding gives you peace of mind that they'll stay in pristine condition all year round, so you won't need to keep replacing them.
We understand that safeguarding your players is the number one priority. Firm gripping, these non-slip flat disc markers will improve the protection of your players on the training field and on matchdays, with next to no risk of slipping or tripping over them.
As with every FORZA soccer training product, you can rely on the quality of these soccer training flat discs. Also included in this fantastic package is a useful 20-capacity carry bag, allowing easy transportation of the FORZA Flat Disc Markers as they become a vital part of your team's soccer training equipment.
PLEASE NOTE - The pack of 10 multi-colored variation comprises of 2 red, orange, yellow, green and blue markers.
Specifications
FORZA Flat Disc Markers [All Colors]
Size
7" (17.5cm) diameter
10 x FORZA Flat Disc Markers in each pack
Features
20-capacity drawstring carry bag included
Supple PVC for superb grip on all indoor and outdoor surfaces
Heavyweight to ensure they won't blow away in the extreme conditions
FORZA branding for style and quality assurance
Miscellaneous
Colors available: Red, Blue, White, Pink, Fluro Orange, Fluro Yellow, Fluro Green
Multi-colored variation comprises of 2 red, orange, yellow, green and blue markers.
100% weatherproof for use all year round
Don't just take our word for it
I bought these cones for my under 9's training sessions and they work perfectly. We can mark out pitch areas and the game isn't disrupted by the ball hitting cones or by the boys standing on them. The bright colours of the cones make sure they stand out and the carry bag provided means that they can easily be stored.
Want to chat?
We're here on

live chat

right now!
Or via phone or email if you'd prefer...
Questions & answers
Ask fellow customers what they think!
Hide Q&As
Questions & Answers
3 questions | 3 answers
Is the "Forza" branding on both sides ? I do need a flat surface for my application
Hi Gavin, thank you very much for the enquiry. The Flat Disc Markers are only branded on one side.
Many thanks,
Is it posible to ship to Slovenia?
Hello,
Thank you for your question. If you add the item to your basket and then proceed to checkout, you will see the option to select 'i want delivery overseas'. Once this is selected, you will see the pricing and shipping options to your preferred destination. If you would like any further help, please email sales@
networldsports.com
. Thanks, Jack.
What are the colours I get if I select multi ?
Hi Scott, Thank you for your question. The multi coloured markers come in the following colours Red, Blue, White, Pink, Fluro Orange, Fluro Yellow and Fluro Green. Each of these colours are also available to be purchased separately. If you have any further questions please email sales@
networldsports.com
Many thanks, Tom