Soccer Ball Pump And Needle - FORZA Pump That Ball™
Soccer Ball Pump And Needle - FORZA Pump That Ball™
FORZA Pump That Ball™ - Yellow Plastic Dual-Action Soccer Ball Pump And Needle
Soccer Ball Pump With A Hidden Compartment For Needle Storage
Convenience is the name of the game with this cutting-edge soccer ball pump and needle. The handheld ball pump features an innovative hidden compartment on the handle which has been expertly designed with a removable cap for securely storing needles after use.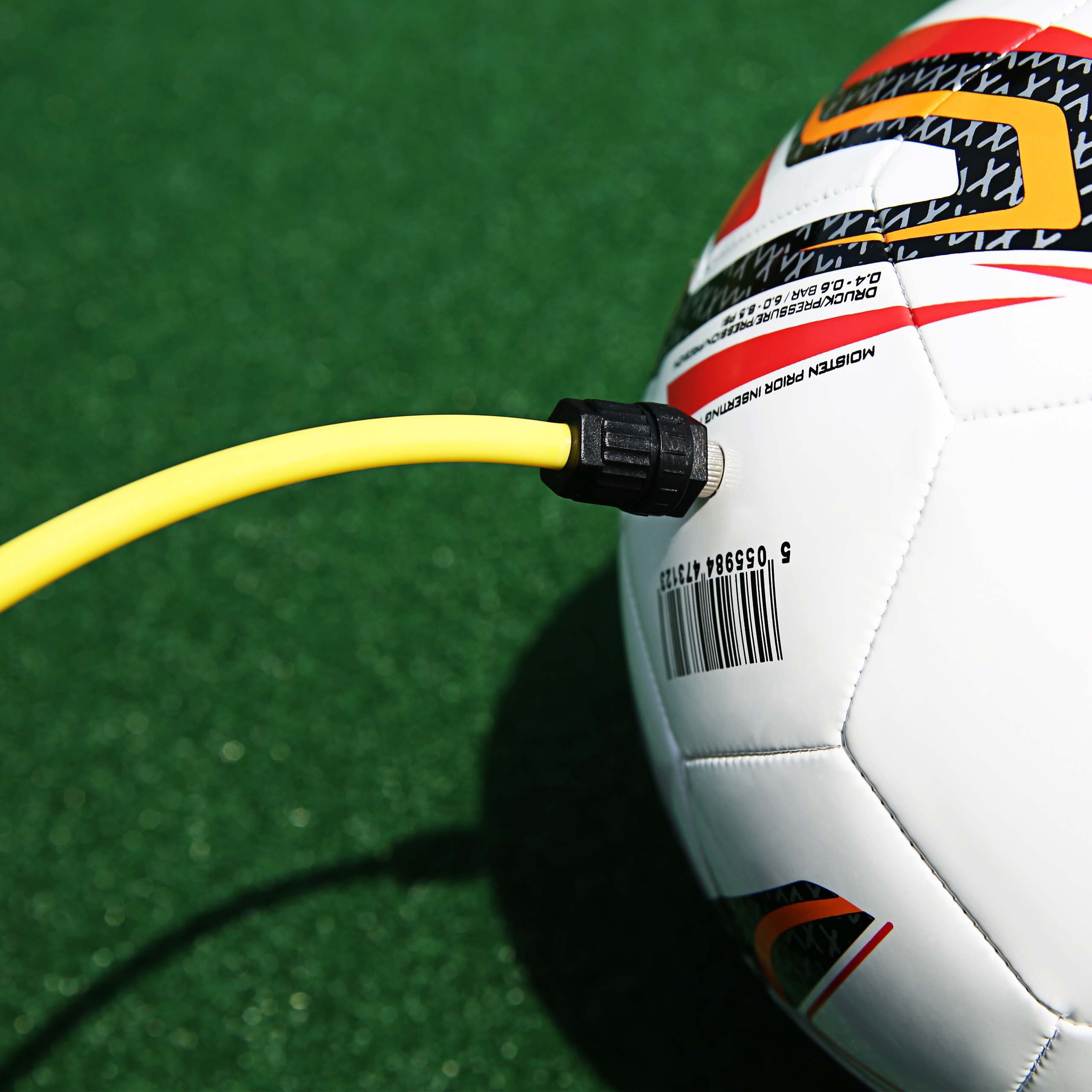 Ultimate Dual-Action Soccer Ball Pump For Quick And Easy Inflation
Having been expertly manufactured for incredibly quick inflation of any size or type of soccer ball, the plastic ball pump is an essential piece of equipment for coaches and clubs who require reliable air retention and the ability to inflate multiple soccer balls in a simple and timely manner.
Innovative Extendable Ball Pump Nozzle For Easily Inflating Soccer Balls
The FORZA Pump That Ball™ features an extendable ball pump nozzle which enhances the ease of use when inflating any soccer balls. This premium feature sets the air inflation tool apart from inferior soccer ball pumps, ensuring that soccer balls can be inflated with the greatest of ease.
Description
Florescent Yellow Dual Action Soccer Ball Pump And Needle With Extendable Nozzle And Needle Storage Compartment
The FORZA Pump That Ball™ is a top of the range soccer ball pump which has been designed for super-fast and reliable inflation. A professional ball pump for soccer balls, the highly visible and tough plastic exterior provides high levels of durability and value, becoming a mainstay of your matchday kitbag for years to come.
Dual-action soccer ball pumps which have been designed for consistent ball pressure retention
Incredibly easy to use soccer ball inflation tool which features a cutting-edge extendable nozzle
Offers incredibly high inflation speeds and can be used on any size or make of air-expansive soccer ball
Innovative soccer ball ball pump with a concealed compartment with a removable cap for secure needle storage
The ball pump comes with one euro needle adapter included as standard for instant use upon delivery
This premium quality ball pump is a must-have piece of equipment for coaches and clubs alike, with the ability to inflate any air-expansive soccer ball. The quick and easy inflation process will result in reliable air retention and consistent inflation of soccer balls, allowing the action to kick off in an instant. The dual-action feature of the ball pump ensures that the pressure of the ball is retained throughout use.
Having been designed with an extendable nozzle, the convenient handheld soccer ball pump is exceptionally simple to use. Fitted into the handle of the ball pump is a handy storage compartment which secure holds the needle when not in use. For enhanced levels of convenience, a euro needle adapter is included with the highly visible florescent yellow ball pump as standard, allowing it to be used straight away.
Specifications
FORZA Pump That Ball™ - Soccer Ball Pump And Needle Features
• Durable, highly visible plastic exterior
• Innovative extendable nozzle
• Includes 1x Euro needle adapter
• Super speedy soccer ball inflation
• Hidden compartment with removable cap for needle storage
• Inflates all FORZA Soccer Balls (sold separately) as well as all air-expansive soccer balls
Don't just take our word for it
Great and very portable very easy to use
Want to chat?
Contact us here and we'll get back to you as soon as possible.
Super fast shipping
Express shipping available
Questions & answers
Ask fellow customers what they think!
Hide Q&As
Questions & Answers
No one has asked a question yet!
You may also like
FORZA Fusion Astro Soccer Balls
$24.99