FORZA ASTRO Slalom Poles With Bases [1.5ft / 5ft / 6ft High]
FORZA ASTRO Slalom Poles With Bases [1.5ft / 5ft / 6ft High]

5ft And 6ft FORZA Astroturf Slalom Poles With Weighted Bases Included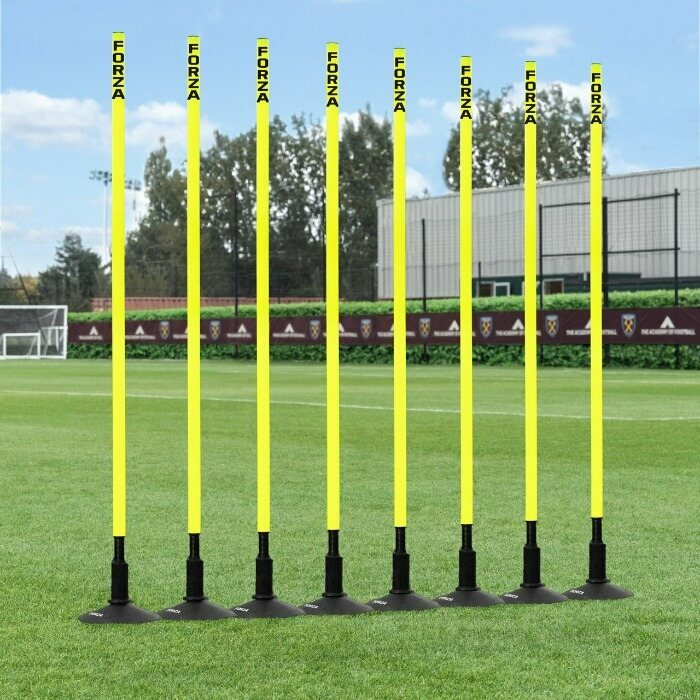 Fluorescent Yellow Shatterproof Plastic Astroturf Slalom Poles
For winter training sessions on low-visibility days and dark nights, these agility training poles are designed in an eye-catching high-vis fluorescent yellow. As durable as they are visible, the slalom poles have been made from ultra-strong shatterproof plastic to guarantee consistent performance without damage.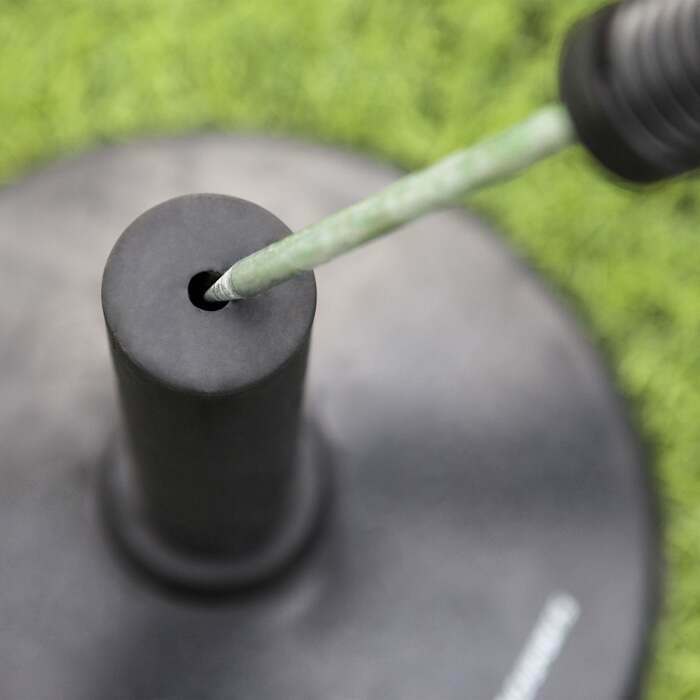 Speed And Agility Poles With Weighted Rubber Bases For Astroturf
While the slalom poles themselves can be spiked into grass, the inclusion of heavy-duty 2.3kg weighted black rubber bases allows them to be used on artificial surfaces such as 3G, 4G, and indoor pitches. The bases hold the poles in position throughout use regardless of any collisions that may take place during training.
Two Pole Sizes Available For Youth Teams As Well As Seniors
Choose between 5ft and 6ft high slalom poles to suit the requirements of your team. The 5ft variation is 25mm thick while the 6ft poles are 34mm thick. The smaller sized pole is perfect for use by youth teams while the 6ft slalom pole is a senior piece of speed and agility training equipment.
Description
Develop Blistering Speed And Agility On Artificial Soccer Pitches With These Astroturf Slalom Poles
Training is key to achieving your seasons objectives. With astroturf and indoor soccer pitches providing uninterrupted training all year round, specially designed training equipment is a neccessity. Manufactured for speed and agility training drills, the astroturf slalom poles with bases are a ground-breaking piece of training equipment for artificial surfaces. Put in the hours on the training pitch all year round and reap the rewards on matchday with this speed and agility poles for astroturf.
Choose between 6ft (34mm thick) or 5ft (25mm thick) slalom poles for different age groups
Highly visible yellow shatterproof plastic poles designed to improve speed and agility for soccer
Spring back slalom poles provide enhanced health and safety measures to reduce the likelihood of injury
2.3kg heavy rubber bases included to securely hold the slalom poles in place on artificial surfaces
The speed and agility poles come in packs of 8 or 16 as standard, allowing you to stock up for a seasons worth of practice
Manufactured from incredibly strong shatterproof plastic, the soccer speed and agility slalom poles are exceptionally long-lasting and high in quality. The poles are available in heights of either 6ft or 5ft, meaning that there is an option for youth and first teams alike. Designed for use on artificial surfaces, the poles come equipped with heavy duty rubber bases which have been made specifically to hold the slalom poles securely in place on 3G, 4G and indoor soccer pitches.
From wingers looking to evade the full-back, to goalkeepers developing quick feet, these multi-use training poles will have your entire squad in tip-top condition ahead of the big match. The poles feature an innovative spring back mechanism, which returns the agility poles to their starting position upon impact. The ricochets of the spring-loaded speed training equipment replicates the feel of attempting to beat an opponent down the wing, offering training which is evocative of a real match scenario.
While the poles themselves feature a spiked base which traditionally requires rooting to the ground, the included heavy duty rubber bases convert them into astroturf training equipment. Weighing 2.3kg, the poles remain strong and securely rooted into position no matter how high in intensity the action becomes. Long-lasting and durable, the rubber bases make for a premium addition to your speed and agility training repertoire.
These handy multi-purpose speead and agility training poles can also be used as an innovative goalkeeper training drill tool on astroturf pitches. By lining up the poles and shooting through them, you can replicate real match scenarios with deflected shots which put your 'keepers reflexes through their paces.
Specifications
FORZA 6ft [1.5in] ASTRO Slalom Pole Specifications
Slalom pole height - 6ft
Available in packs of 8 or 16
Highly visible fluorescent yellow colour
Made from shatterproof 1.5in diameter shatterproof plastic
Spring back feature
Flexible plastic cover
FORZA 5ft [1in] ASTRO Slalom Pole Specifications
Slalom pole height - 5ft
Available for purchase in sets of 8 or 16
Ultra visible fluorescent yellow color
Made from highly durable 1in diameter shatterproof plastic
Slalom Pole Rubber Base Specifcations
Designed to securely hold slalom poles on astroturf and indoor pitches
Weighs 2.3kg, making it incredibly stable and sturdy for repeated use
Manufactured from heavy duty rubber
Long-lasting and ideal for use all year round
Don't just take our word for it
We use these for our American Football team. Our running backs really find them useful, when working on dodging and weaving skills. It really helps them when running routes through the pile. They're pretty cool for regular agility training for everyone.
Want to chat?
Contact us here and we'll get back to you as soon as possible.
Super fast shipping
Express shipping available
Questions & answers
Ask fellow customers what they think!
Hide Q&As
Questions & Answers
2 questions | 2 answers
How wide are the bases that come with the 5' Astro slalom poles?
Hi Tim, thank you very much for your enquiry. The diameter of the slalom pole rubber base is 27cm. If you have any further questions, please email sales@
networldsports.com
. Thanks, Ryan.
Do the 6ft Forza Astro Slalom Poles have spiked on the bottom for use in grass ie can they be used for both AstroTurf and grass?
Hello Stuart, thank you for getting in touch. The 6ft Forza Astro Slalom Poles do indeed have spiked ends on the bottom, they simply slot inside the flat weight base for use on both grass and AstroTurf. Feel free to get in touch to Sales@
networldsports.com
for any further information. Kind Regards, Ryan.
You may also like
FORZA 5ft Spring Loaded Slalom Training Poles [1"]
$59.99
FORZA 6ft Spring Loaded Slalom Training Poles [1.5"]
$74.99
25mm Spring Loaded Corner Pole, Flag & Base Set
$119.99