FORZA Soccer Euro Team Shelter [Heavy Duty/Quick Assembly]
FORZA Soccer Euro Team Shelter [Heavy Duty/Quick Assembly]

Easy To Assemble Aluminum Soccer Team Shelter With Comfortable Seats
Highly Durable and Stable Aluminum Soccer Shelter
Designed for premium levels of strength and long-lasting performance, the soccer dugout has been manufactured using 80mm x 80mm aluminum. For additional sturdiness and stability, 50mm x 50mm aluminum support struts are included.
Modular Soccer Team Dugout For Hassle-Free Assembly
The panoramic soccer shelters have been built with a cutting-edge modular design which allows each variation to be assembled simply and easily. For extra stability and smoothness of operation, the soccer shelters also have easy-install anchoring plates.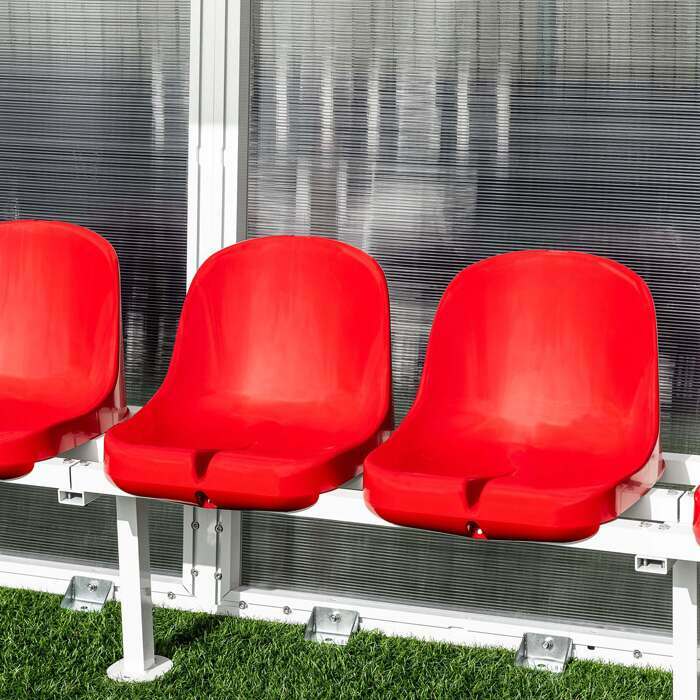 High Quality Injection Molded Anti-Fade Seats Included
For optimum comfort on the touchline, each aluminum soccer team shelter comes equipped with molded soccer dugout seats. There are varying quantities of seats included with each of the 8 length variations on offer in red, blue white, yellow, green, orange or black.
Description
Modular Soccer Team Shelter With Professional Quality Molded Seats Included
Designed for optimum durability and performance, the high-quality aluminum soccer team shelter brings professionalism to any soccer pitch. Created using premium grade 50mm x 50mm aluminum, the heavy-duty soccer dugout is protected against damage associated with strong impacts, ensuring that the soccer shelters stand tall throughout consistent use. 80mm x 80mm aluminum support struts are also included to guarantee that the metal soccer team shelter remains strong and stable at all times.
Choose between 1m, 2m, 3m, 4m, 5m, 6m, 7m and 8m long soccer team shelters, with differing amounts of black, blue or red injection moulded anti-fade seats
Manufactured from heavy-duty 50mm x 50mm aluminum with 80mm x 80mm aluminum struts for support
Designed to provide maximum shelter while minimizing the footprint created by the efficient soccer team dugout
Offering a panoramic view of the surrounding area, the team shelter has a modern angular design
The modular soccer shelters are exceptionally simple to assemble, with easy-install anchoring plates also included
Setting itself in a league of its own when it comes to quick and easy assembly, the soccer team shelters feature an innovative modular construction which minimizes the rigours of installing your soccer dugout. Offering supreme shielding from the elements, the aluminum soccer substitutes shelter is eco-friendly while achieving maximum efficiency at all times. Representing a long-lasting and high-performing addition to any soccer teams' home, the aluminum club shelter is the best way to keep your subs and coaching staff well-rested on the side-lines.
Built with a modern and sleek angular design, the panoramic soccer team shelter provides a full-view of the surrounding area while exhibiting its top-of-the-range aesthetics. The soccer dugout is built to include easy-install anchoring plates which help to make the installation process easier and more secure. Each variation of the state-of-the-art aluminum soccer team shelter features divergent numbers of injection moulded anti fade soccer team seats available in red, blue or black which assure your players will be comfortable on the side-lines. For enhanced strength, the sturdy Perspex used on this soccer dugout team shelter is held in place firmly by a 50mm channel.
FORZA also stock a wider range of soccer matchday and ground equipment, from crowd barriers and line markers to ball stop nets and corner flags.
WHEELCHAIR ACCESS: Shelters can be adapted for wheelchair users on request, please contact our Sales Team for more information.
Specifications
Dimensions
1m Aluminum Team Shelter – 1m x 2.05m x 1.7m (L x H x D) with 2 seats
2m Aluminum Team Shelter – 2m x 2.05m x 1.7m (L x H x D) with 4 seats
3m Aluminum Team Shelter – 3m x 2.05m x 1.7m (L x H x D) with 6 seats
4m Aluminum Team Shelter – 4m x 2.05m x 1.7m (L x H x D) with 8 seats
5m Aluminum Team Shelter – 5m x 2.05m x 1.7m (L x H x D) with 10 seats
6m Aluminum Team Shelter – 6m x 2.05m x 1.7m (L x H x D) with 12 seats
7m Aluminum Team Shelter – 7m x 2.05m x 1.7m (L x H x D) with 14 seats
8m Aluminum Team Shelter – 8m x 2.05m x 1.7m (L x H x D) with 16 seats
Seat Color Options
Material
50mm x 50mm aluminum profile construction
80mm x 80mm aluminum support struts
Design
Modular design for easy construction
Efficient design allows for maximum shelter with minimum footprint
Modern angular design
Miscellaneous
Injection molded anti fade seats included
Panoramic view team shelters
Easy install anchoring plates
Perspex held in place by 50mm channel for extra durability
Suitable for a wide range of sports
CAN BE TAILORED TO WHEELCHAIR USERS - contact our sales team for more information
Don't just take our word for it
The first thing that drawn me to these shelters were the design, different from most others I seen but being an engineer by trade I wanted the best structural design to ensure we had long lasting shelters. I couldn't quite believe how easy they were to assemble, we have put many others up over the years at the club and all have taken a full days work. The Forza shelters took me an hour to assemble and the pre fitted Perspex are a brilliant idea which saved hours on assembly. This is my second purchase from Net World Sports now and we will continue to buy all our equipment from them in the future, I cannot praise the service/products highly enough.
Want to chat?
We're here on

live chat

right now!
Or via phone or email if you'd prefer...
Super fast shipping
Express shipping available
Questions & answers
Ask fellow customers what they think!
Hide Q&As
Questions & Answers
No one has asked a question yet!