FORZA Alu110 Soccer Goal Wheels (Lever And 360° Wheels)
FORZA Alu110 Soccer Goal Wheels (Lever And 360° Wheels)
Premium Quality Lever Lift Or 360° Rotational Soccer Goal Wheels
Lever Or 360° Wheels
Choose between lever lift or 360° soccer goal wheels to suit your requirements. The 360° soccer wheels provides movement in all directions while the lever lift moves goals with ease.
High Lift Wheels
Both variations of Alu110 soccer goal wheels provide substantial ground clearance, with the lever lift wheels offering 100mm and the 360° soccer goal wheels providing height of 10 inches.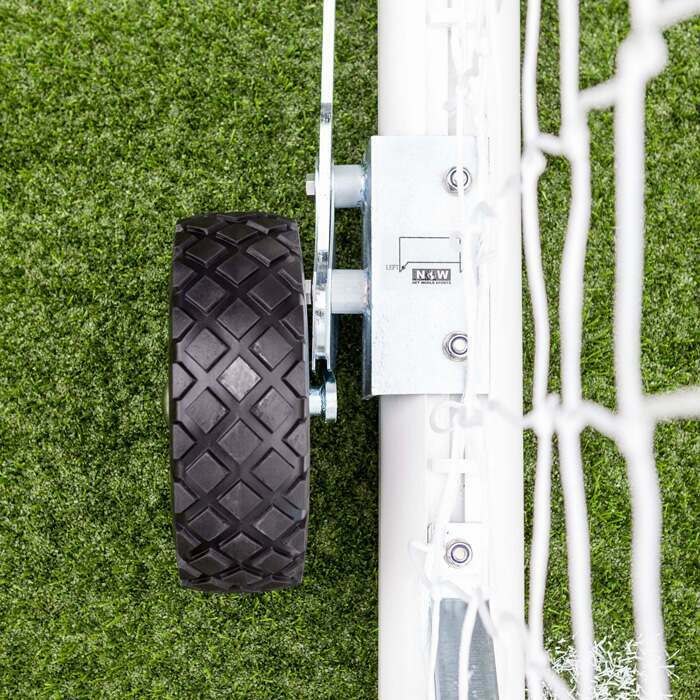 Extra Wide Goal Wheels
The micro-cellular polyurethane tyre on polypropylene wheel features an extra wide design and deep diamond tread which prevents the wheel from sinking into muddy pitches when used throughout the year.
Description
Easily Transport Your FORZA Alu110 Soccer Goals With The Lever Type And 360° Rotational Socceer Goal Wheels
Upgrade the mobility of your soccer goal with the addition of our premium quality soccer goal wheels and bracket sets. Coming as a pair or a set of 8, both type of soccer wheel provides effortless movement across all surfaces, negating the need for strenuous lifting. Choose between the standard lever type goal wheels or opt for the revolutionary 360° soccer goal wheels for a full range of movement on even the most uneven pitches.
Lever type and 360° soccer goal wheels available for use in conjunction with FORZA Alu110 Soccer Goals
Lever type goal wheels feature a CAM mechanism which raises the goal up to 100mm off the ground
360° rotation wheels provide a ground clearance of 10 inches while facilitating movement in all directions
Extra wide black micro-cellular polyurethane tyre on polypropylene wheel with a deep diamond tread
Both types of soccer goal wheel are available for purchase as a set of 2 or as a set of 8
The high-quality lever type soccer wheels and brackets allow for goal to be moved into position with ease. The unique lever lift CAM mechanism ensures that the soccer goal wheels lift up to 100mm off the ground, providing a smooth glide across both grass and synthetic pitches. The heavy-duty soccer goal wheel takes the strain out of manual lifting, reducing the likelihood of incurring injury during use. The system represents a safe way to lift goals, negating an over-exertion of energy.
Designed to revolutionize goal transportation, the FORZA Alu110 360° Soccer Goal Wheels allows soccer goals to be moved in all directions and fit through narrow gaps. Made from heavy-duty T6 aerospace grade aluminum, the weatherproof soccer goal rotational wheels have an extendable non-trap lever arm handle for control and elevation. The all-terrain lever lift goal wheels raise the soccer goals up to 10 inches off the ground, with a pivot and lock system which keeps the goal on its wheels throughout transit.
Each soccer goal wheel back comes with a heavy-duty black rubber tyre for effortless movement on all surfaces. The extra-wide soccer wheels measure 260mm x 85mm, comprising of micro-cellular polyurethane tyre on polypropylene wheel. Featuring a deep diamond tread, the weatherproof all-surface soccer wheels won't sink into muddy pitches when manoeuvered throughout the year, increasing the consistency of performance. Fully puncture proof, the durable soccer goal wheels will last for multiple seasons.
PLEASE NOTE - Both the lever type and 360° soccer goal wheels have designed for use with the FORZA Alu110 Freestanding and Stadium Box Soccer Goal ranges
Specifications
FORZA Alu110 Soccer Goal Wheels (Lever And 360° Wheels) Specifications
FORZA 360° Soccer Goal Wheel Specifcations
Dimensions – 10in (260mm) diameter x 3in (85mm) wide
Ground clearance of 10 inches which is the highest lifting wheels available
60mm box section T6 aerospace grade powder coated aluminum
Extendable non-trap lever handles
Easy to use securing pin
Rotational wheels move the goal backwards, forwards and sideways
Capable of moving up and down slopes, across gravel, on muddy pitches, synthetic grass and untidy pitches
Pivot and lock mechanism which eliminates manual lifting
Effortlessly moves sideways through narrow gaps such as gates and fences
Conforms to BS EB 748, ASTM & AS Safety Standards worldwide
FORZA Alu110 Lever Type Soccer Goal Wheels Specifications
Dimensions – 10in (260mm) diameter x 3in (85mm) wide
Heavy duty steel brackets which are zinc plated for long life
Black wheel and silver bracket
Suitable for use in all weather and on all surfaces
Moves the goal backwards and forwards
Soccer Goal Wheel
Tyre – Micro-cellular polyurethane
Wheel – Polypropylene
Heavy-duty puncture proof design
220kg load capacity
10" high
UV stabilized for all-weather performance
Extra wide wheels with deep diamond tread to prevent sinking into muddy surfaces
Greased internal bearings for smooth rotational operation
Suitable for use on all surfaces
Want to chat?
Contact us here and we'll get back to you as soon as possible.
Super fast shipping
Express shipping available
Questions & answers
Ask fellow customers what they think!
Hide Q&As
Questions & Answers
No one has asked a question yet!
You may also like
24 x 8 FORZA Alu110 Freestanding Soccer Goal
$2,999.99
StadiumMax Wheel Transfer Line Marker - For Sports Pitches
$459.99
24 x 8 FORZA Alu110 Freestanding Stadium Box Soccer Goal
$4,299.99
FORZA Alu110 360° Soccer Goal Wheels
$459.99