Compact Cleat Scraper & Wiper
Compact Cleat Scraper & Wiper

Freestanding Compact Cleat Cleaner With Durable Hard-Bristled Brushes
Soft Grip Handles
For optimum comfort, the cleat scraper features soft grip handles that provides users with balance and support when cleaning stubborn dirt from the soles and sides of their shoes.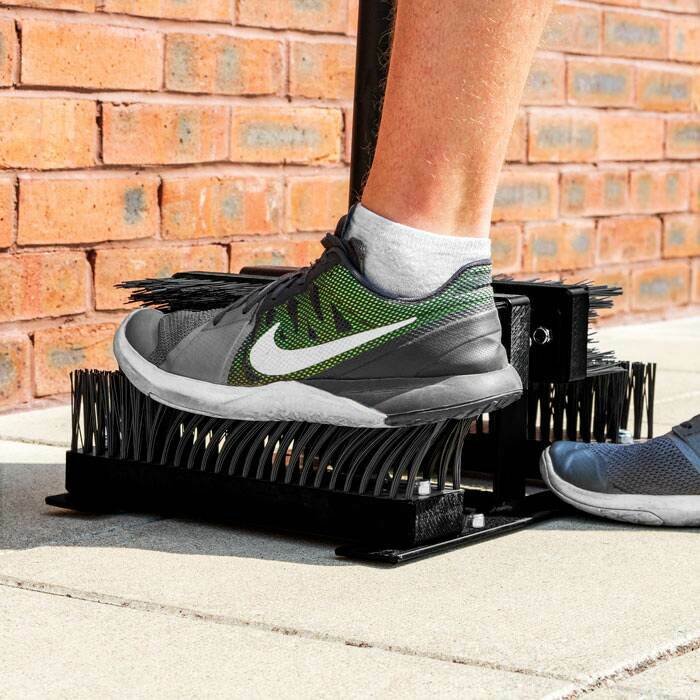 Hard-Bristled Dirt Removal Brushes
Designed to efficiently remove large quantities of dirt in a speedy and easy manner, this outdoor boot scraper features four integrated brushes. All brushes have stiff bristles which scrubs away at the toughest of dirt to leave cleats and shoes clean.
Durable Weatherproof Materials
This freestanding cleat brush wiper is built to last. Using the most robust materials, the cleaning unit has a thick steel handle and tough steel floor fixing plate, all of which has been finished in a slick weatherproof black powder coating.
Description
Standard Freestanding Twin Head Cleat Cleaner With Handle
The ideal outdoor shoe cleaner for a variety of facilities, including sports clubs and schools, this freestanding cleat scraper is a cleaner alternative to other traditional methods. The 3ft high sport shoe scraper is a self-weighted stand-alone unit, that negates the need to be bolted to the ground. Assembly of the outdoor cleat scraper is very simple and provides you with a piece of top ground equipment that is deceptively low-maintenance.
3ft (0.9m) high standalone cleat wiper with a 30cm x 40cm (12in x 16in) base
Comes with four 30cm x 7cm (12in x 2.8in) brushes with heavy duty bristles to combat the dirtiest of footwear
Sturdy 0.5cm (0.2in) thick steel floor fixing plate and 3.8cm (1.5in) steel handle and post
Soft grip handles and black powder coating on all steel work of the freestanding double-sided scraper
Premium piece of cleaning equipment for various venues which is incredibly quick and easy to assemble
Expertly developed to maximize dirt removal from cleats and shoes, the footwear cleaner comes equipped with 4 integrated brushes. These durable boot brushes boast stiff bristles which can clean the filthiest of cleats. Made from the finest materials, the weatherproof outdoor cleat scraper has a steel floor fixing plate and steel post, all of which have been finished with a sleek black powder coating. This compact cleat wiping unit can be used both indoors and outdoors.
This user-friendly sports shoe cleaner is suitable for professional and amateur facilities alike. Maximum comfort during use is achieved by the soft grip handle that the cleat wiper has, all whilst aiding with balance when vigorously cleaning dirty footwear. The best compact cleat cleaner for clubhouses and sports facilities trying to prevent dirt entering their premises, this freestanding boot cleaning unit is a must-have.
Specifications
Dimensions
Height: 3ft | 0.9m
Base: 12in x 16in | 30cm x 40cm
Brushes: 12in x 2.8in | 30cm x 7cm
Materials
1.5in (3.8cm) OD steel handle and post
Heavy-duty 0.2in (0.5cm) thick steel floor fixing plate
All steel work has a durable powder coating
Brushes made with hard bristles for dirt removal
Miscellaneous
Optional set of replacement boot wiper brushes
Can be freestanding or floor fixed
Quick and easy assembly
Want to chat?
Contact us here and we'll get back to you as soon as possible.
Super fast shipping
Express shipping available
Questions & answers
Ask fellow customers what they think!
Hide Q&As
Questions & Answers
No one has asked a question yet!
You may also like
FORZA Plastic Shelter & Stadium Sports Seats
$42.99
StadiumMax Wheel Transfer Line Marker - For Sports Pitches
$459.99
FORZA Soccer Euro Team Shelter [Heavy Duty/Quick Assembly]
$1,999.99
Replacement Boot Wiper Brushes Sets
$54.99
Recently Viewed
FORZA SuperCone Hurdles [10 QTY]
$69.99
Protein Shaker Bottle (24fl oz)
$4.99
6 x 4 FORZA Soccer Goal Post
$94.99
FORZA Training Soccer Balls
$11.99
FORZA Backyard Soccer Balls
$8.99