Ball Launcher Trainer – Soccer Ball Delivery Machine
Ball Launcher Trainer – Soccer Ball Delivery Machine

PROFESSIONAL FOOTBALL LAUNCHER FOR ALL AGED PLAYERS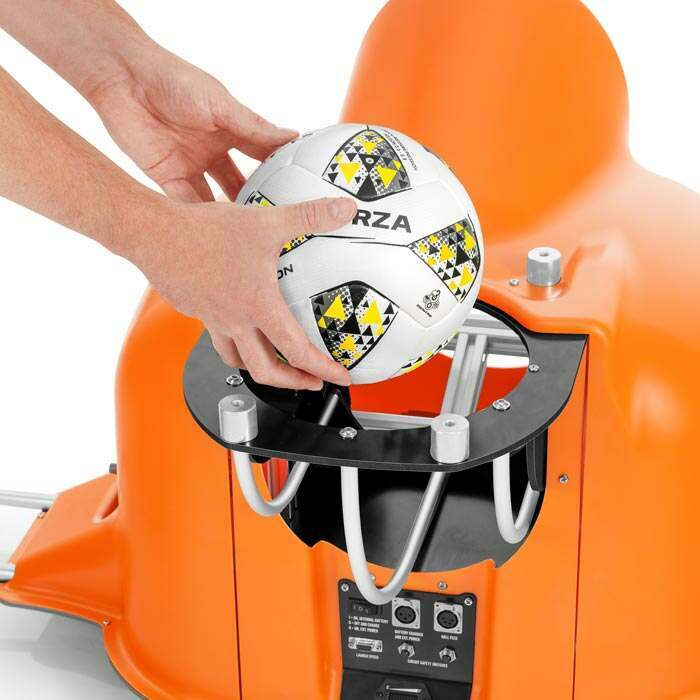 PRECISE BALL TRAJECTORY
The soccer launcher, perfect for team or solo training, accepts ball sizes 3, 4 and 5 and can be set-up in seconds to provide a game-like ball service for the training pitch or garden.
FULL COACHING FOCUS
For coaches to fully focus on player development, the ball shooter includes a remote-control and a 6-ball automatic feeder which launches 200+ accurate balls an hour.
RECHARGEABLE BATTERY
Being fully CE certified and manufactured with high-quality materials, the football launcher can be easily transported due to the underneath wheels and is packaged with a rechargeable battery.
Description
PREMIUM SOCCER BALL LAUNCHER – USED BY PROFESSIONAL TEAMS
The weatherproof Ball Launcher Trainer ensures players can practice key skills and technique throughout training sessions minimizing stoppage time. Ideal for coaches and parents alike, the ball shooter effortlessly launches sizes 3 to 5 balls with precise ball delivery. The convenient lightweight design allows the automated ball machine to be lifted by two people, whilst allowing simple maneuverability thanks to the underneath wheels. When combined with the Auto Feeder, which can hold a maximum of 6 soccer balls, the ball launcher allows coaches to fully focus on player development by being hands-free. The Speed Boost Plug In increases speeds from 30mph (48.2kph) to 55mph (88.5km).
Hands-free coaching when combined with remote-control and auto ball feeder
Enhances soccer ballers passing shooting, first touch and goalkeeping ability for all ages
Designed with game changing technology which encourages players to increase performance
Ball thrower can launch over 200+ precise soccer balls per hour in all directions and multiple heights
Providing an engaging and enjoyable practice, the ball launcher is the quickest way for players to learn.
FORZA offers a wide range of soccer ball equipment. For more, please browse the Soccer ball Training category above.
Specifications
BALL LAUNCHER TRAINER – SOCCER BALL DELIVERY MACHINE SPECIFICATIONS
WHAT YOU GET:
1x Ball Launcher Trainer – Soccer ball Delivery Machine
1x Battery Charger with UK plug
1x Microfibre towel
1x Remote Controller
(Optional) 1x Auto Feeder
(Optional) 1x Speed Boost Plug In
DIMENSIONS:
Weight: 31kg | 68lbs
Ball Launcher Trainer (H x W x L): 86cm x 73cm x 96cm | 34in x 28.7in x 37.8in
(Optional) Auto Feeder (H x W x L): 107cm x 61cm x 131cm | 42in x 24in x 51.5in
(Optional) Speed Boost Plug In (H x W x L): 5cm x 5cm x 3cm | 1.9in x 1.9in x 1.18in
SPEED & SPIN:
Max speed: 30mph | 48.2kph
(Optional) Speed Boost Plug In max speed: 55mph | 88.5kph
Left and right ball spin
MISCELLANEOUS:
Only use ball sizes 3, 4 and 5
360-degree launch direction
-3 to +22 degrees launch height
Up to 4 hours of use
4 hours recharge time
Manual ball feeding
Reload time 3 seconds
Includes microfibre towel
Instruction manual is included
(Optional) Auto Feeder holds maximum of 6 balls
(Optional) Auto Feeder: Balls launched automatically at 3, 5 or 8 seconds
Please Note: Adapter charger plug is needed for use outside UK.
IS THE BALL LAUNCHER SAFE?
Yes, absolutely. All our of products are always built to last, only using the strongest, most durable and finest lightweight materials for assembly in our UK based factory. Our products have been created by experienced and highly skilled engineers and personnel.
CAN I USE THE BALL LAUNCHER IN ALL WEATHER CONDITIONS?
The Ball Launcher has been effectively designed to resist anything that extreme weather can throw at it in terms of 'no rust' and all electronic components sealed safely. In wet conditions however, it is advisable to use the towel we supply with the machine to quickly dry the balls before entering to ensure maximum performance.
WHY IS THE MAXIMUM BALL SPEED 30MPH WITHOUT THE LAUNCH SPEED BOOST PLUG IN INSERTED, AND 55MPH WITH IT INSERTED?
This is designed to act as a restricting safety feature and to offer customers the ability to access extra speed if they wish. We have conducted testing to conclude that 30mph is typically a safe maximum ball speed for children up to 10 years of age to train with under adult supervision. Typically, players above this age can train with higher ball speeds.
DO I NEED TO ASSEMBLE ANYTHING WHEN THE PRODUCT ARRIVES?
The main Ball Launcher unit comes boxed and ready for immediate use. If customers have ordered the Ball Feeder, it will come flat packed with easy-to-follow assembly instructions and the required fasteners.
DOES IT COME WITH A WARRANTY PERIOD?
Yes, every Ball Launcher machine comes with a 12 month component failure cover as standard. Naturally, we do not cover misuse or general wear and tear and do not offer returns on used items.
Want to chat?
Contact us here and we'll get back to you as soon as possible.
Super fast shipping
Express shipping available
Questions & answers
Ask fellow customers what they think!
Hide Q&As
Questions & Answers
No one has asked a question yet!