Slalom Training Pole Carry Bag
Slalom Training Pole Carry Bag
Strong Carry Bag For Transporting Up To 16 Soccer Training Slalom Poles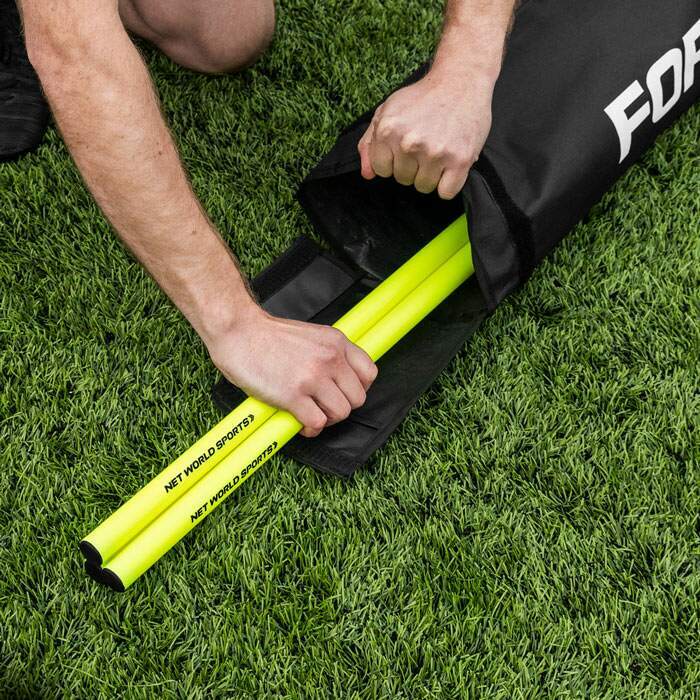 Fastening Opening Top
The slalom pole bag provides a durable fastening top which secures the poles, whilst still allowing a simple quick set-up and put away feature.
Durable Material
Manufactured from a tough, long-lasting material, the slalom pole training carry bag is a perfect storage unit for when your slalom poles are not in use.
Strong Handle
The strong, heavy duty handle of the slalom pole training carry bag allows for ease of movement when taking your slalom poles to and from the training field.
Description
Heavy Duty 16 Pole Capacity Carry Bag For Transporting And Storing Soccer Training Slalom Poles
Make transporting your soccer fitness and agility training equipment simple with this slalom training pole carry bag. Soccer slalom poles are a great way to develop footwork, balance and speed during club training sessions as well as at home, and with this convenient carry bag you'll be able to take your speed and agility training poles between playing surfaces with the greatest of ease.
Carry bag with the capacity of carrying up to 16 soccer training slalom poles
Made from heavy duty weatherproof materials which can endure seasons worth of use
For ease of portability, the soccer slalom pole carry bag features a shoulder strap
The Velcro top ensures that your soccer training poles don't fall out during transportation
Specifically designed carry bag which can fit both the FORZA 5ft and 6ft Spring Loaded Slalom Poles
Offering a space-saving solution as well as portability, this soccer equipment carry bag is ideal for coaches who take sessions on multiple surfaces. Boasting the capability of carrying anything up to 16 spring loaded soccer slalom poles, the bag is the best way to ensure that you have adequate slalom poles with you ready for the session ahead. The carry bag is suitable for the FORZA 5ft and 6ft slalom poles.
The carry bag has been designed with a sturdy shoulder strap which allows the bag to handily transported without causing any strain. This innovative design feature means that you don't lose any of your range of movement when transporting the soccer slalom training poles, perfect for taking the poles to and from the training pitch. Providing convenience and portability, this slalom pole carry bag is an essential for soccer coaches.
Designed to ensure that the slalom poles remain securely stored within the carry bag when in transit, there is a Velcro fastening mechanism on the top, which ensures that no poles go missing. Having been manufactured from incredibly durable and heavy-duty materials, the soccer slalom pole bag won't become damaged when left in storage, offering a dual-function as a storage unit which keeps the poles collected together after use.
Specifications
Specifications:
Bag holds up to 16 poles
Holds both 5ft and 6ft Spring Loaded Slalom Poles
Velcro top for secure enclosure
Shoulder strap for easy carrying
Made from heavy duty, long-lasting material
Carry bags are an easy solution for storage and transportation of training equipment
Don't just take our word for it
As with all of the bags I have ordered good strong and generous space inside them
The poles fitted perfectly into the bag and the bag is easily carried.
Want to chat?
Contact us here and we'll get back to you as soon as possible.
Super fast shipping
1 day shipping available
Questions & answers
Ask fellow customers what they think!
Hide Q&As
Questions & Answers
No one has asked a question yet!
You may also like
Soccer Ball Pump And Needle - FORZA Pump That Ball™
$11.99
FORZA Speed Training Hurdles [6 Pack]
$24.99
FORZA Soccer Training Passing Arcs
$31.99
Soccer Evasion Training Belt
$6.99
Recently Viewed
FORZA Training Soccer Ball
$11.99
10 x 6 FORZA Match Futsal (3m x 2m) Goal Post
$226.99