6 x 4 FORZA Alu60 Soccer Goal
6 x 4 FORZA Alu60 Soccer Goal

6ft x 4ft Aluminum Soccer Goal For Backyard And Coaching Use By Under 8's
Premium Backyard And Training Soccer Goal For Under 8's
This versatile and multi-use soccer goal is the perfect size for backyard soccer as well as junior coaching sessions. At an unimposing 6ft x 4ft, children up to the age of 7 can develop the fundamental skills which will shape their soccer abilities as they later move through the ranks.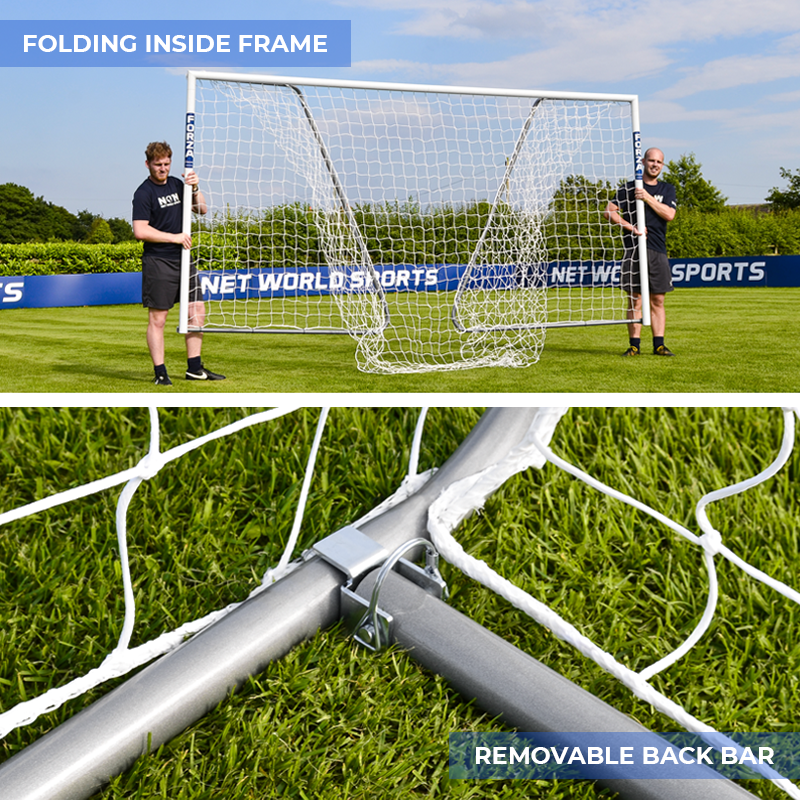 Enjoy Year Round Training With This 100% Weatherproof Soccer Goal
The weather won't dampen the ambition of young soccer players, so why let it call an end to training sessions. Combining powder coated alumium goal posts with a HDPE rot-resistant goal net, this 6 x 4 soccer goal has been expertly manufactured to handle all weather conditions without damage.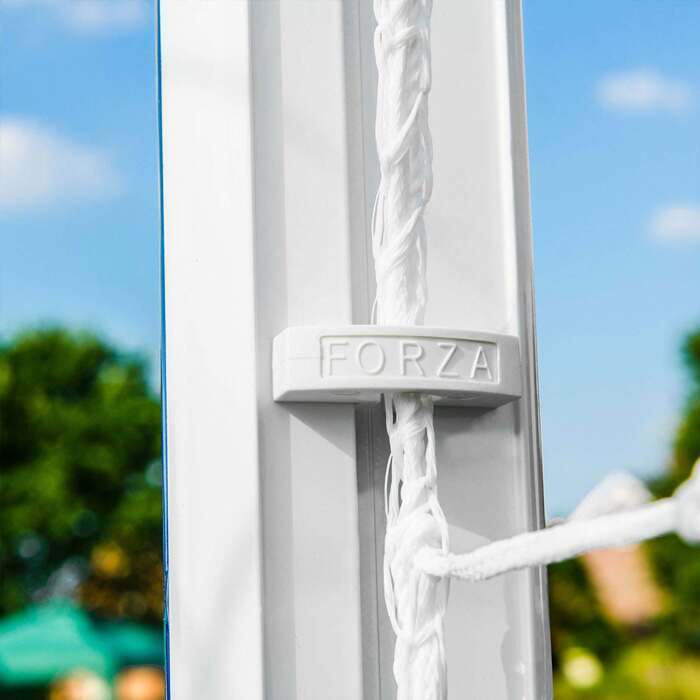 Heavy Duty Yet Light In Weight Goal Frame For Supreme Portability
Comprising of incredibly sturdy 60mm reinforced aluminum goalposts, there's no denying the goals strength. It's a goal of two halves, however, as its lightweight nature provides perfect portability, ideal for coaches who need to move the goal up and down the pitch, with foldaway frames for convenient storage.
Description
Versatile 6 x 4 Aluminum Soccer Goal For Coaching Sessions And Backyard Kickabouts
Give youngsters up to the age of 7 the best possible chance of achieving their ambitions of greatness with this 6 x 4 aluminum soccer goal. Suitable for backyard use or as an under 8's training soccer goal, the innovative goal can also be used a smaller-sized target goal during coaching sessions. Its high levels of versatility are matched by its strength and quality of manufacturing, offering a premium soccer goal at a price that won't break the bank. Portable and highly durable, this is the best soccer goal for children up to the age of 7.
6ft x 4ft soccer goal designed for use by under 8's. Suitable for backyard and coaching use
Manufactured from 60mm diameter reinforced aluminum which is powder coated white
Heavy duty yet incredibly light in weight freestanding goal which can be moved with the greatest of ease
Features galvanized steel foldaway side frames for quick and easy storage and disassembly
100% weatherproof soccer goal, including a weather-resistant 3mm HDPE braided goal net
Perfect for regular and rigorous training sessions, the goal has been made from high strength 60mm reinforced aluminum, offering first-class protection against wear and tear incurred during a typical session. The sturdy materials used in the manufacturing of this tough soccer goal for juniors ensures that it is in it for the long haul, providing years of use and incredible value. As well as shrugging off the impact of well-hit strikes, the aluminum goal frame is equally adept at handling inclement weather, making it suitable for outdoor storage without sustaining rust or corrosion.
Designed as premium, heavy duty soccer goal for under 8's, the aluminum goal is also incredibly light in weight. The high-strength freestanding goalposts can be moved with ease, making this a professional option for junior coaches who take sessions on a variety of playing venues. The aluminum soccer goal can be deployed on any surface, from grass to modern 4G pitches. Should you wish to store your goal away from the pitch post-use, the innovative foldaway side frames are a real space-saver, making the process of manoeuvring the goal extremely simple.
Having been subjected to stringent independent testing, and passing to BS EN 8462 standards, you can rest assured that is a stable and secure soccer goal for juniors. There's no risk of upturned or sagging goalposts, allowing coaches and junior players to focus fully on the task at hand. This premium 6 x 4 soccer goal for juniors comes equipped with a rot-proof 3mm HDPE braided soccer goal net, as well as twist & lock net clips for secure attachment. With all the components included, this is the ultimate soccer goal for juniors up to the age of 7 years old.
Specifications
6 x 4 FORZA Alu60 Soccer Goal
Dimensions:
FORZA Alu60 goal size (width/height): 6ft x 4ft (1.8m x 1.2m)
2.5mm thick aluminum
Recommended for youngsters aged up to 7 years old
FORZA goal top runback: 40cm (16in, approximately 1ft 4in)
FORZA goal bottom depth: 120cm (47in, approximately 4ft)
Materials:
Club spec goal is manufactured from 60mm diameter reinforced aluminum and powder-coated white
Aluminum goal frame provides fantastic protection against rust and corrosion
Galvanised steel foldaway side frames
Quick release galvanised steel detachable back bars
All connecting bolts and nuts are manufactured from the finest quality stainless steel
Each goal includes a heavy duty and weatherproof white 3mm HDPE braided football net plus twist & lock-style net clips for easy attachment
Miscellaneous:
Weight: 15kg (33lbs)
Each individual goal will be delivered in three boxes – Box 1: 2300x110x65mm, Box 2: 1920x295x65mm and Box 3: 345x285x145mm
Goals will be delivered in flat pack form and will require assembly
It is advised that the following tools would be useful to help with assembly: mallet, wrenches, ratchet with sockets
1 year guarantee as standard with all FORZA football goals
Independently tested to BS EN 8462 Safety Standards [Watch The Video Here]
Goals conform to FA Match standards. Net World Sports is recognized by the FA as a suitable supplier of soccer goals
Target goal for young superstars up to 7 years old
Don't just take our word for it
Good price, shipped quick, easy to assemble.
Want to chat?
Contact us here and we'll get back to you as soon as possible.
Super fast shipping
Express shipping available
Questions & answers
Ask fellow customers what they think!
Hide Q&As
Questions & Answers
3 questions | 3 answers
Is this goal appropriate to use for my high school team as small target goals in drills?
Hi Trev, thank you very much for the enquiry. Yes -this goal is perfect for this sort of use - We also have our Alu80 Pro Training/Target Goal which was developed alongside Manchester United for their sessions.
Many thanks,
Am I able to order just the nets for the 6x4 Forza ALU60 goals?
What size goal is recommended for age 7+ year old? Please advise. Thank you.
HI Anna, thank you very much for taking the time to ask us a question. For this age we would either recommend an 8' x 4' or an 8' x 6' goal.
Many thanks,
Grant
You may also like
8 x 4 FORZA Alu60 Soccer Goal
$369.99
12 x 6 FORZA Alu60 Soccer Goal
$599.99
Stop That Ball™ - Ball Stop Net & Post System
$179.99
8 x 6 FORZA Steel42 Soccer Goal
$199.99
12 x 4 FORZA Alu110 Freestanding Soccer Goal
$1,599.99