18.5 x 6.5 FORZA Alu110 Socketed Soccer Goal
18.5 x 6.5 FORZA Alu110 Socketed Soccer Goal
18.5 x 6.5 Aluminium Socketed Soccer Goal Designed To Enhance Club Training Sessions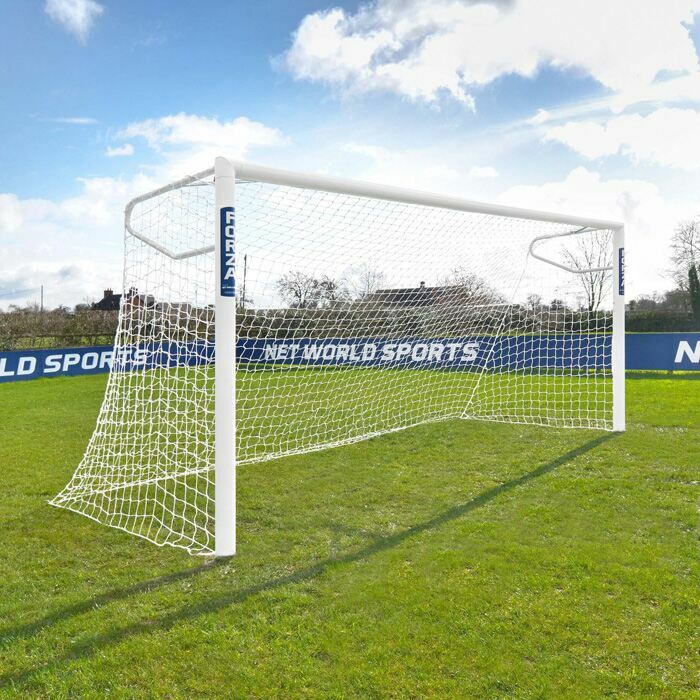 Perfectly Sized 18.5 x 6.5 Socketed Soccer Goal For Training
Train consistently with this ground fixed 18.5 x 6.5 soccer goal. Sized specifically for use by both youth and senior teams, the top of the range soccer goal has premium quality ground sockets and locking lids included which allow for secure attachment into the ground, set into a minimum 0.8m x 0.8m x 0.8m of concrete.
Specially Manufactured Aluminum Goal Posts Provide Durability
Made from exceptionally heavy duty 110mm reinforced aluminum, the training soccer goal is long-lasting and will retain its pristine looks throughout use regardless of the impact of wayward shots. For easy insertion into the ground sockets, the innovative light in weight goal posts can be placed into position.
Train Throughout The Year With The Weatherproof Soccer Goal
Consistency of training is crucial to achieving the desired results. Finished in a sleek white powder coating, the aluminum goal frames defends against rust and corrosion associated with regular outdoor use. Similarly, the 5mm thick braided goal net is resistant to rot and has been UV treated for all-weather performance.
Description
Upgrade Your Training Sessions With This Top Of The Range 18.5 x 6.5 Socketed Aluminum Soccer Goal
At 18.5ft x 6.5ft, this state-of-the-art socketed soccer goal is the ideal size for use in coaching sessions by both youth and first teams. The multi-purpose functionality of this socketed soccer goal makes it a high value acquisition for clubs with multiple age groups. Having been expertly designed to securely fix into the ground, the training soccer goal offers remarkably high levels of rigidity and durability, making it perfect for regular high intensity coaching sessions. Designed for permanent rooting into the ground, the innovative designed of the 18.5 x 6.5 soccer goal means that there's no need to constantly disassemble the goal following use.
18.5 x 6.5 soccer goal for training sessions which includes ground sockets and locking lids for safe ground fixing
Premium quality 110mm reinforced elliptical aluminum finished off in a sleek white powder coating for weather protection
As standard, a 5mm braided HDPE twine goal net comes with the posts as well as secure twist and lock net clips
The easy to fix socketed soccer goal is both heavy duty and light in weight, allowing it to lifted into position effortlessly
The 18.6 x 6.5 socketed soccer goal has been subjected to independent safety testing to BS EN 8462 safety standards
The main difference between socketed and freestanding soccer goals is the ground fixing. This 18.5 x 6.5 soccer goal requires rooting into the ground, and as such high-quality ground sockets and locking lids are included. While the heavy-duty design of the goal frame allows it to absorb the impact of well-hit shots during training sessions, it is also light enough in weight to be lifted and placed into the ground sockets in a simple manner. As a recommendation, the soccer training goal should be professionally set into 0.6m x 0.6m x 0.6m of concrete to guarantee the highest levels of performance throughout use.
To fully make the most out of your time on the training pitch, the 18.5 x 6.5 soccer goal has been manufactured using premium materials which assure durability. High velocity strikes won't leave a blemish on the pristine 110mm reinforced aluminum goal posts, which boast a premium powder coated finish for added protection against the detrimental impacts of exposure to the elements. The same high levels of quality have been utilized when making the 5mm HDPE braided goal net which is included. The white UV treated goal net has been designed with the resilience to withstand consistent use during training sessions.
Specifications
18.5 x 6.5 FORZA Alu110 Socketed Soccer Goal
Dimensions:
FORZA Alu110 goal size (width/height) 18.5ft x 6.5ft: (5.6m x 2m)
18.5 x 6.5 soccer goal is recommended for use as an 11-a-side goal in youth soccer. It also doubles as a senior training goal given its slightly smaller than regulation size
Materials:
Club spec goal is manufactured from 110mm diameter reinforced aluminum and powder-coated white
Aluminum goal frame provides fantastic protection against rust and corrosion
Each goal includes a heavy duty and weatherproof white 5mm HDPE braided soccer net plus twist & lock-style net clips for easy attachment
Miscellaneous:
Each individual goal will be delivered in 4 boxes
Goals will be delivered in flat pack form and will require assembly
It is advised that the following tools would be useful to help with assembly: mallet, wrenches, ratchet with sockets
Each socket needs to be professionally set into minimum 0.6m x 0.6m x 0.6m of concrete into the ground and are supplied with metal drop-in lids (concrete not included)
Please Note: This goal has been independently tested to BS EN 8462 safety standards. To view the video please click here.
Goals conform to FA Match standards. Net World Sports is recognized by the FA as a suitable supplier of soccer goals
1 year guarantee as standard with all FORZA soccer goals
Want to chat?
Contact us here and we'll get back to you as soon as possible.
Super fast shipping
Express shipping available
Questions & answers
Ask fellow customers what they think!
Hide Q&As
Questions & Answers
No one has asked a question yet!
You may also like
16 x 7 FORZA Alu110 Socketed Soccer Goal
$1,299.99
21 x 7 FORZA Alu110 Socketed Soccer Goal
$1,499.99
16 x 4 FORZA Alu110 Freestanding Soccer Goal
$2,299.99
18.5 x 6.5 FORZA Alu60 Soccer Goal
$1,099.99
18.5 x 6.5 FORZA Alu110 Freestanding Soccer Goal
$2,699.99