10 x 6.5 FORZA Alu80 Futsal Goals (Foldaway)
10 x 6.5 FORZA Alu80 Futsal Goals (Foldaway)
Foldaway Regulation Size 10ft x 6.5ft Aluminum Futsal Goals For Matches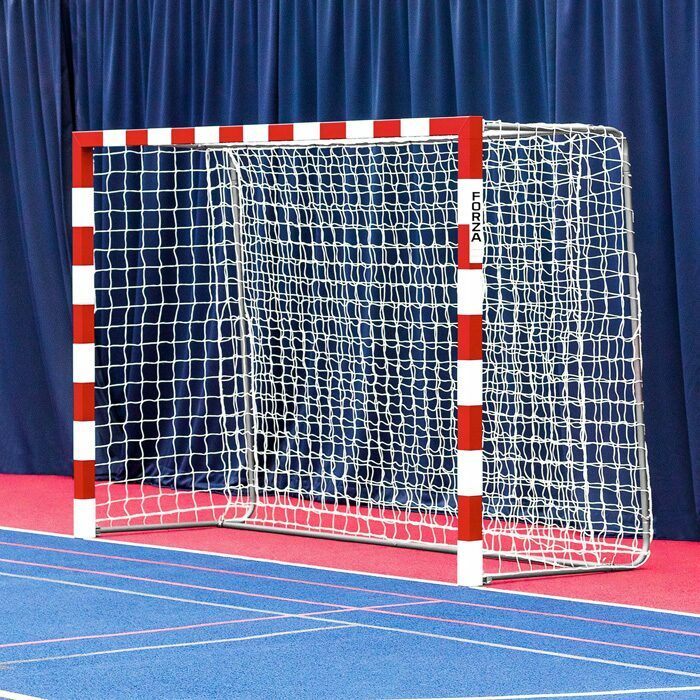 10ft x 6.5ft Futsal Goals
Designed with futsal goal dimensions which conform with the official match regulations, the 10ft x 6.5ft futsal goals are the best futsal goals for any facility who host competitive tournaments and matches.
Two Striped Goal Options
Give your futsal goals a professional finish by choosing between red and white or blue and white 8 inch stripes. Made using a 3M fade-resistant material, the indoor futsal goals always remain pristine.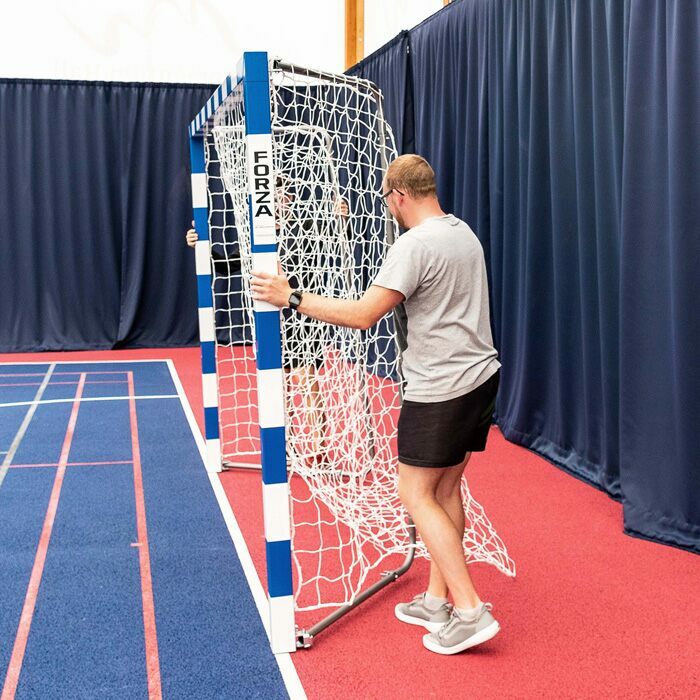 Collapsible Futsal Goals
Offering a convenient space-saving function to sports centres and clubs alike, the aluminum futsal football goals are designed with quick-release galvanized steel back bars and foldaway side frames.
Description
Regulation Size FORZA Futsal Goals – Red Or Blue Striped Aluminum Futsal Soccer Goals
Add a touch of professionalism to futsal soccer matches and tournaments with these premium aluminum futsal goals. Designed to comply to the regulation futsal goal dimensions of 10ft (3m) x 6.5ft (2m), the heavy-duty futsal goal posts are perfect for competitive games on indoor or outdoor pitches, as well as being a viable option for sports centres and schools. These pop-up futsal goals are convenient and high-quality, making them the best futsal goals for coaches at all levels of the revolutionary small-sided version of soccer.
10ft (3m) x 6.5ft (2m) futsal soccer goals which conform with official futsal goal size regulations for competitive use
The futsal goals come in either a red or blue 8 inch (200m) regulation striped design with a 3M fade-resistant finish
Manufactured using reinforced square 3.1 inch (80mm) aluminium which is powder-coated in white for weather-resistance
As standard, each futsal soccer goal comes equipped with a high-strength UV treated HDPE braided soccer net
The portable futsal goals are fitted with quick-release galvanized steel back bars which are fully detachable
The metal futsal goal posts have been made using heavy-duty square reinforced 3.1 inch (80mm) aluminum and is capable of withstanding countless hits from the ball. While the Forza Alu80 Futsal Goal is suitable for indoor use, it has been produced with a sleek white power coated frame that protects against corrosion when used on outdoor futsal pitches. As a result of the quality materials used and expert manufacturing, this is a heavy-duty and highly durable futsal goals that can be applied to both training and competitive sessions without becoming damaged by wear and tear.
There are two colored futsal goal designs to choose from, with 8 inch (200mm) red/white and blue/white stripes on offer. These striking colors have been created using fade-resistant materials, ensuring that the brightness and lustre of the futsal goals won't diminish over time. As the best futsal goals for long-lasting use, each durable goal guarantees consistent performance over the course of multiple years.
A professional quality white 0.11 inch (3mm) HDPE futsal soccer goal net joins the aluminium futsal goal posts to result in the ultimate futsal goal package. The UV stabilized nets are fully weatherproof and provide equal amounts of protection against sunlight and rain, all while ensuring that you can play futsal outdoors and indoors all year round. For shock and impact absorption, the soccer nets have a baffle net which is securely held by a top support bar for supreme stability.
Featuring heavy-duty galvanized steel foldaway side frames, the futsal goals provide a convenient space-saving function to sports centre, coaches and clubs. These pop-up futsal goals can be collapsed and folded away after use, to guarantee that the goal posts won't take up all the room in your storage areas. Manufactured with ultra-strong welded corner joints, the portable futsal goals ensure exceptional durability which cannot be matched by mitred joints.
PLEASE NOTE - The FORZA Alu80 Futsal Soccer Goals conform the BS EN 749 safety standards when anchored correctly.
Net World Sports is the best place to buy futsal goals and a wide array of training and matchday equipment for small-sided soccer from our game-changing FORZA Soccer range.
Specifications
FORZA Alu80 Futsal Goal Specifications
Futsal Goal Dimensions
Regulation Futsal Goal Size – 10ft wide x 6.5ft high
Top Depth – 31in
Bottom Depth – 40in
Materials
Manufactured from 3.1 inch (80mm) reinforced box section aluminum
Box section aluminum features radium (curved) edges so there are no sharp edges
Fully welded corner joints which provide superior strength and long-lasting reliability
Aluminum is polyester powder coated white complete with red vinyl markings
The powder coated finish is smooth and scratch resistant
Heavy-duty 1.2 inch (30mm) OD steel folding side frames and detachable back bars
Side frames and back bars are zinc plates for long life and polyester powder coated grey
Detachable back bars have quick release spring clips that are operated by hand (no tools required)
Heavy-duty white net made from 0.11 inch (3mm) OD braided HDPE twine with a 4 inch (100mm) knotted mesh sizes
Goal net comes complete with 10ft x 6.5ft baffle net to conform with BS EN & IHF tournament standards
Twist & Lock-style safety net clips are weatherproof and UV treated
Miscellaneous
Suitable for indoor and outdoor futsal pitches
Goalposts are very strong but also light in weight for ease of movement
Frame and nets are fully weatherproof and durable
Conform to official BS EN 749 match regulation safety standards when anchored correctly
Anchors are sold separately – we recommend using our sand bag weights or wall fix chain anchor kits
Complete with high tensile stainless steel nuts, bolts, washers and zinc plated brackets
Goals will be delivered in flat pack form and will require assembly
Want to chat?
Contact us here and we'll get back to you as soon as possible.
Super fast shipping
Express shipping available
Questions & answers
Ask fellow customers what they think!
Hide Q&As
Questions & Answers
No one has asked a question yet!
You may also like
10 x 6.5 FORZA Alu60 (3m x 2m) Futsal Soccer Goal
$649.99
10 x 6.5 FORZA Alu110 Freestanding Futsal Soccer Goal
$1,999.99
10 x 6.5 FORZA Alu110 Socketed Futsal (3m x 2m) Soccer Goal
$1,099.99